This project is licensed under the Creative Commons Attribution-Share Alike 4.0 International license.
Overview
Vahidangelo's photography project, which was jokingly named, was influenced by Michelangelo's The Creation of Adam. It illustrates the Biblical creation narrative from the Book of Genesis in which God gives life to Adam, the first man, shows Adam a reformed man with short brown hair and a perfected body, shows that the Spirit of God has been blown in it.
however, Vahidangelo's project, deals with the blowing of two souls into two perfected hands, hands that are perfected together after their own perfection, and create beauties, two souls that become one.
Vahidangelo has been created in front of most ancient textures of Iran, from thousand-year-old tiles to the 2600-year-old palaces of Persepolis.
Vahidangelo 1
I want to hold your hand to walk in front of beauties, I want to be the only one who makes you cry, the only one who can make you laugh; I want your beautiful eyes to see beauties only with me; I am that selfish.
Building: Agha bozorg Mosque, Kashan, Iran. Excessive decoration and tiling of the mosque, due to the immaculate nature of this building, can not be easily seen.
Vahidangelo 2: The Spirit of Colors
Vitrail, (stained glass) has a millennial history in art and architecture, many believe its origin in ancient Rome, some in ancient Egypt and Iran.
Nevertheless, its culmination can be found in the Renaissance, the very ancient churches of Europe, France and Britain, the countries of West Asia, including Iran. At all times in history, Iranian artists have tried to lovingly create their art by being creative, innovative, or even combining with world architecture.
Stained glass is said to have healing properties for the psyche and skin, some say that the light emitted from it is soothing, prevents the heat of sunlight, each color gives life a new effect.
As anywhere in the world they experience different colors of light during the day, the light shining from the colors brings to life a meaning of love in me, as if in one day the feelings of lovers can experience different colors, ups and downs, darkness and light, depressing and enchanting moments ... and no color can ever separate two lovers.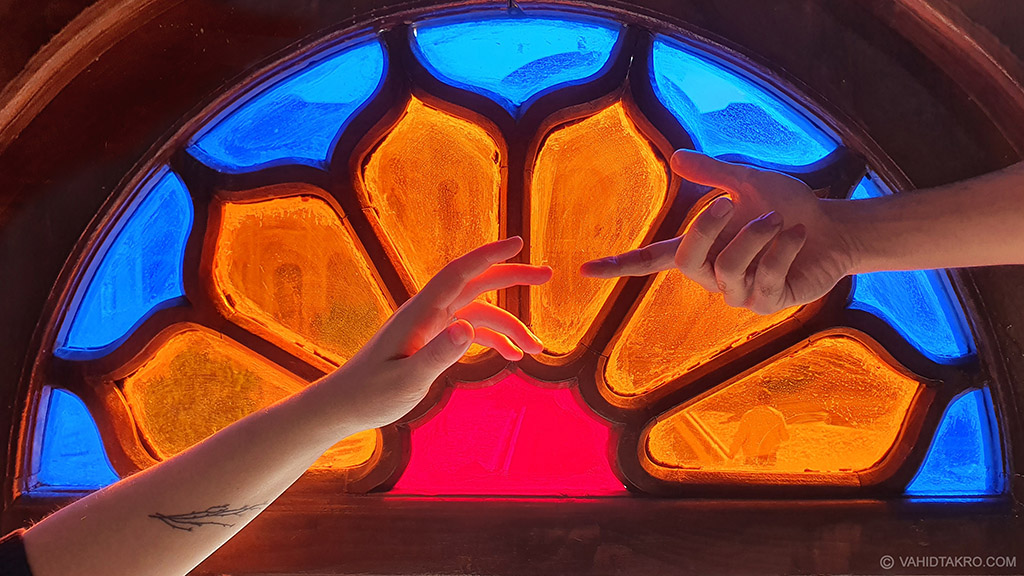 Vahidangelo 3: You and I, The Tree and The Rain
Vahidangelo's works had already nominated my mind; I thought about it for months. In fact, this project is not just a collection of romantic or philosophical images. All my efforts is to record conceptual artworks to show human love mixed with art from the beginning of civilization to the present.
I think for hours about the output of an image, for the video I listen to at least a hundred of my favorite songs from morning till night, I choose, I make the video based on it and then I regret and change. All pieces of music must be in harmony with the Vahidangelo's artwork in concept, identity, and artist soul.
I worked on the piece ahead for hours, with the music of Soheil Nafisi with a poem by Ahmad Shamlou called "You and I, The Tree and The Rain". Shamlou's romances sometimes overwhelm me, and the Nafisi's voice, traps the breath in my chest.
I'm the spring you're the ground I'm the ground you're the tree I'm the tree you're the spring The coquetry of your rain fingers, make me garden Make me lonely, in the midst of the forests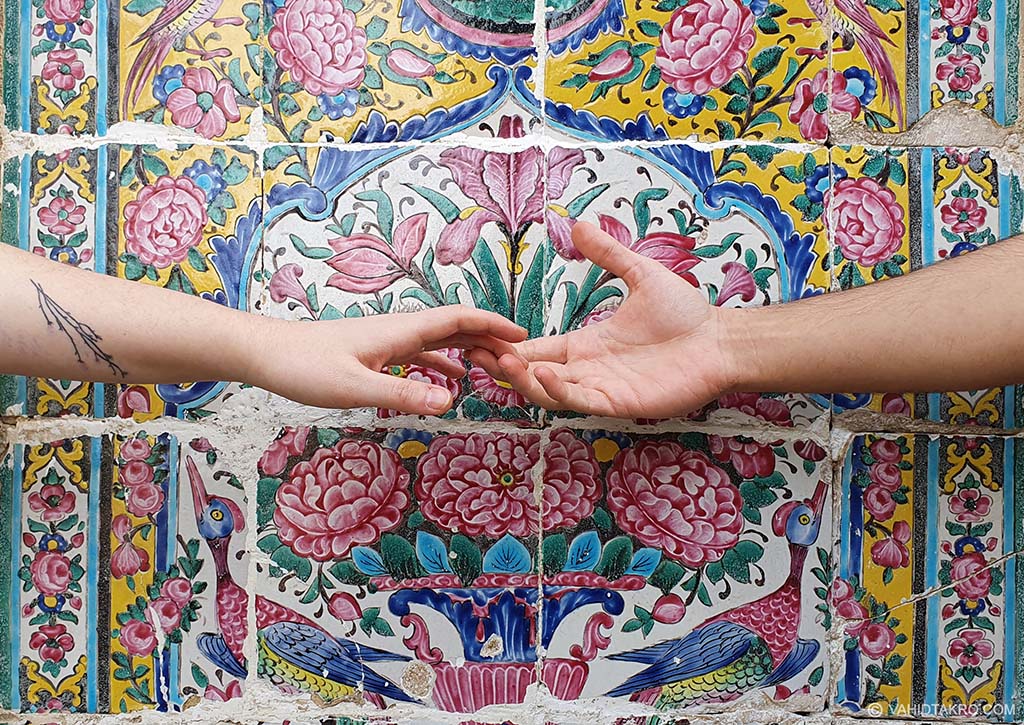 Vahidangelo 4: The Holy Savior
Vank Cathedral (Holy Savior Cathedral) is a cathedral located in Isfahan, Iran.
The cathedral was established in 1606, built by the hundreds of thousands of Armenians that were forcibly resettled by Shah Abbas I in his new capital as part of his scorched-earth policy in Armenia during the Ottoman War of 1603-1618.
The varying fortunes and independence of this suburb across the Zayande River and its eclectic mix of European missionaries, mercenaries and travelers can be traced almost chronologically in the cathedral's combination of building styles and contrasts in its external and internal architectural treatment.
The touch of Vahidangelo's hand happens in the church; It reminds me of Nathaniel Hawthorne's novel "The Scarlet Letter." Nothing in the world has ever overcome love yet, religion, race, nationality, skin color, distance, language and other differences have not been able to blind love in a person.
Vahidangelo's video is mixed with church ceiling paintings and a piece by Bach. (Instagram)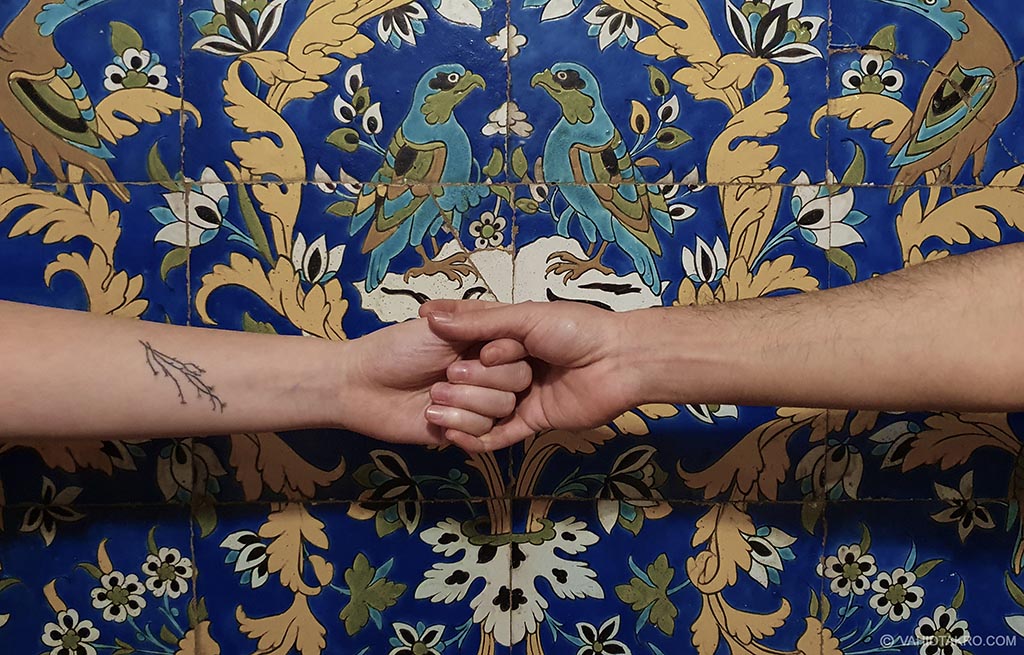 Vahidangelo 5: Ahura mazda
Ahura mazda is the creator deity in Zoroastrianism. He is the first and most frequently invoked spirit in the Yasna. The literal meaning of the word Ahura is "lord", and that of Mazda is "wisdom".
Love has always been a sacred word in Persian history and culture; The soul of the Persians is mixed with love. Persian history and language are rooted in love poems; Art, civilization, culture and architecture have given power to the word love in this country.
Zoroastrian theology includes foremost the importance of following the Threefold Path of Asha revolving around Good Thoughts, Good Words, and Good Deeds. There is also a heavy emphasis on spreading happiness, mostly through charity, and respecting the spiritual equality and duty of both men and women. In fact, the religion of Ahuramazda is based on a sentence: "There is only one way in the world, and that way is truth."
The video uses a song by one of my favorite Iranian singers, he repeats twice: "This is the voice of the breath of Iran" The reason for my interest in Dariush's music is the expression of his patriotic feelings and compassion for the homeland. He now lives in exile, but the Iranians are fighting hand in hand to rebuild their country.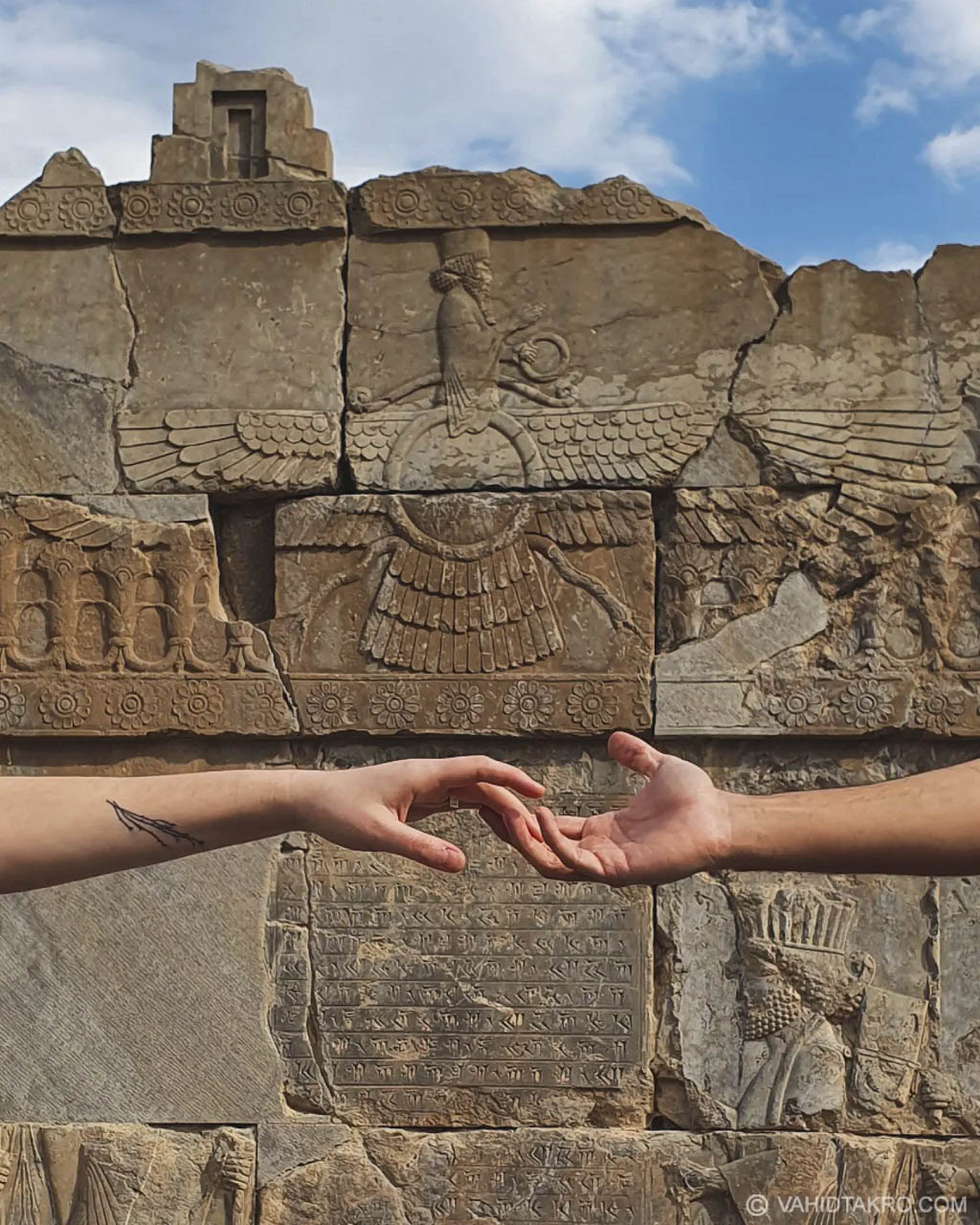 Vahidangelo 6: Persian-ness
If I put together the history of my distance from my homeland, it seems that I have been away for a long time, and I have not taken root anywhere, I have not built a nest anywhere like a nomad.
Whenever I return to my country - let me say home - all Persians, even small Persians like me, are united in our Persian-ness.
Here Cyrus dances in my eyes, the narrators of Darius' history give me power; Singers whisper the poems of Hafez and Saadi in my ears, I walk in the unique architecture of the Persians and smell the scent of love. Here smells like Sohrab, Ferdowsi's patriotic behaviors are rippling through the people, people's eyes are showing the atmosphere of Farhad's epic musical pieces.
My friends seem to be right, traveling in Iran is dangerous for me, here my feelings reach their weakest state and sometimes they explode. Here I may simply fall in love, I may be depressed, in fact my feelings weaken like a Play-Doh that can easily change in any way they want.
Translation of song:
I shall build you again, my homeland,

Although with bricks of my soul

I shall put columns under your roof,

Although with my bones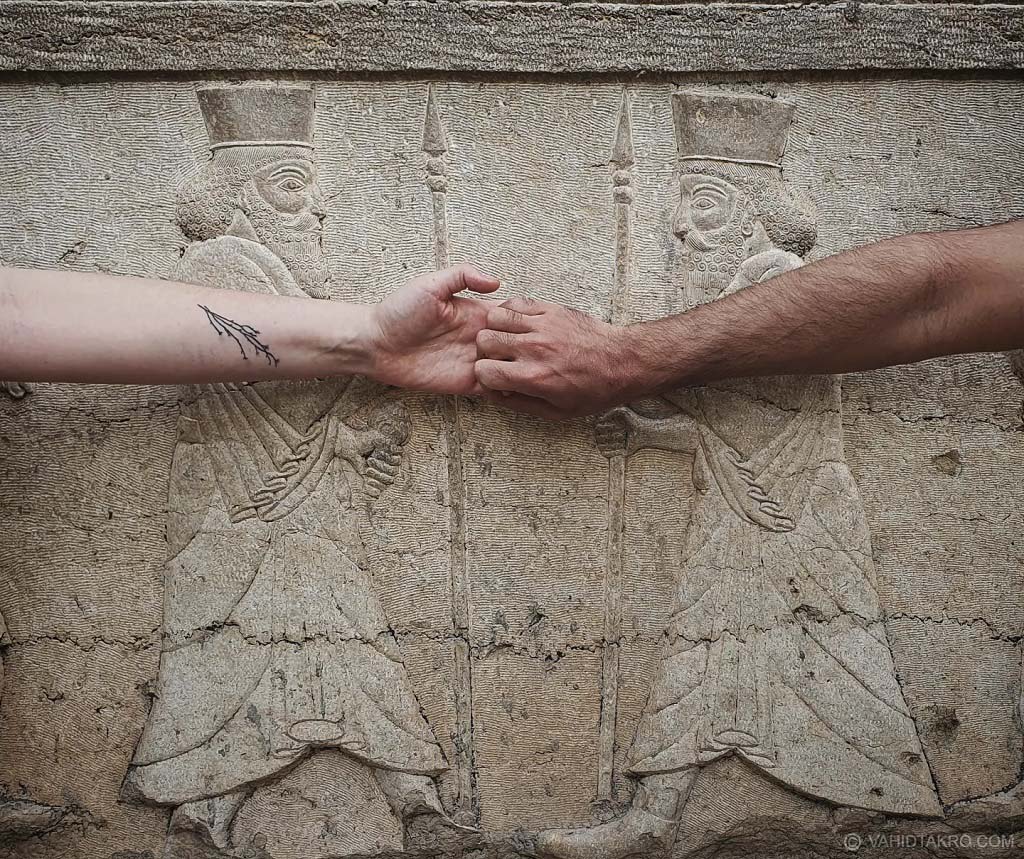 Vahidangelo 7: Resistance
Resistance creates beauty, and resistance is created by love. In fact, in a brief look at the history, culture and art of the world, we find the existence of these two elements. Art is sometimes created in poverty, and sometimes in prison. And love is born of distance and helplessness.
What you see from the seventh work of Vahidangelo has been created in a long time. And in the end, I was crying watching it. In my opinion, this has been one of the most beautiful ones from Vahidangelo's collections, because it covers the birthplace of art in a one-minute video. At first, by passing through the Persian carpet, Persepolis, architecture and tiling, it shows that the beauties of Iran are the result of resistance, love and unity. Although locked behind a stone wall; Love and resistance never dies.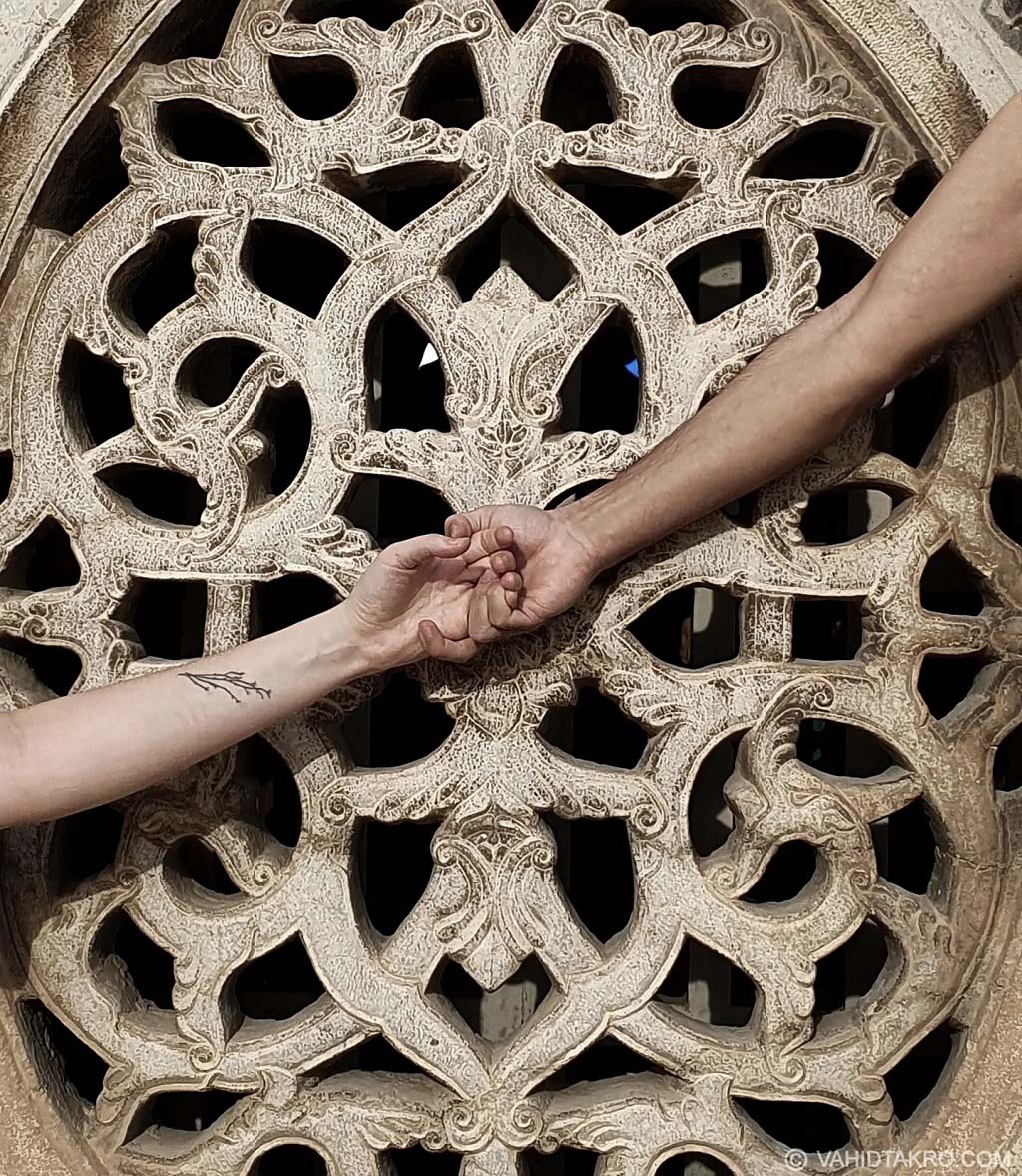 In the gallery, you will see the combination of Vahidangelo with the most prominent paintings of the world, all of which have been the result of love and resistance, which shows the exact meaning of what I intended to say.
Vahidangelo 8: Sad Easterner
Vahidangelo VIII is very beautiful from the point of view of the concept, which has been perfected with the piece "Sad Easterner" by Fereydoun Farrokhzad. This work speaks to man, tries to say that perfection happens in being together, and when it is perfection, snow can not burn our roots, in fact, love gives the sun to the cold of our being.
I sometimes liken love to a flower. As a woman, imagine you are a flower in the garden, and a man wants you. He tries to pick you up, take you with him, and be happy with you until you get dry; But the other man knows your roots, your needs for water and soil, he tries to love you for who you are, where you are, with your weaknesses.
The Sad Easterner song is in fact in epic theme and invites human beings to patriotism, this can be discovered by looking at the life of Fereydoun Farrokhzad.
Music translation:
"Yo Sad Easterner! Winter in before me!

When you're with me, I have no fear of rain and mud.

The sound of our hands will be heard throughout winter.

There will be no fear of the winter because the sun shines.




Yo Sad Easterner! You're like a mountain of light,

don't let our sun fade away.

You're as pure as the morning,

and as proud as the sea.

Don't let the silence grow stronger."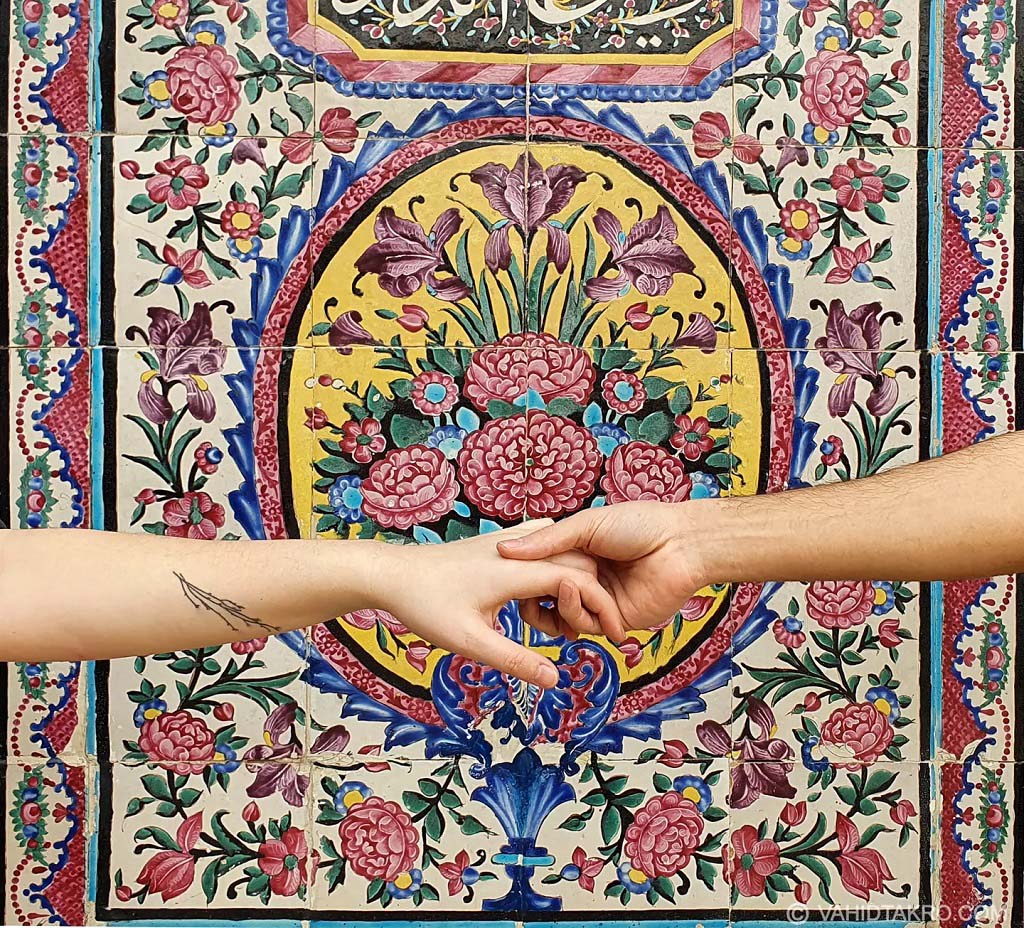 Vahidangelo 9: Hafez
I want to feel Shakespeare's novels, I want to be Romeo. I want another Casablanca to be written from my story, I want Pride & Prejudice reminds everyone of my life story, I want to be another Farhad, and repeat the story of Majnun; I want Dante and Beatrice to be nothing in front of my story; In short ... I want to live Hafez's poems.
In my view, what man calls "poetry" is the result of the correct arrangement of words together and the perfection of words in meaning. Like holding hands, clasping fingers together; In fact, many things complement each other. This is proven by a deep look at nature. The secret that Hafez had already discovered.
Here at Hafez's tomb, everything is going as one would expect. It's more relaxing than you might think. Every time I come to Shiraz, I come here for a while and sit in the back garden for hours.
This Vahidangelo photo shows all of Hafez's ghazals in two hands, and with the combination of "Edameye Avaz Ba Tar 1" and Shajarian's voice, this show has been performed at its best.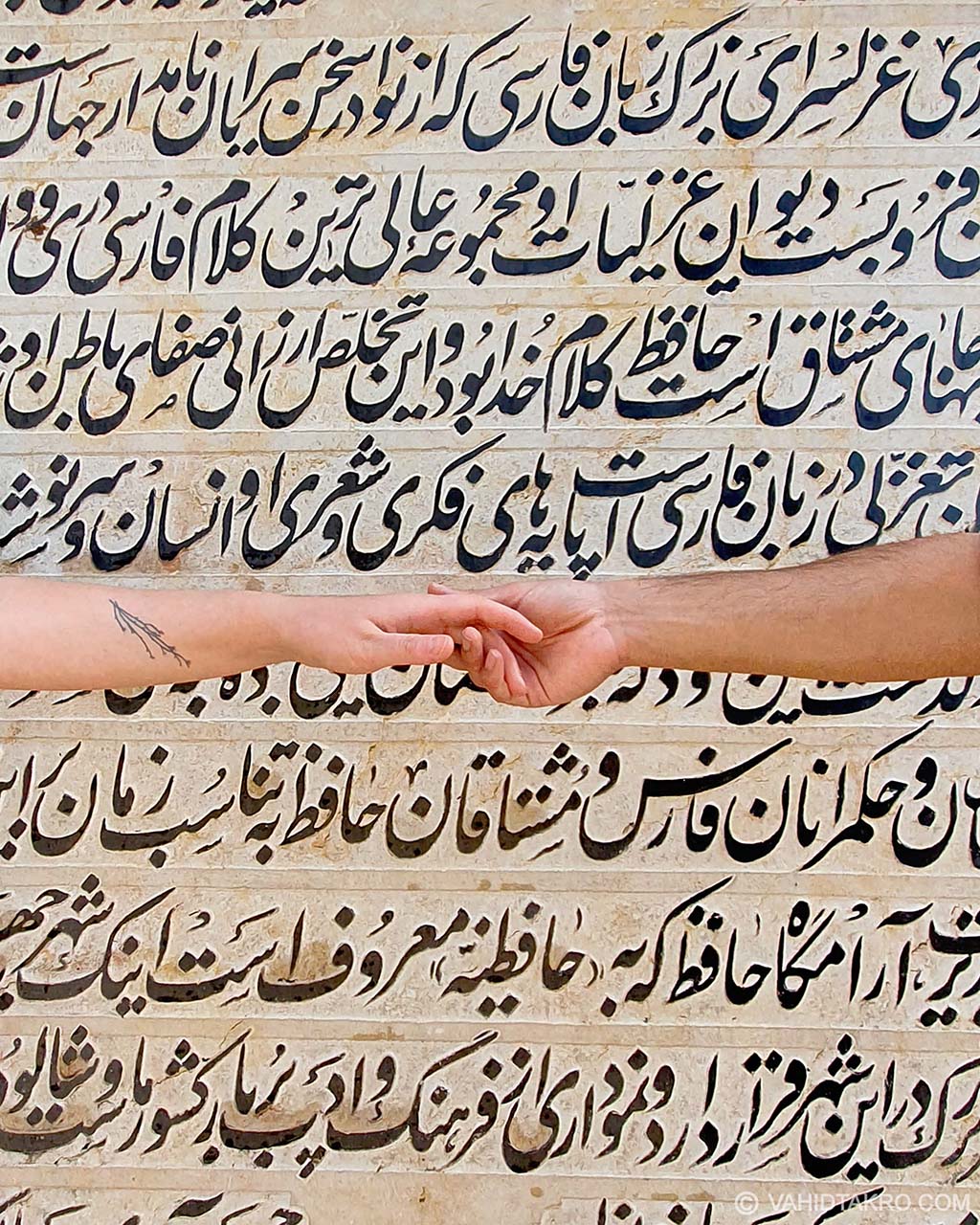 Vahidangelo 10: Lover's Hair
This time, Vahidangelo shows a deep true love. It tells the story of a poet who lived with love a century ago during the Qajar era.
A very beautiful inscription in Eram Garden shows a poem by Shurideh Shirazi; Shurideh became blind at the age of seven, lost his father at the age of nine, lived with his uncle, and gradually became acquainted with poetry.
Shurideh is one of the famous poets of the contemporary century. He is a master in writing all kinds of poems, especially Qasida (ode) and piece. His poems are full of pristine themes and new meanings and new compositions.
He, who was a blind lover, got married and had a child; He wrote most of his poems about love, about his lover's hair he couldn't see, but he has no complaints, because he does not seek love in appearance. Vahidangelo gives a new look to one of Shurideh's poems.
Music: Traditional instrument Setar by Iranian artist Kourosh Danaei.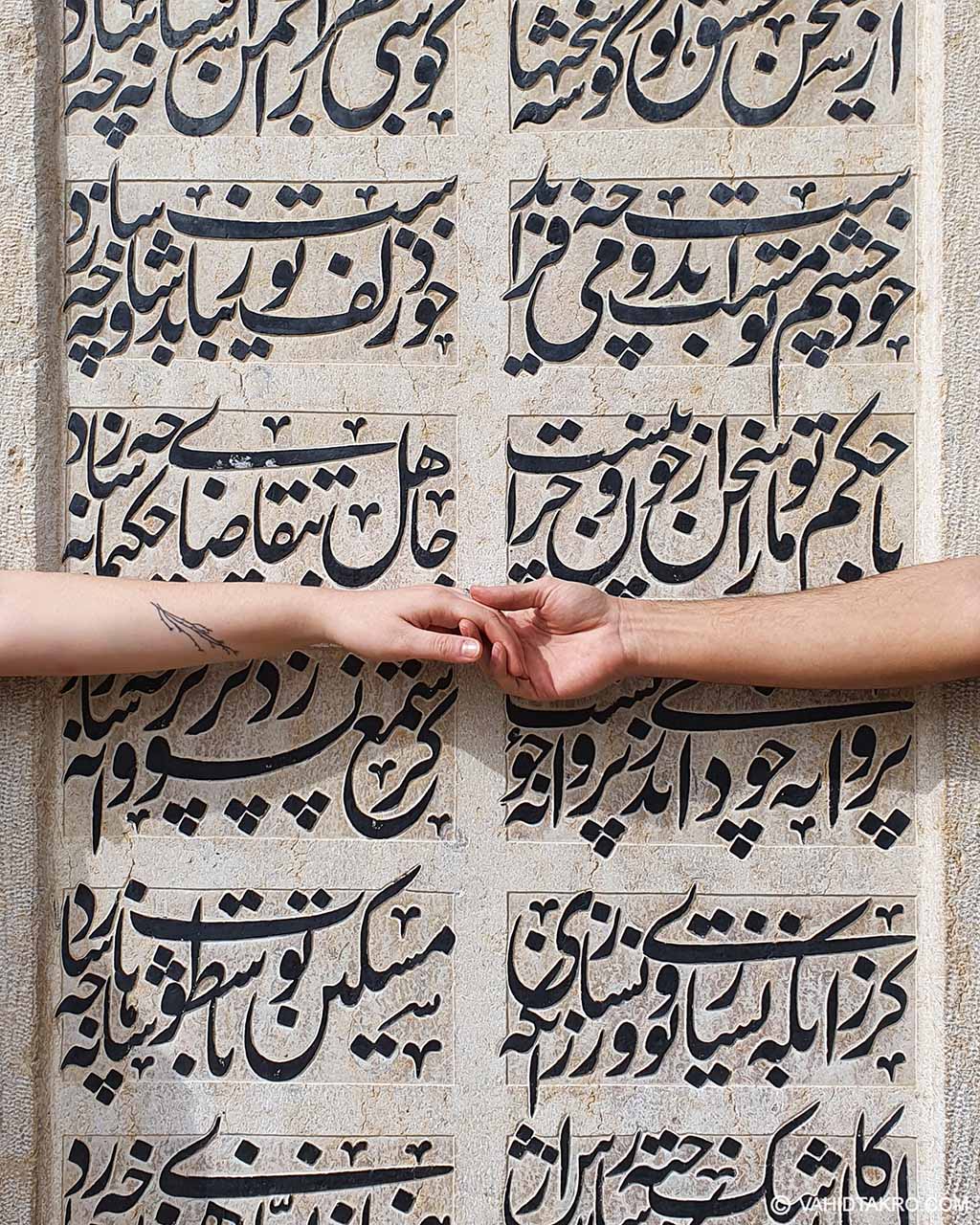 Vahidangelo 11: Eternity
Erosion is the process of gradual destruction of a substance by water or wind. If we look at the million-year-old nature of the world, erosion has shifted everything, even the continents; Moved the big mountains apart and threw them away. Moved the seas, and showed that time has changed the eternity of nature form.
If we compare the theme of "creation of life from clay" in different religions, mythology, literature, and modern theory with "erosion", we will get the result of human change over time. However this work by Vahidangelo, shows that if a person falls in true love, will not be affected by any erosion. This has been proven by human history as well.
Here in the "Chahkuh Canyon" of Qeshm Island, a beautiful million-year-old display of erosion is in our eyes; This is how Vahidangelo's eleventh work was formed. Although water and wind, camels and humans have crossed this canyon, true love in both hands is still eternal.
The video got completed with a song by one of my favorite bands called "Camel", and the photographer, is a man who has been protecting this place all his life, gave a special meaning to this.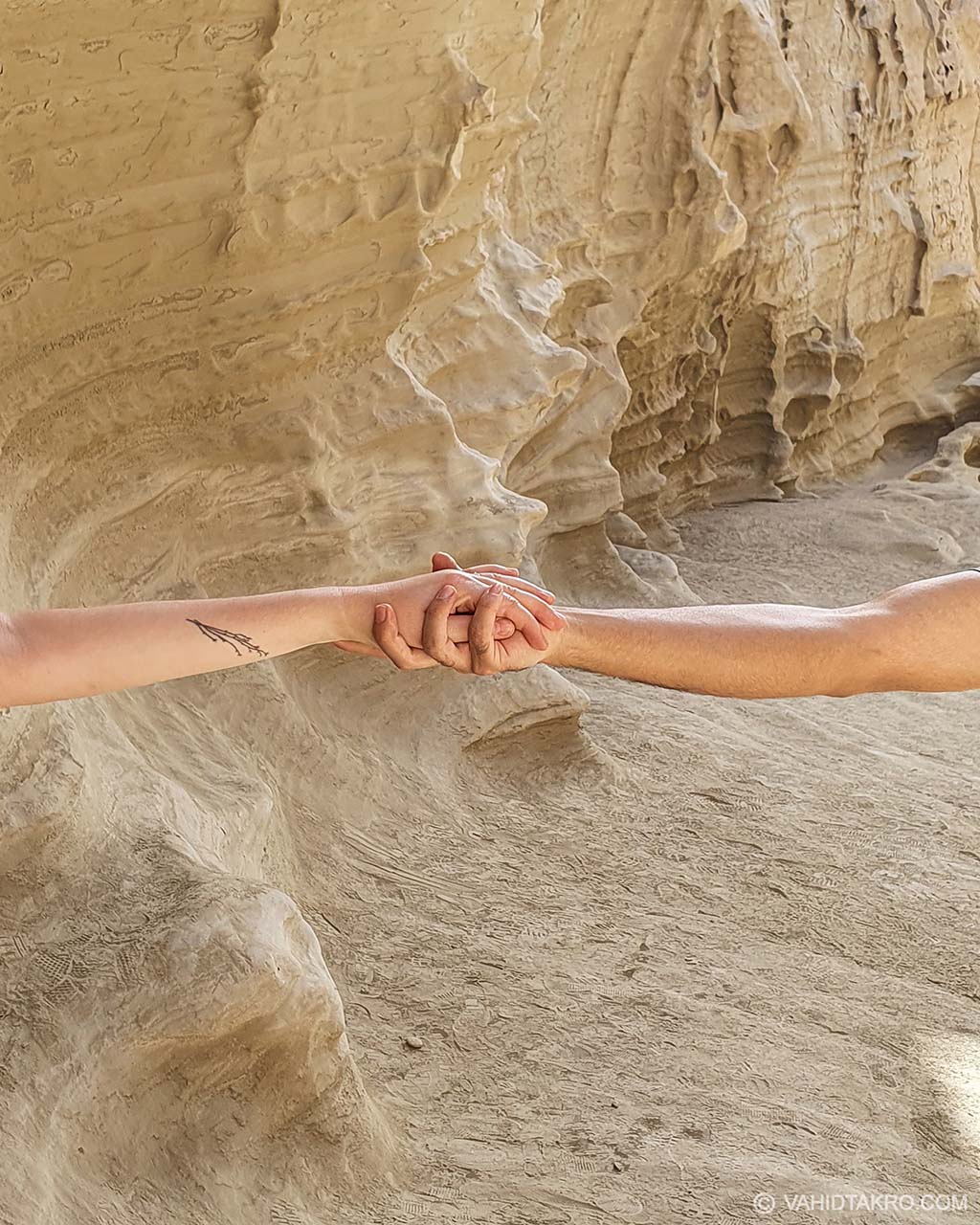 Tags
vahidangelo
iran
photography
وحیدانجلو
ایران
عکاسی