Tavaduri Restaurant
Mother of Georgian traditional foods
Tavaduri Restaurant
+995 593 31 36 11
Languages:
Georgian
Russian
English
Tavaduri is a very popular restaurant in Batumi, it has 3 floors with lot of space. My friend and I were welcomed very warmly. It's located just near old town of Batumi.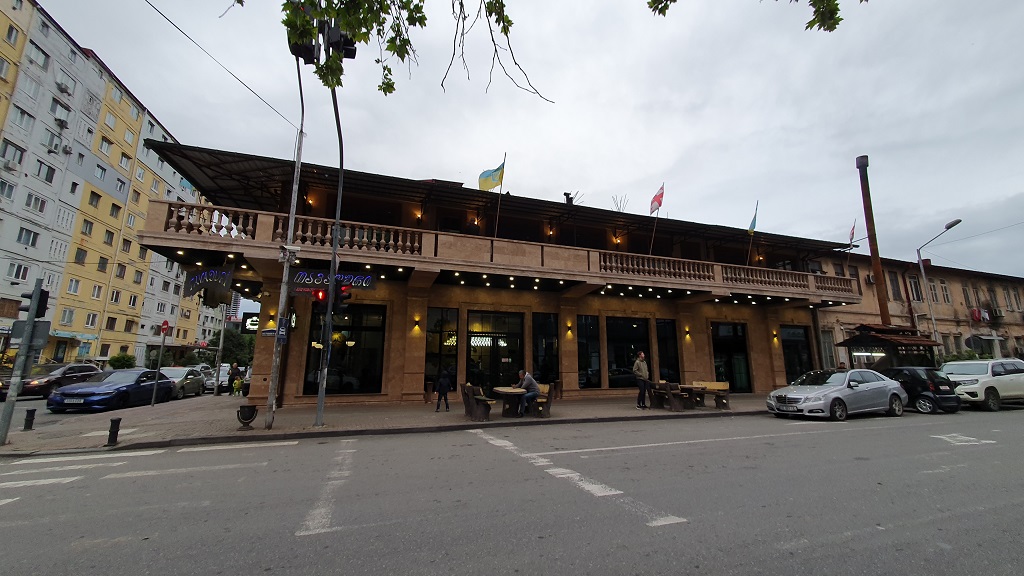 Atmosphere
The atmosphere of this restaurant is very warm, intimate and large. The roof of the second floor turned the space into a palace for us, where we could eat in complete peace. Especially a large chandelier that lit up the space well.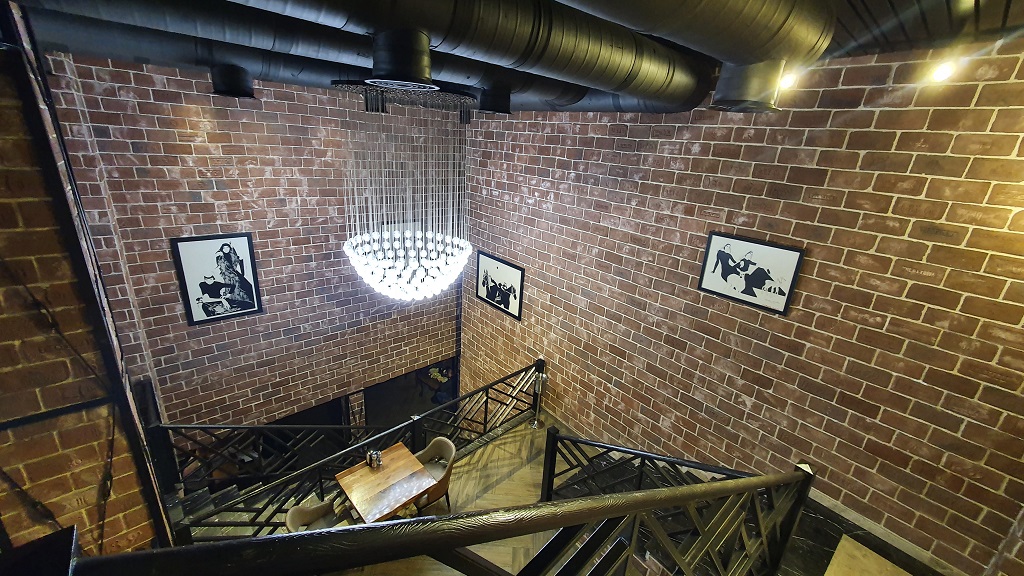 Foods
First, they offered us a traditional Georgian salad with nuts, witch is very common everywhere in Georgia and you can not stop to order it again and again.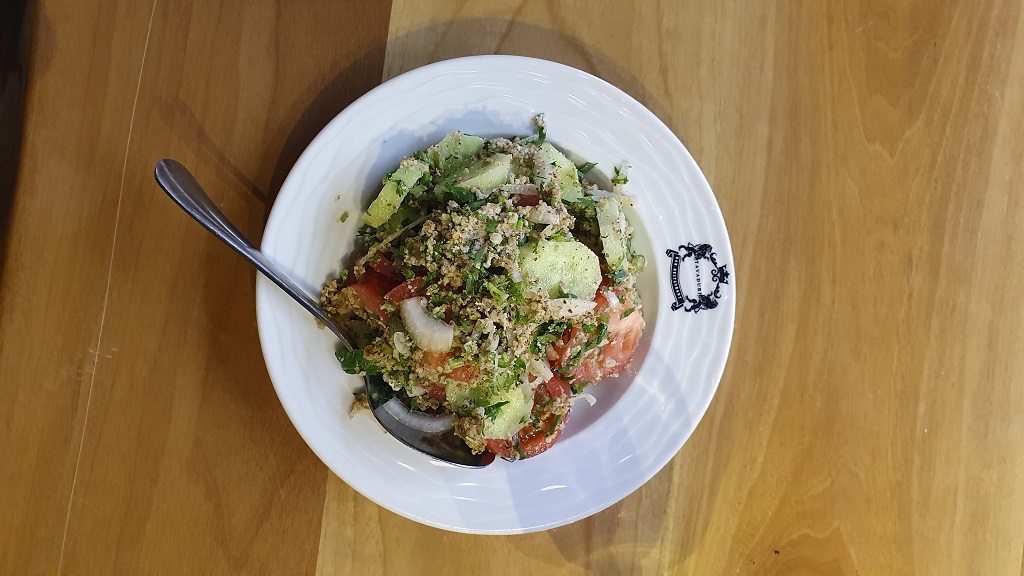 khachapuri on stick
Then they served us with an amazing khachapuri (on mangal), and it was the best khachapuri we ate. You can not believe how good it is. If you have not tried this type of khachapuri, you should definitely do it here in Tavaduri. I think this was the best Khachapuri I had in whole Georgia, even a gentleman was cutting the khachapuri into four pieces for us. I'll never forget the taste, the taste of the cheese and fresh bread. just amazing...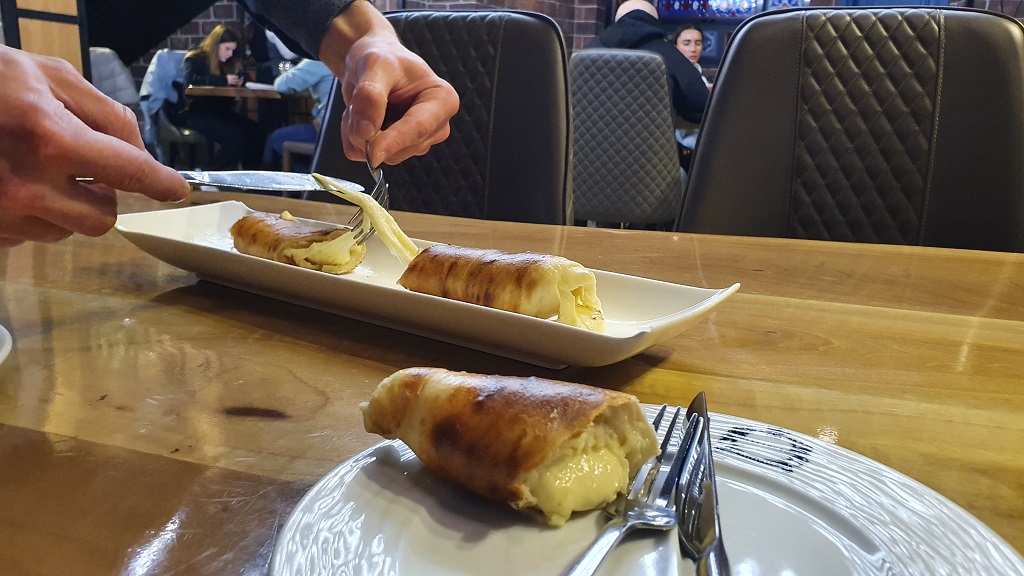 Ojakhuri with beef
Then we had Ojakhuri with beef, which is also very well known in Georgia as a main dish. They often cook it with pork but here you can ask to do it with chicken or beef. It was also very tasty and crunchy, and very hot! Ojakhuri is a Georgian dish consisting of roasted meat (pork, chicken, lamb, or beef) and potatoes. The name of the dish means family meal in Georgian, so every family has their own recipe, variations, and they all use different seasonings for the roast. The dish is usually garnished with slices of pickled vegetables and served with accompaniments such as tkemali or ajika sauces.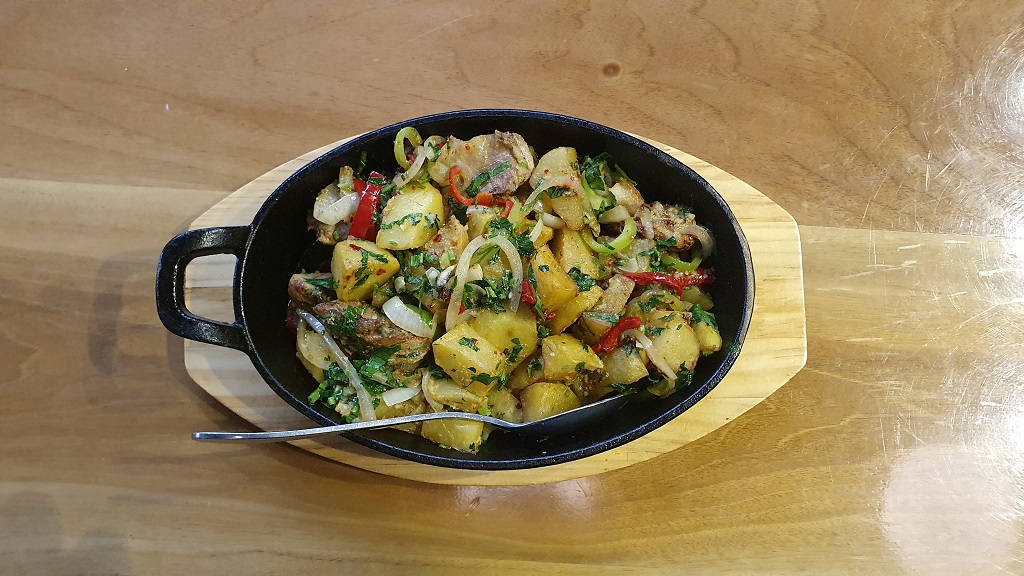 Shkermuli
We also had Shkmeruli, which included many parts of chicken including the neck! This dish is a decadent chicken dish cooked in a milky garlic sauce. Originally hailing from the Racha region of northwestern Georgia, this chicken dish is fairly ubiquitous on restaurant menus throughout the country as well as Tavaduri restaurant. Well, simply, shkmeruli is a chicken dish cooked in a garlic milk sauce. And it is absolutely delicious! This Georgian chicken dish is typically made with a young hen or small chicken that has been spatchcocked — also known as butterflied. If you're not familiar with this term, it basically means that the backbone of the chicken is removed so that the whole chicken lies flat.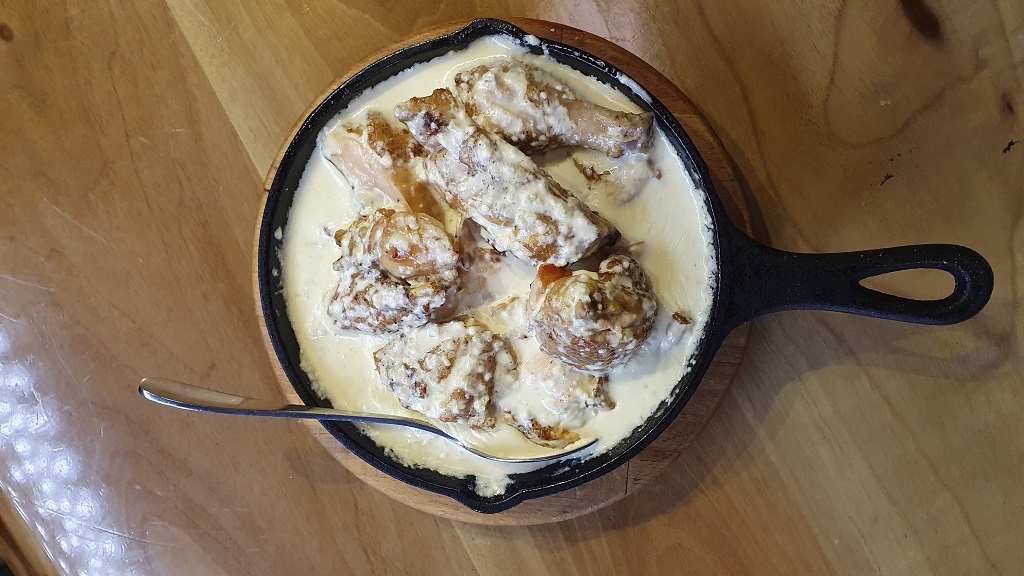 Mother of Khinkali
This is the most important part of my interest in this restaurant. There is something on the menu of this restaurant called Mother of Khinkali, its name is strange and it is suggested by many. In fact, this food is a big khinkali that is pregnant. A mother who has 10 children, small children who make Khinkali very easy to eat. Also, its ingredients were very fresh, tasty and high quality. Also, like Khachapuri, a gentleman with clean hands and gloves opens mother of Khinkali with a sharp knife.
Khinkali is a very popular dumpling in Georgian cuisine. It is made of twisted knobs of dough, stuffed with meat and spices. Khinkali is eaten plain or with ground black pepper. The meat filling is uncooked when khinkali is assembled, so when it is cooked, the juices of the meat are trapped inside the dumpling. To make khinkali juicier, usually warm water or broth is added to the minced meat. Khinkali is typically consumed first by sucking the juices while taking the first bite, similar to xiaolongbao, in order to prevent the dumpling from bursting. The top, where the pleats meet, is tough, and is not supposed to be eaten, but discarded to the plate so that those eating can count how many they have consumed.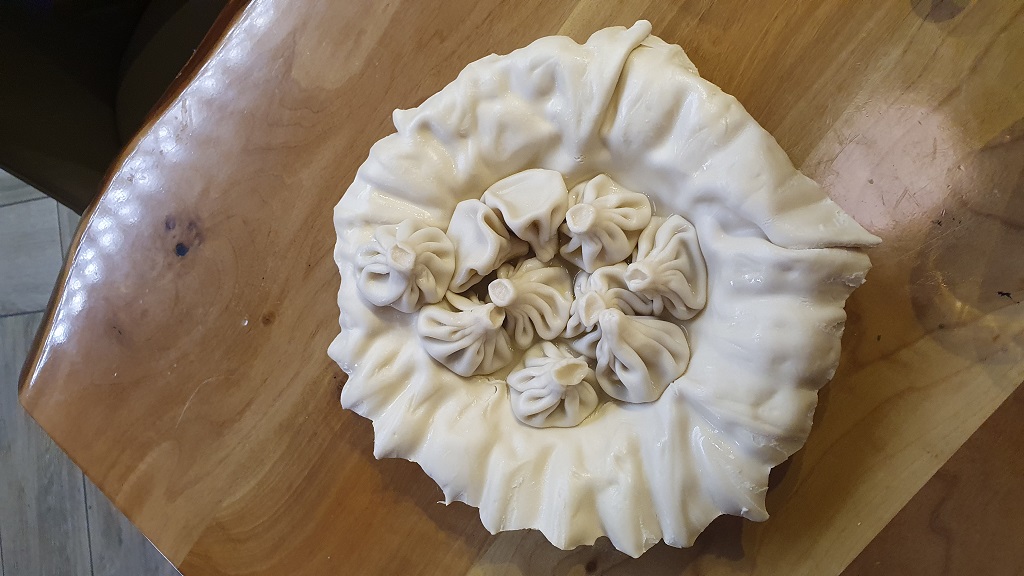 As drinks we wanted to try some local wine, and we've been served with their own red dry wine, which is also very tasty.