Travel To France
Updating...
---
Flights
Flying to Ukraine
Updating…
---
Flying to France
My madness for sitting by the plane window is endless. In fact, all my life I've been thinking about the clouds and the sky, where I'm the only one who thinks of nothing but my ambitions. In one sentence, I love clouds and heights. I met these two lovebirds at Tehran airport before flying to Kiev, they were #Parisians and we didn't know each other's final destination. We just met on the bus to the plane for a few moments. As usual, I had booked my first flight seat by the window myself, but the "windowsy seats" from Ukraine to Paris was full! Finally I found myself on Kiev-Paris flight, I saw exactly the last seat of the row that these two lovers are sitting by the window was mine! I said in my heart, what a chance! My faith in God grew stronger. I told these two that I am that Persian guy! Do you give me your seat to me please ??? It so happened that this time I had the chance to see the clouds again!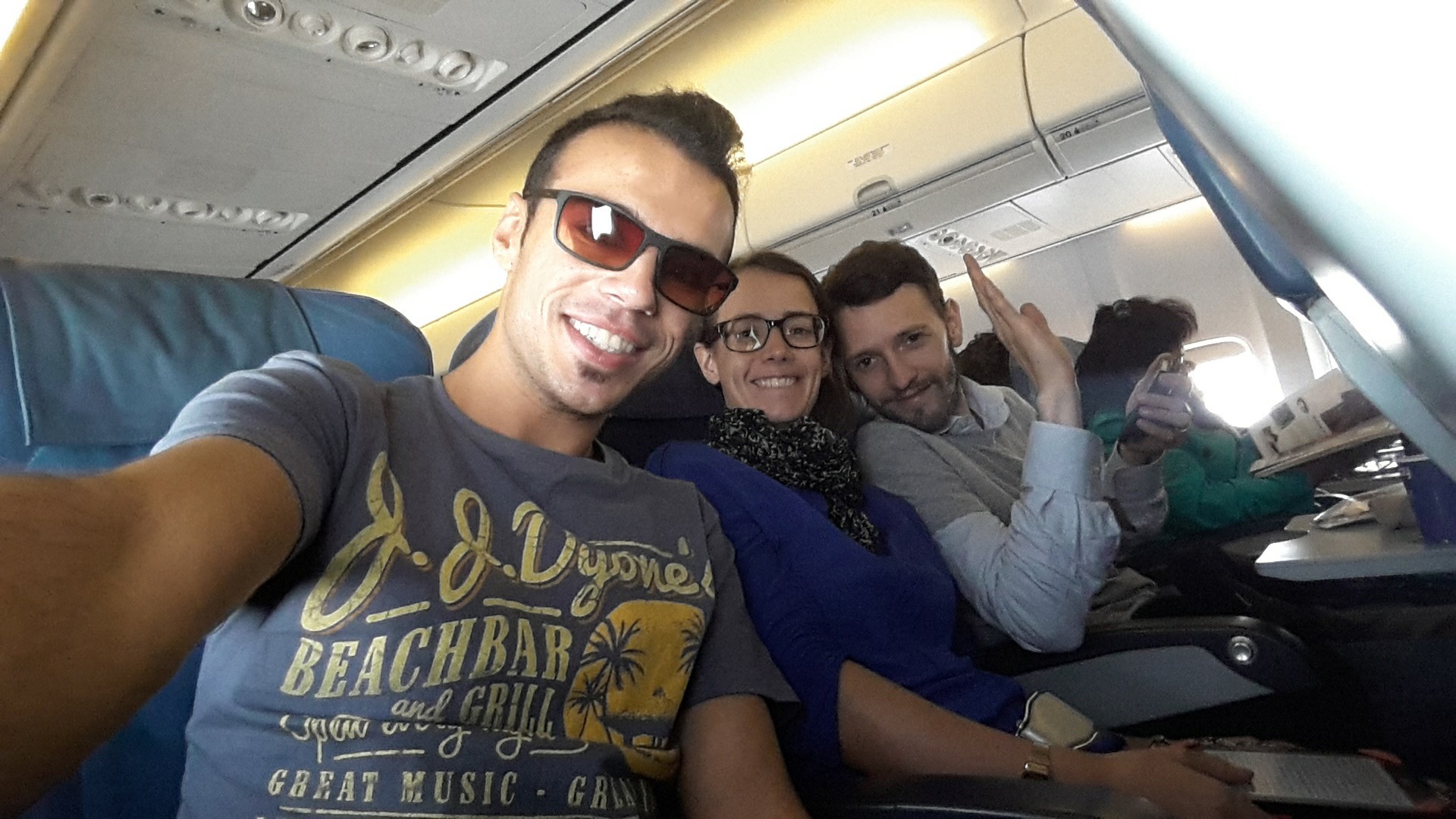 The best feelings come from the moments I leave the earth, sometimes I say to myself, assuming that theory of soul is true, does a person receive the same feelings after death? I have pilot friends who I feel have come to this job because of these feelings. In fact, all the subtle beauties I see in the sky are beautiful to me, details that can only be seen from above. For example, the shadow of the clouds on each other! How much I love these scenes, when I see the higher I look, the sky gets darker this time … Flying is the most luxurious thing that man can experience, in fact the sky is separate from the earth, in the sky we are no longer the same human beings we were on the earth, we are different here, we all look at the details of the world. Of course, if you sit next to me, you will be deprived of this view because I am going to the window with all my head, and you have to go to the newspapers behind the front seat! Of course, this is a joke, most of the time I see the most beautiful things, without knowing people sitting next to me, I say come on, come here and see !!! Whatever you were on earth, you were for yourself!
---
Charles de Gaulle Airport
As I get closer to Paris, my eyes only see the houses and small villages far from the city, and the roads that cut off all agricultural land with all their care. I feel like they were drawn from Vincent van Gogh's paintings; There is a sound coming from the cockpit that "we will soon be lowering the height to Charles de Gaulle Airport, the temperature of Paris is…", but I translate all their conversations differently, as I would like, as they say: "We are getting closer to Paris, a city as if the word, beautiful, is made just for it, the beautiful voice of Edith Piaf can be heard and Frederic Chopin calmed down in a corner of the city; the French perfume is everywhere and the lovers after eating crêpe are walking along the Seine river, to find and sit on their favorite bridge, when we land at the airport, no one will speak English to you".
I have selected some photos that I took from above for you,
---
I had to hug it like a child
The suitcase I had was not suitable for this trip and I selected a suitcase in a store in Paris since last year. I had two options, either to bring my suitcase and leave it in Paris and put my things in the new suitcase, or to carry my belongings in a temporary bag. I chose the second option and put all my belongings inside, which weighed more than twenty kilos, in a very thin flight cover that looked like a large bomb. Most of them were souvenirs (pistachios) and fruit leathers. I had a lot of energy in Tehran and I never carried this temporary bag, I didn't understand how it felt to hold it in my hand, it was all either on a cart or in an elevator.
By the time I got to Paris, I had quickly dropped it on the cart. I had decided to take the subway to my friends Friedemann and Eva, until I arrived to subway's entrance, and then I had to carry it and release the cart at the airport. About a kilometer away when I got to the train, I just realized how heavy it was! I said to myself, when did this become so heavy! Even it had no handles to lift, I had to hug it like a child…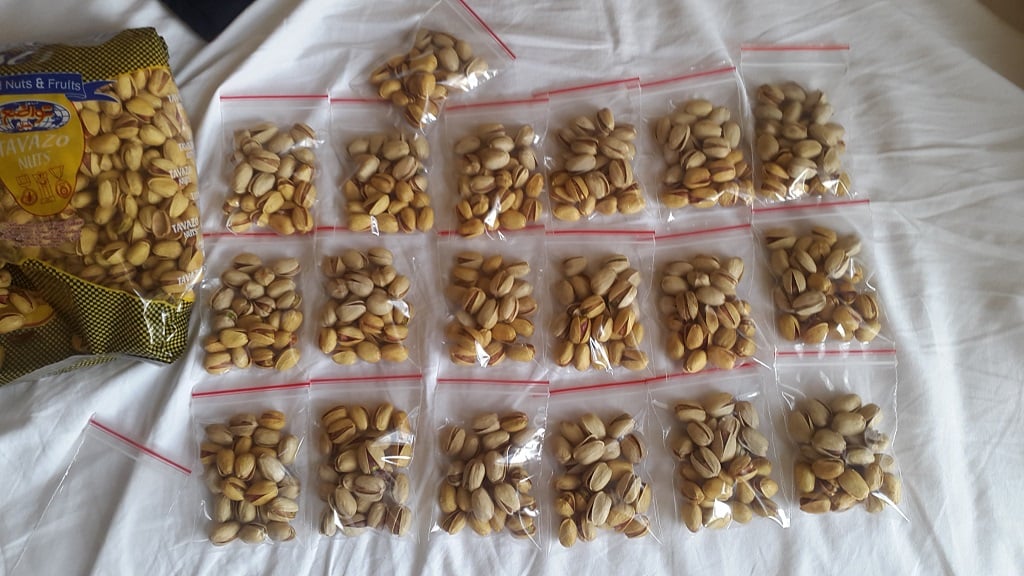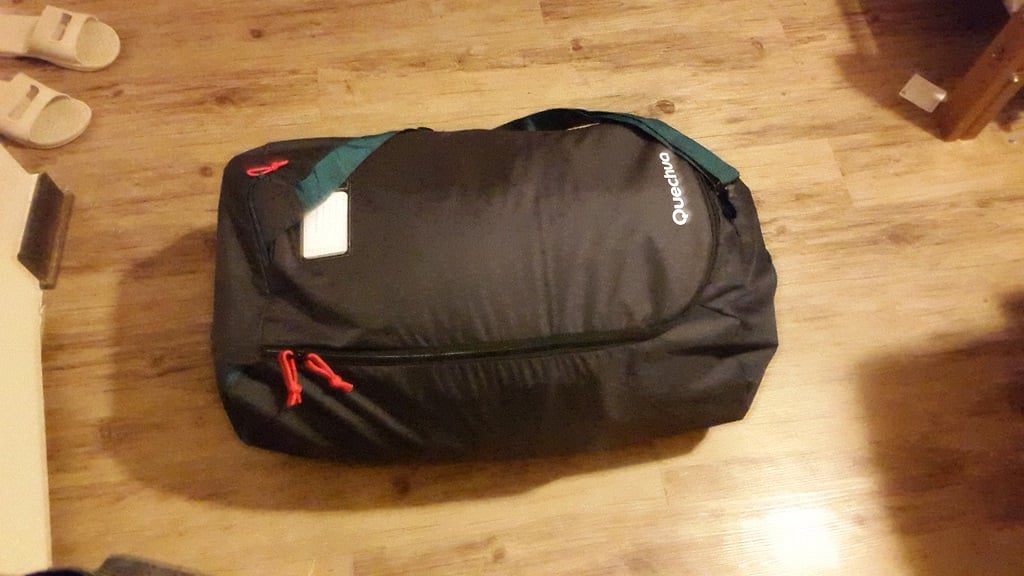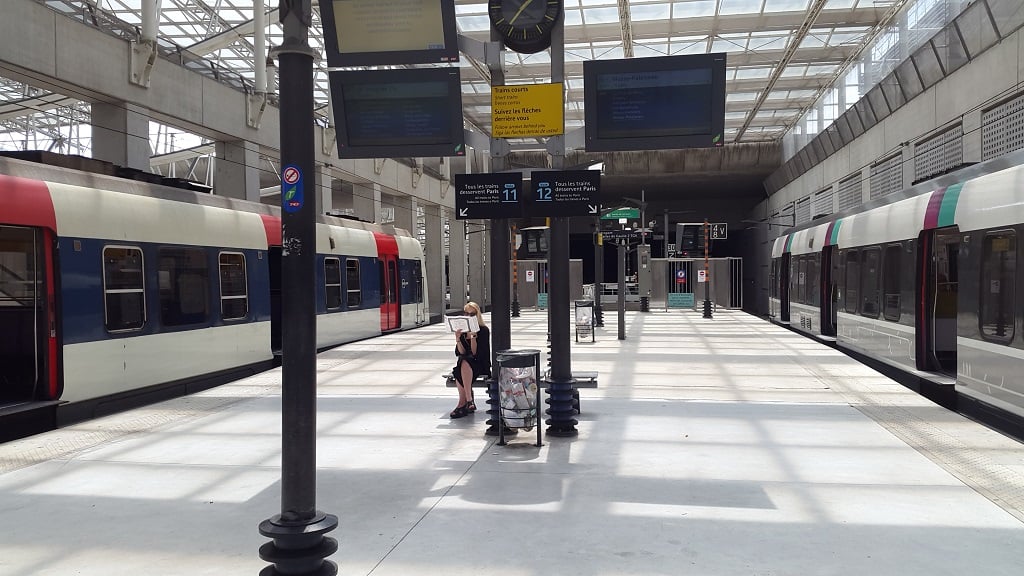 I changed the line about twice, decided to take a taxi several times, but every time I got closer to my destination, I was reluctant to make that decision. Just as I was about to change the final line to my destination, I came across a large hall, as if I had to walk 4 kilometers underground with this thin bag that I was lucky enough to not having it torn yet to reach the next train. Sometimes I even decided to throw my box full of fruit leathers out of the bag and continue on my way, but no no no stop talking about fruit leathers! I was willing to give up my money, but not those fruit leathers! Of course, with the rest I did every 50 meters, my body would dissuade me from this decision.
I have already heard from some people that the black people of Paris, take the money and mobile phones of people like me who have a big bag and run away. But well, man is man. I was more afraid of surrendering myself to the weight of my sack, a sack that, even if it weighed less, might have been harder to carry, because it was loose, too thin, too thin!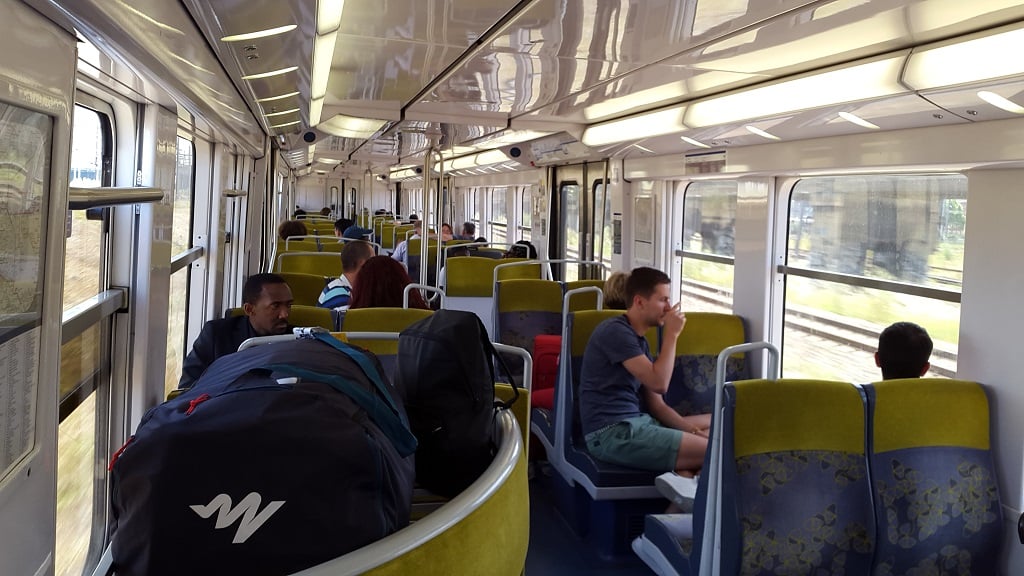 I was in the same thoughts until, just like in the movies, one of the blacks among all the white people who were running to the train, turned to me and said, "Do you need help?"
I replied to the black man with a smile, "Please." Although he didn't speak English, we both talked in a common language called "peace" for a common purpose, which was to carry this damn bag to the next train. "My house is here, I have to go," he said in French at the next train station. I said MERCI and we took a picture together, I gave him a small package of Iranian pistachios and we said goodbye to each other after exchanging our Facebook IDs. That night, I saw his message on Facebook: "I feel s good after helping you today, and I'm glad to meet you." I remembered the movie "The Intouchables (2011)", be sure to watch it.
I think I wish I had chosen the first option, but after a while I will come to the conclusion that if I had chosen the first option, I would never have had any memories with that black man. As for the taxi, if I had taken a taxi, I would have only seen the French kisses of the lovers under the Eiffel Tower, but my life is not like that, I want to meet people who can kiss my soul… That's right, the second option and the use of the subway was the best way to transfer my belongings to Paris.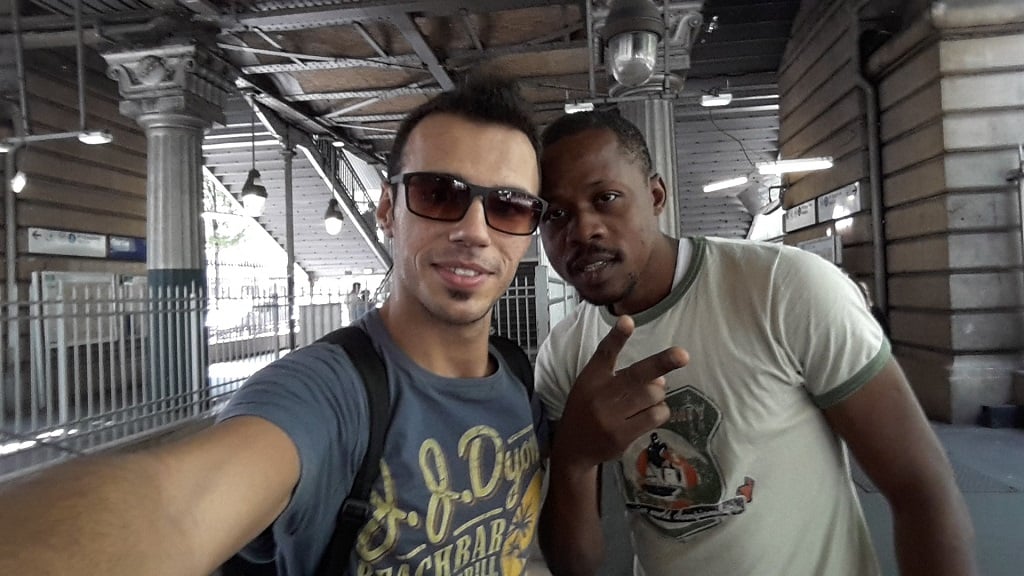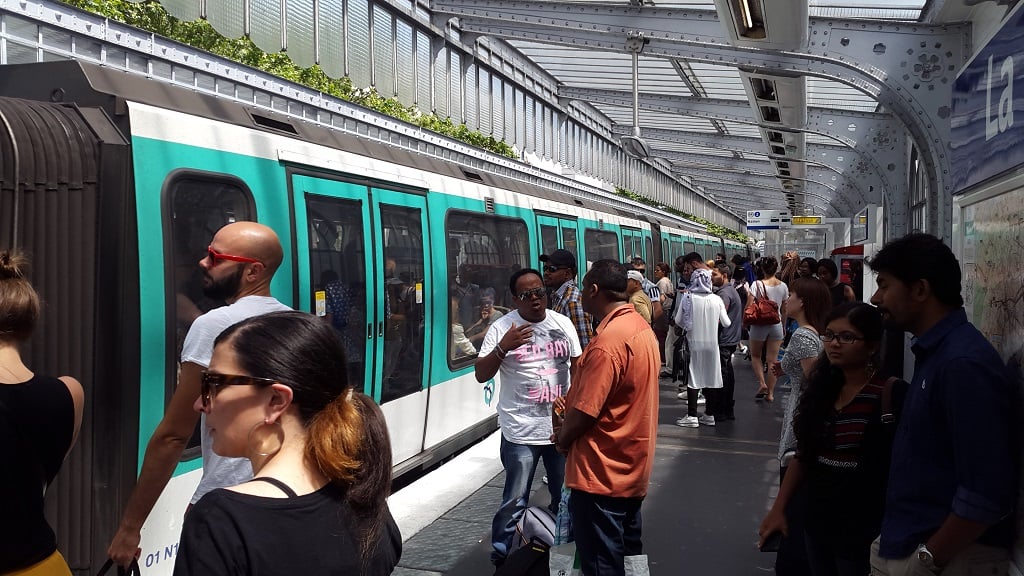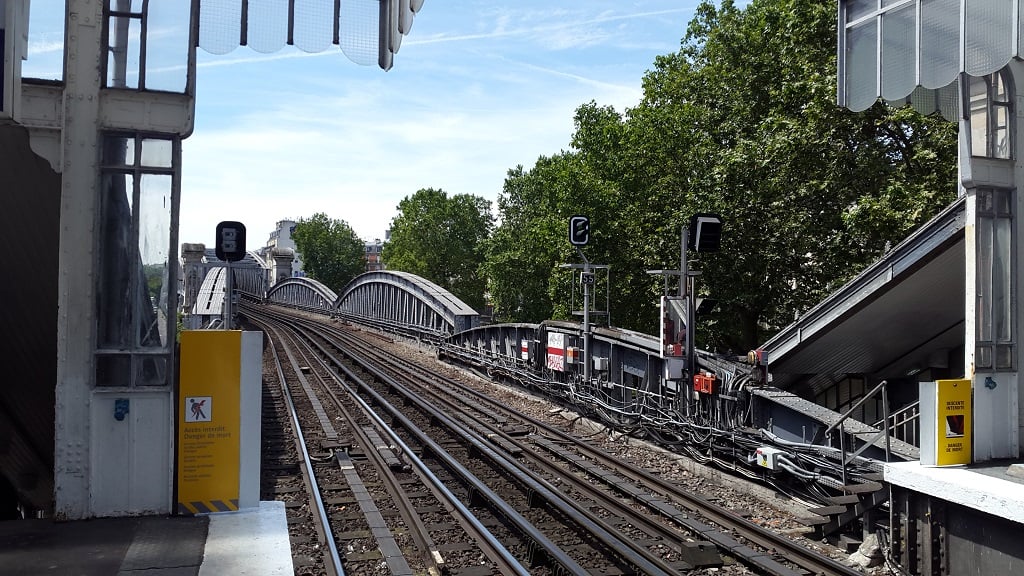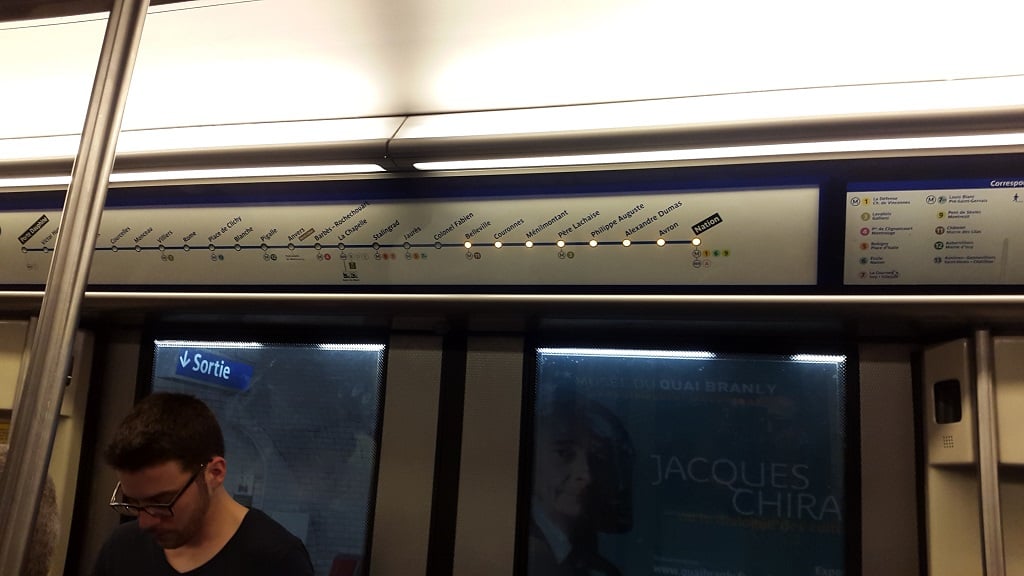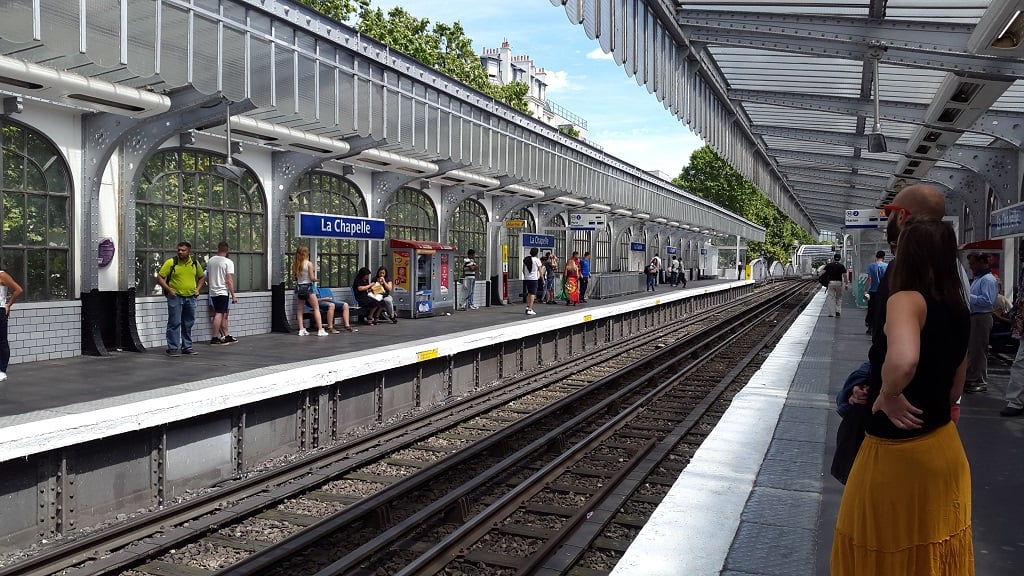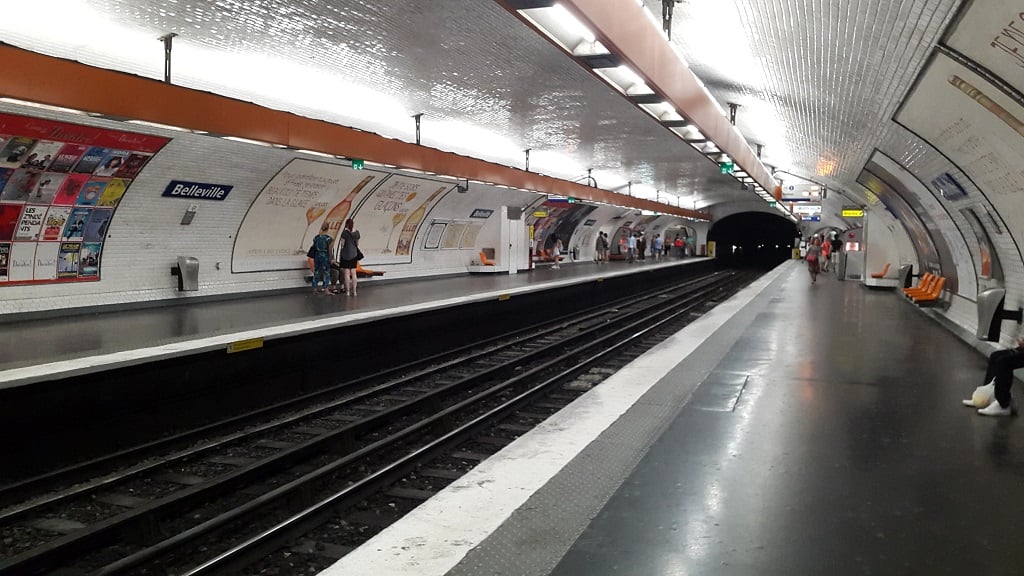 The story was not over yet, when the next train took me to the last station I had forgotten all the maps, now I had to climb the stairs and go out to go to the destination on the street. I had about 20 meters left to get out from under these roofs; I was looking at the map with my mobile phone when about 6 young black who seemed to be looking for wickedness said to me: "Do you need help?" I said yes, I showed the map and said I am looking for this street, one of them took my mobile phone and zoomed in on that street, they all went to the exit with my mobile phone and looked around, I was thinking of buying another mobile phone at the same time, I became careless with that mobile phone, I thought to myself, which mobile phone should I really buy this time?, suddenly I said no! If they take my mobile phone, then what will happen to its data?
What will happen to numbers of all my friends I will meet soon in Paris! I immediately left my sack there, I was not afraid of anyone taking it because I knew no one could lift and run with that sack. I walked to them, they guided me, lifted the sack together, and then we said goodbye. I got a little bold, I said to myself, "It's good that people are helping."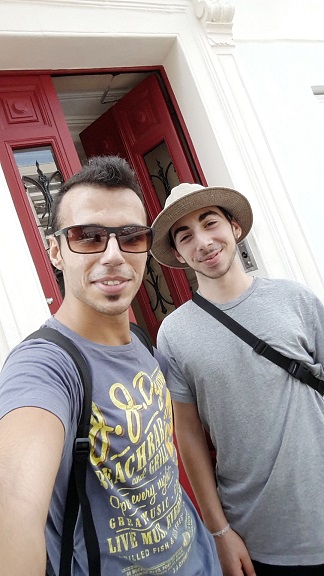 I saw a white man walking towards the same street I was going to, I said hey help me! he said no I am in a hurry. I said in my heart, "Wow, people…!!!" I went a little further and tried this method again, we took the bag to the front door of Friedemann's house with a boy in my age. Without any expectation, he helped me with a kind smile, which made his eyes smile when he was laughing. Never asked where you are from and what you are doing, he just wanted to help a stranger that day.
Friedemann opened the door, since I do not have a good chance in these cases, Friedemann lives on the top floor, with very narrow and long stairs, small stairs that you can only put your feet, and you do not have a space to rest. I was in the same thoughts until suddenly I heard the sound of Friedemann's footsteps coming down the stairs, I said to myself: "Well, here it is that Friedemann is bothering him and that's it!". Friedemann reached down immediately after the warm greeting that we saw each other after a year, he lifted the sack and I said with Iranian Tarof: "No, I will take it myself!" I was lucky that my Tarof did not work this time.
---
Parc des Buttes Chaumont
I always thought that how happy the sun is, the sun sees the whole world every day, I wanted to shine and travel like the sun, but in fact the sun shines differently in all parts of the world, in Paris, for example, on the roof of houses may shine more intimately, As if they are drawing another space, as if it has a different morality, as if it shines so softly that it wants to embrace you.
Something has been created in me that makes me feel like we all act like the sun, we are all the same color but we shine differently in different situations/parts, for example I feel like I am becoming more poetic in Paris, my vocabulary is different, my feelings are different, I even drink my coffee differently, I look at everything more romantically.
Paris is a city that poets and artists who have traveled in history call it the city of "love", but those who live or travel to it today have the opposite view, for me, is not like that. We look to create something either glorious or crazy in our minds.
Here in Parc des Buttes Chaumont, the sun is shining as it should in Paris, I took pictures of Parisian lovers, of course there were more pictures, but I tried to publish pictures where people's faces are not found. In which photo do you get love the most?
---
My Room in Paris
Man will never be satisfied with anything. And he always wants to have more than what he has. We didn't see civilizations before human urbanization, when man lived on land… but what we see today shows the insatiability of man. We humans just want to expand, and have more than what we have.
Governments emerged, and statesmen of the same race began to conquer the country, in pursuit of adventure and empowerment, they destroyed anyone they found on their way, and wars followed. With all this, one cannot imagine a good future for the world.
I am also a human being who seeks to expand my life, but sometimes some moments create thoughts in me that I think my life can be different. For example, I think having a temporary bed in an antique apartment, with books by Victor Hugo, and listening to a phonograph playing "Nocturne" by Chopin, who is also sleeping in the same city, is more than enough.
I'm here to show something else.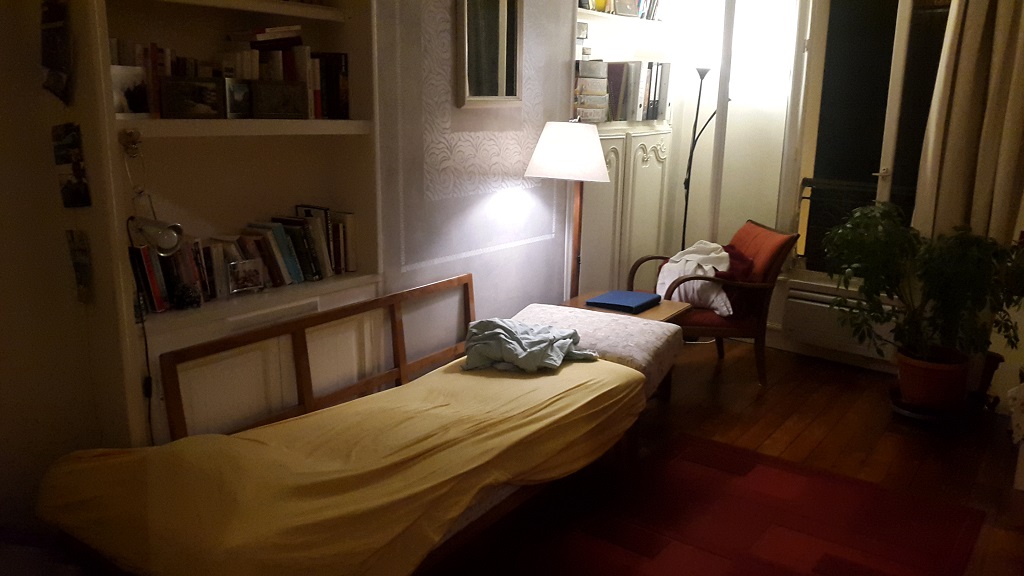 ---
Louvre Museum
Updating…
---
His Smile
To calm down, I loosened my tie and ordered a coffee in La Frégate, right in front of the Louvre. I was drinking coffee when the red light was locked in front of me and the protesting French drivers started honking. Something that often happens in Paris. I got up to record a short video,
when it was over I came back and saw that the person next to me was smiling from the bottom of his heart.
I said with a smile: "well, it happens". I said to myself in my heart:
"Only he knows that these horns are nothing more than jokes. He knows that right here where we are sitting and drinking coffee with the thought of calming the war inside us, what wars have taken place, how Nazi cannons and tanks have hit all the walls here. I love his smile, his smile is worth more than anything, he is the only one who understands peace, understands the meaning of freedom and life, coffee is no longer needed, seeing his smile calms me to continue the day".
We took a photo together to share this beautiful scene with you. His smile is full of hopes…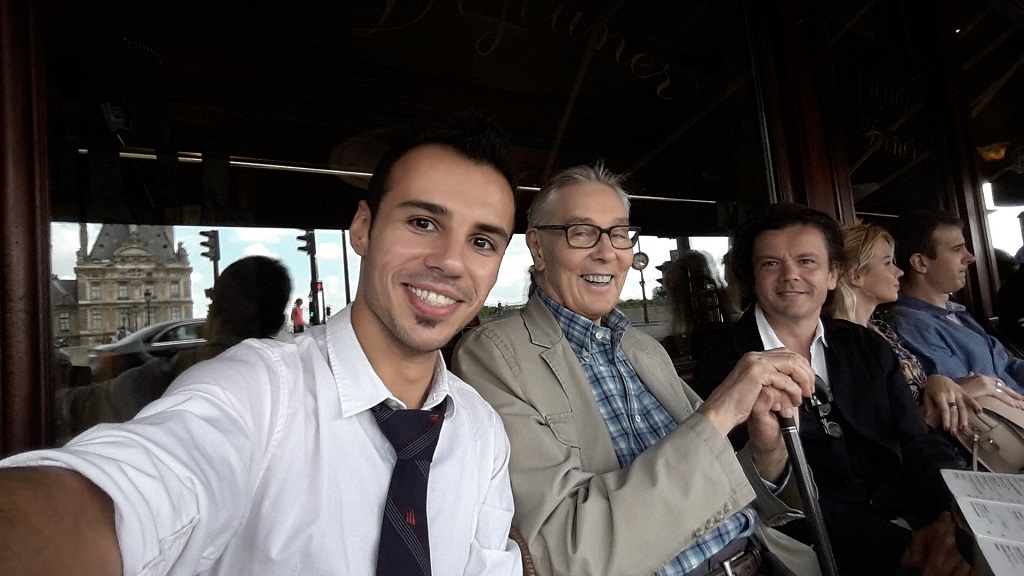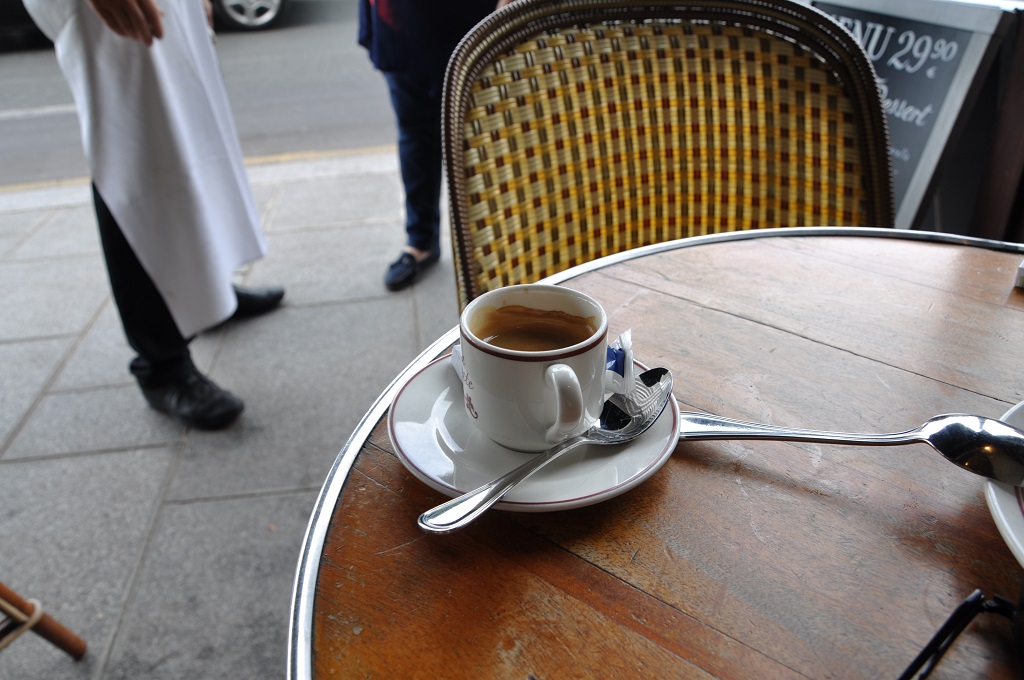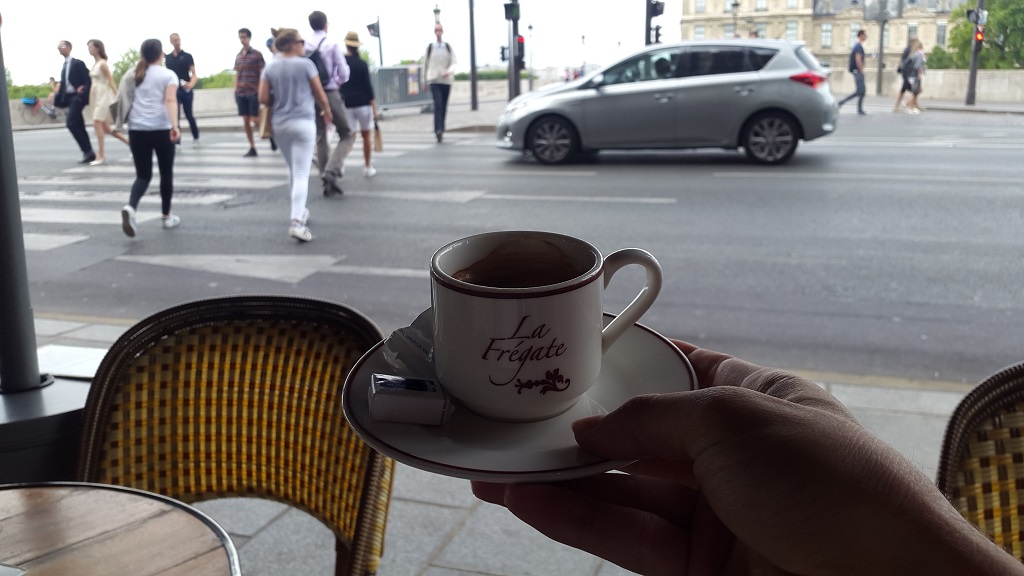 ---
Seine River
I made what I thought I could make. As a child, I thought the world is so beautiful, but my migrations sometimes showed me something else. I always guess the world is a theater stage and people are performing for me, I feel like a toy. But as time goes on, I say to myself, stop these strange thoughts.
What is created along the Seine is the art of famous writers, composers and filmmakers. Some see the corruption of young people by the river, some see the kiss of lovers, some smell the smell of war, and some just watch the Eiffel, but I watch Paris in my own way. For me, this is a scene where art and culture take shape in, a launching pad from which love sometimes begins and its memories remain forever. Paris only shows me her beauties since I met her. It seems that you can really fall in love with someone there! I'm here to show something else.
PS: the flowers in my hand is not as real as you are / thanks Juliana for the picture.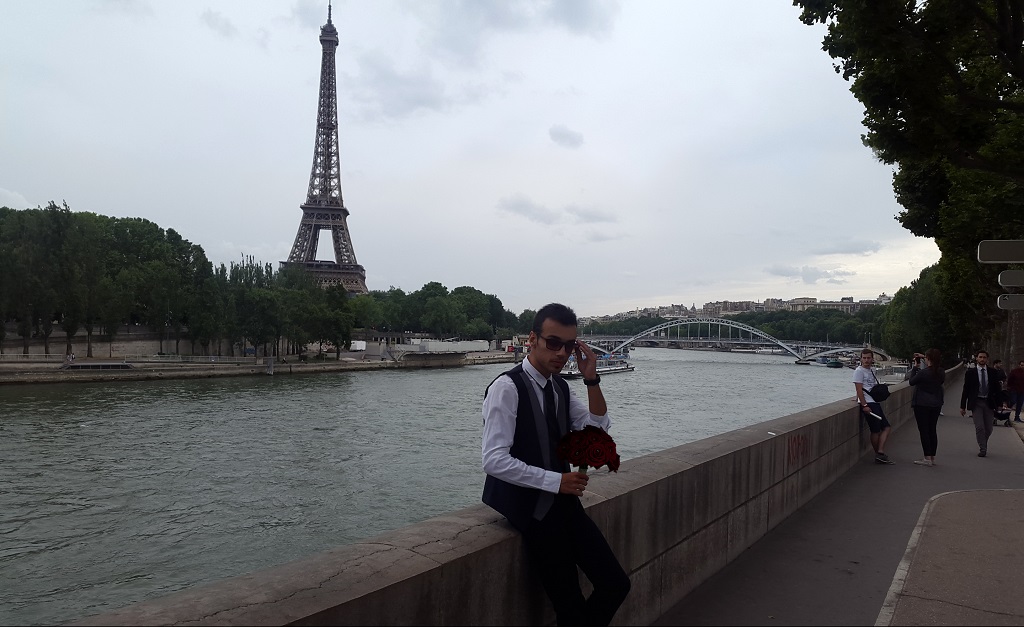 ---
We Can Be Peaceful
Politicians Are Born Of Us
It's written on the poster we held in our hands: Open your third eye to a new world, we can be peaceful. With a graphical photo called "Third Eye". In fact, this design has no religious or political orientation. This surreal design has a message. The person – who I am – is accustomed to living in a world full of heartbreaking war events, as if even someone's blood has been shed on him but he can no longer tolerate his habits until he opens a third eye, which can follow the world ahead more realistically.
Sometimes I think about everything, with the perspective I have achieved at this age I imagine myself as a child who has just been born, imagine if that child had our current perspective, how much he should be afraid of the meaning of war, A war that is scary even in movies.
Our world is full of war, war with ourselves; Yes, war with ourselves. Politicians are born of us, but how does humanity turn man into such a demon of war? In fact, we have come a long way, this corona social distance is something in appearance, we humans have been separated for centuries. But I want us to be together again, to show the other side to the world; I want "peace" …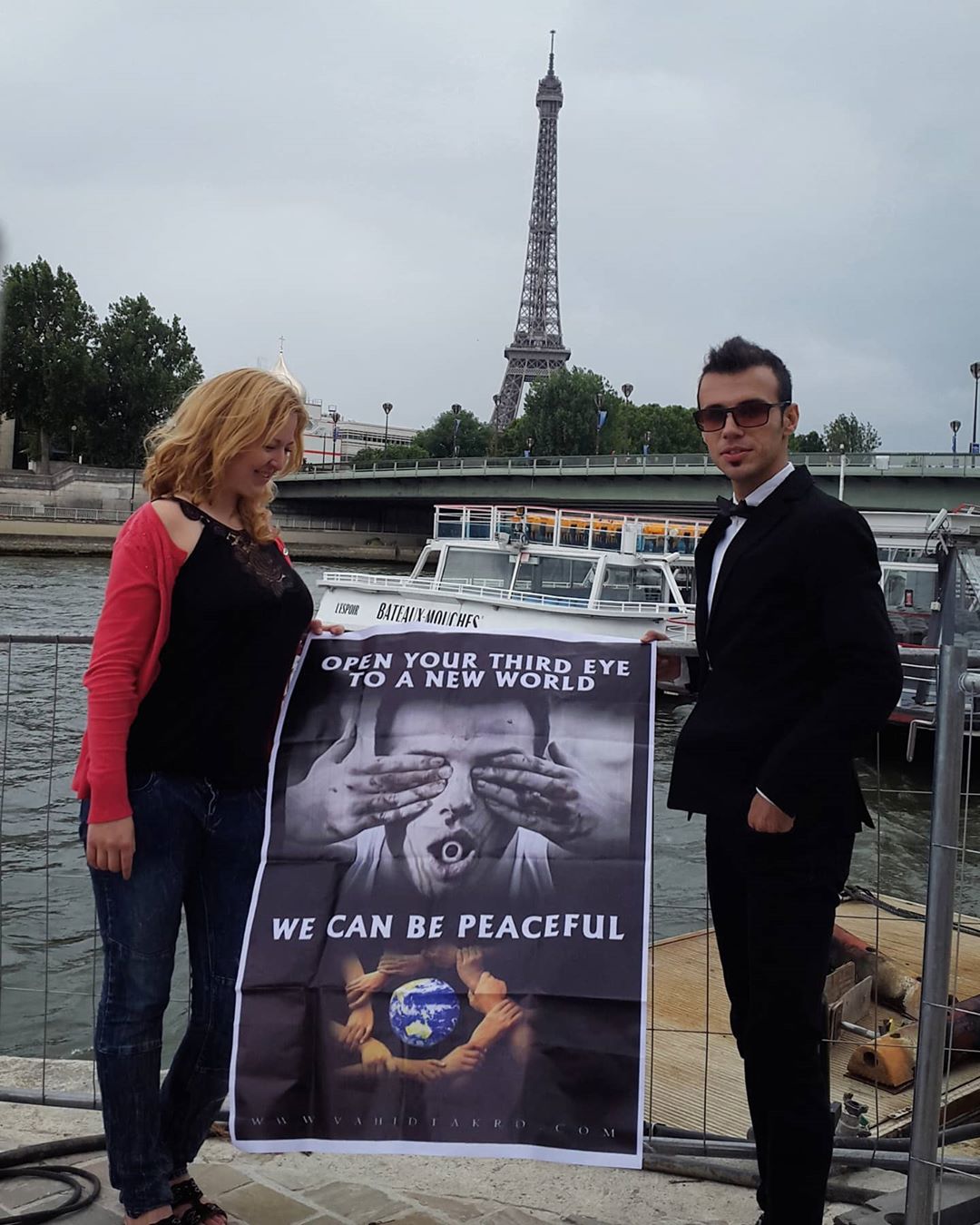 ---
Père Lachaise Cemetery
It is no coincidence that Père Lachaise Cemetery is a paradise for me, a paradise full of people who have played a significant role in my life. I will never forget the first time I came here, I was so excited to meet my favorite musician Frederic Chopin after all these years, but the doors were closed, I was late. But now I'm here to take you to the heaven, a different corner of this cold world.
Père Lachaise, the largest cemetery in Paris, is one of the most visited and famous cemeteries in the world. It is also important because it is the first cemetery in the city. This cemetery is a relic of three wars. Many celebrities are buried in Père Lachaise Cemetery. It has more than 3.5 million visitors each year, which is the highest number in the world.
Frederic Chopin, a prominent Polish pianist and composer
Oscar Wilde, Irish novelist and playwright
Sadegh Hedayat, Iranian writer
These are the names of the people who have made Père Lachaise more of a paradise for me.
Photo: Monument aux morts de Albert Bartholomé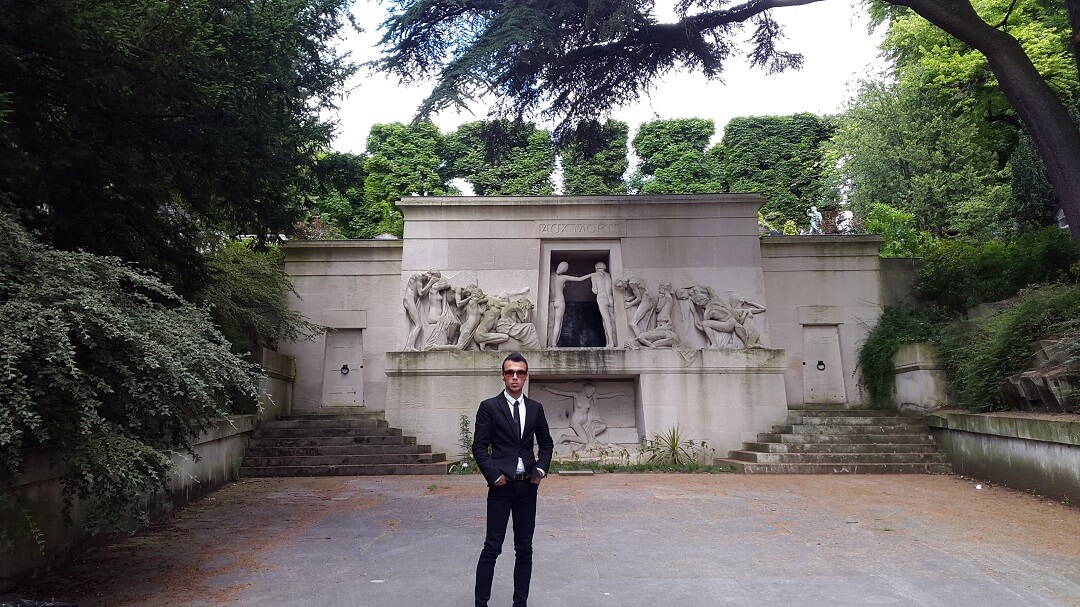 Honestly, Père Lachaise Cemetery is the most beautiful park for me. Here I take my steps very gently, I feel Chopin fall asleep playing the Nocturne pieces, I feel Hedayat never wants to wake up, I feel all the cells of Oscar Wilde's body are happy in his cell, my feelings reaches its peak in Père Lachaise, though this is not the first time I have experienced this feeling, but here is different, I feel Chopin walking beside me and telling me about his pieces, these are not just words, I really feel this way, more real than what can be expressed in words … I lived Chopin … just him …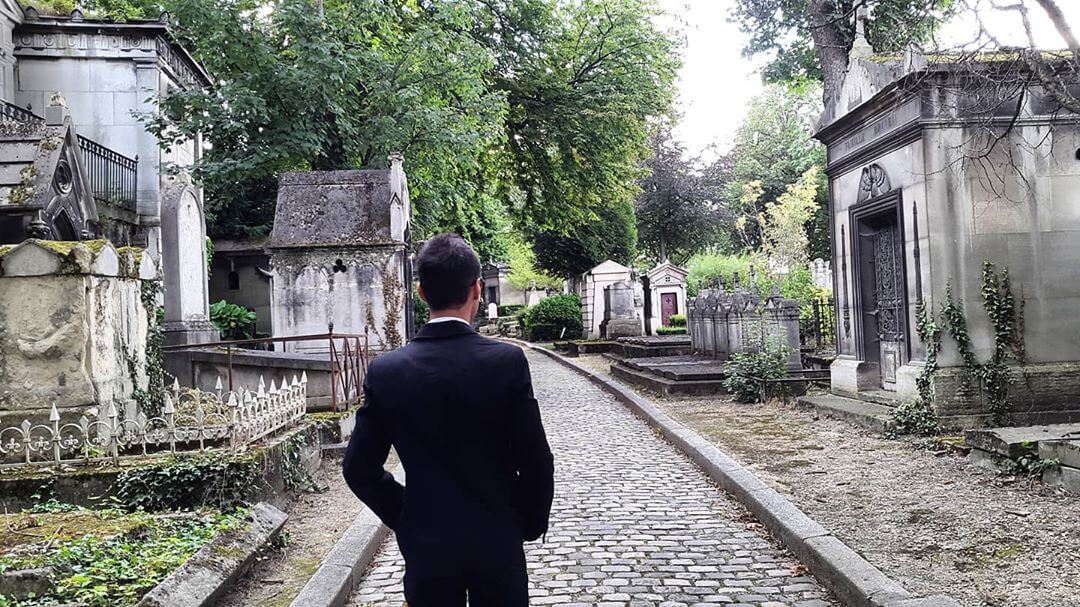 Sometimes I think I can confirm that Père Lachaise is the most different place I have ever walked in. When I get to this part of my blog, my writing power weakens, I feel like I am losing words, I have nothing to say here among all these celebrities, poets, writers, musicians and influential artists of history. If so, what should I say? From whom should it be written and what should it be said? Chopin? Jim Morrison? Edith Piaf? Oscar Wilde? Hedayat?
The result is that I now share images to get to Chopin, as I have to express my feelings with his own music.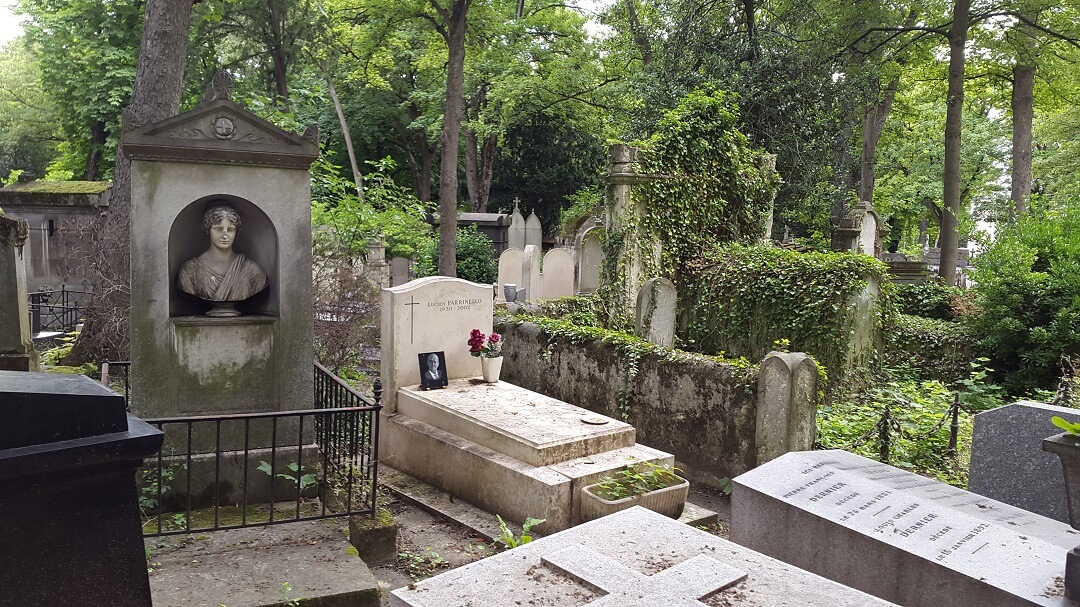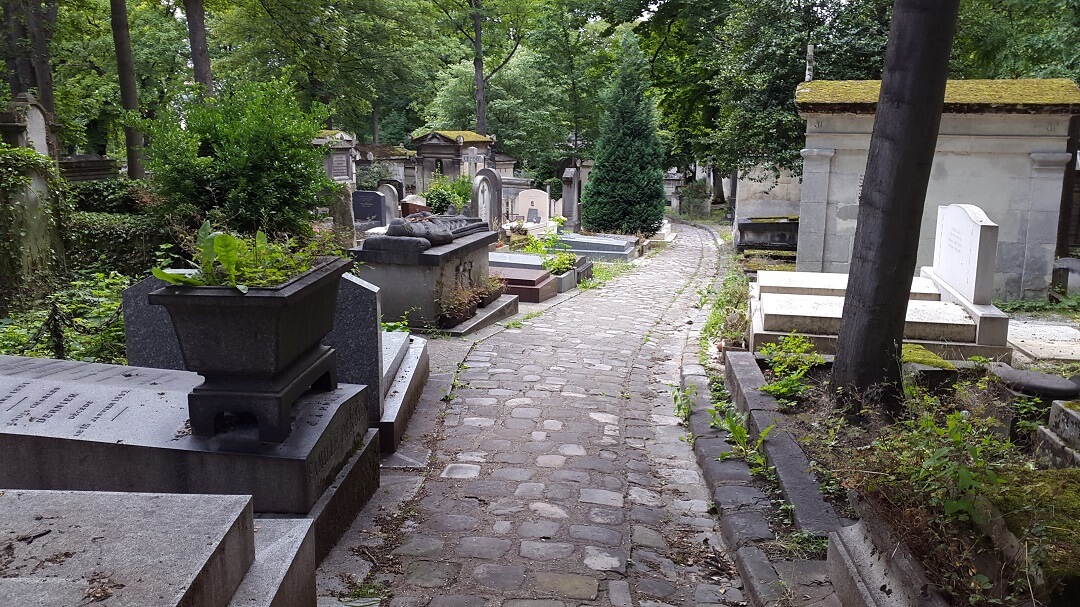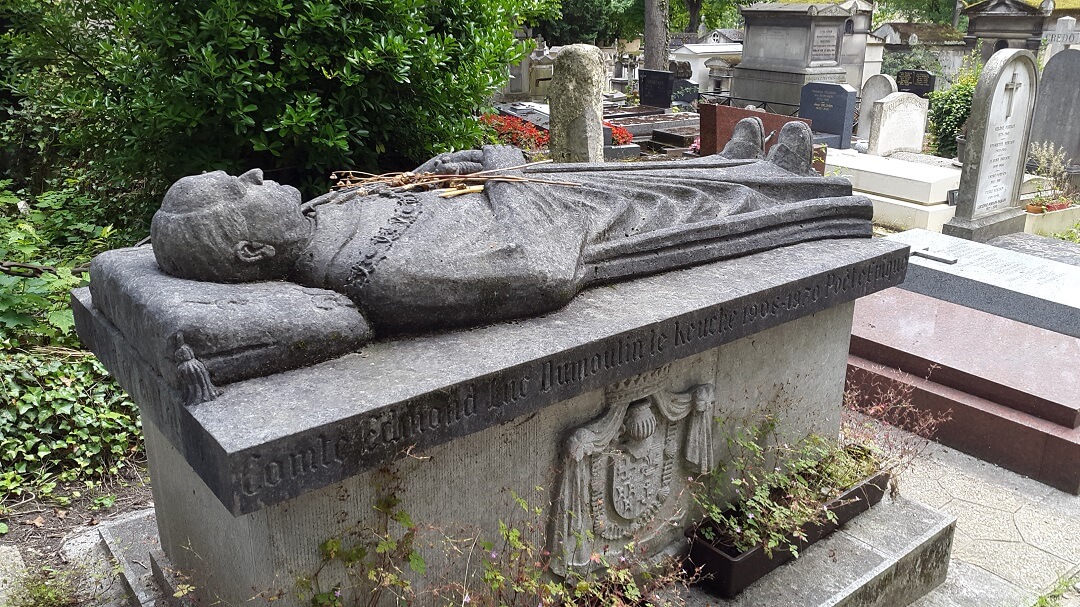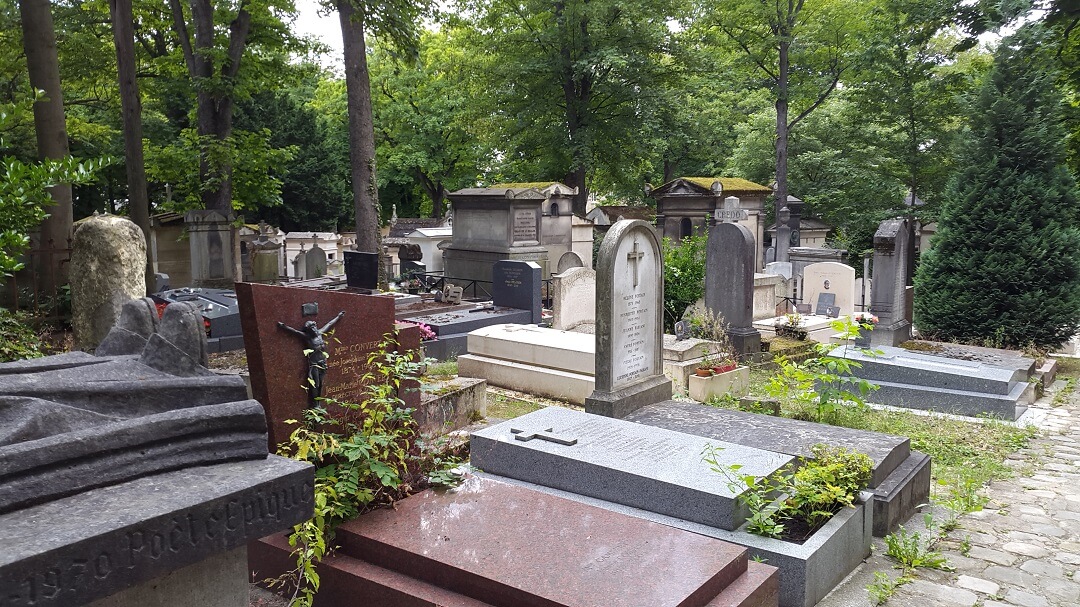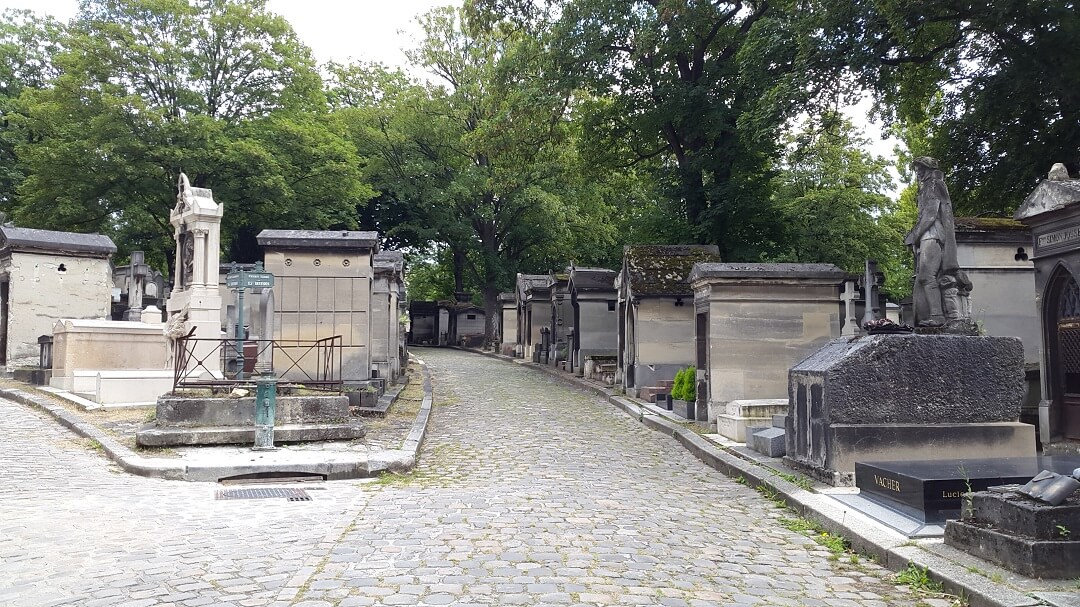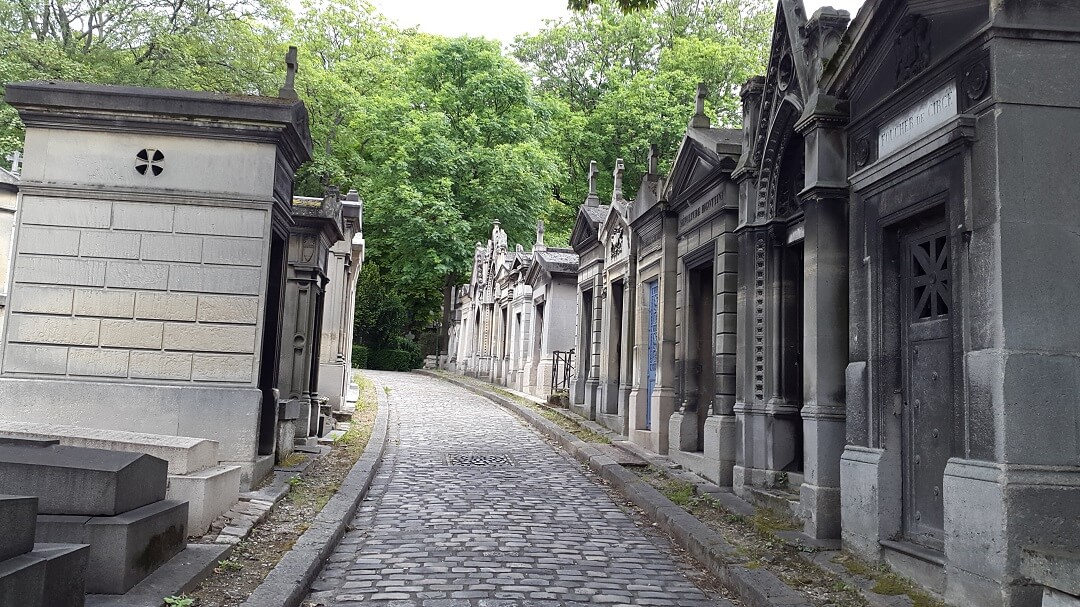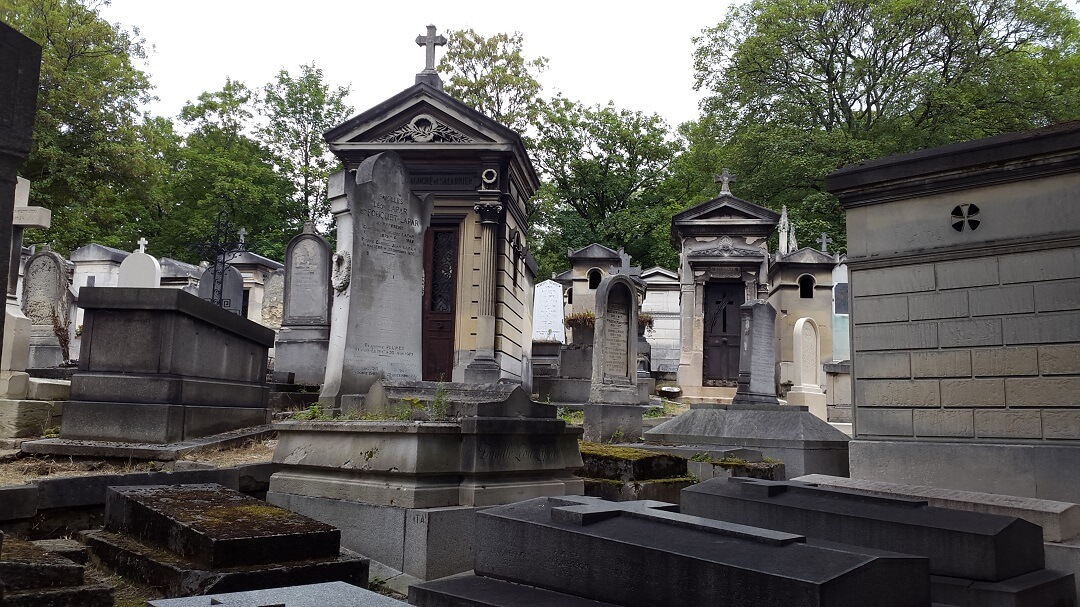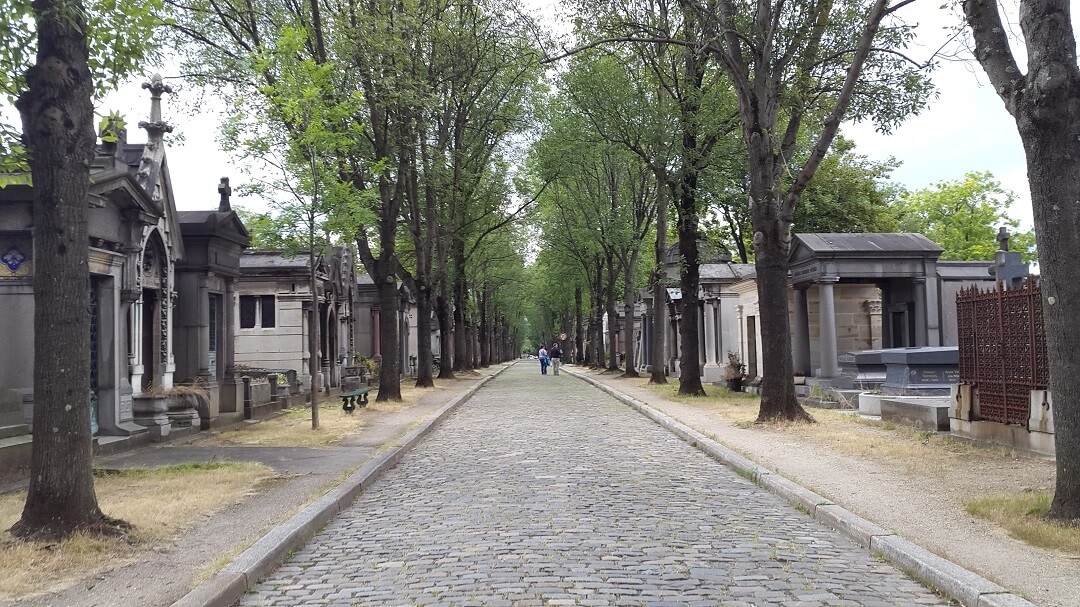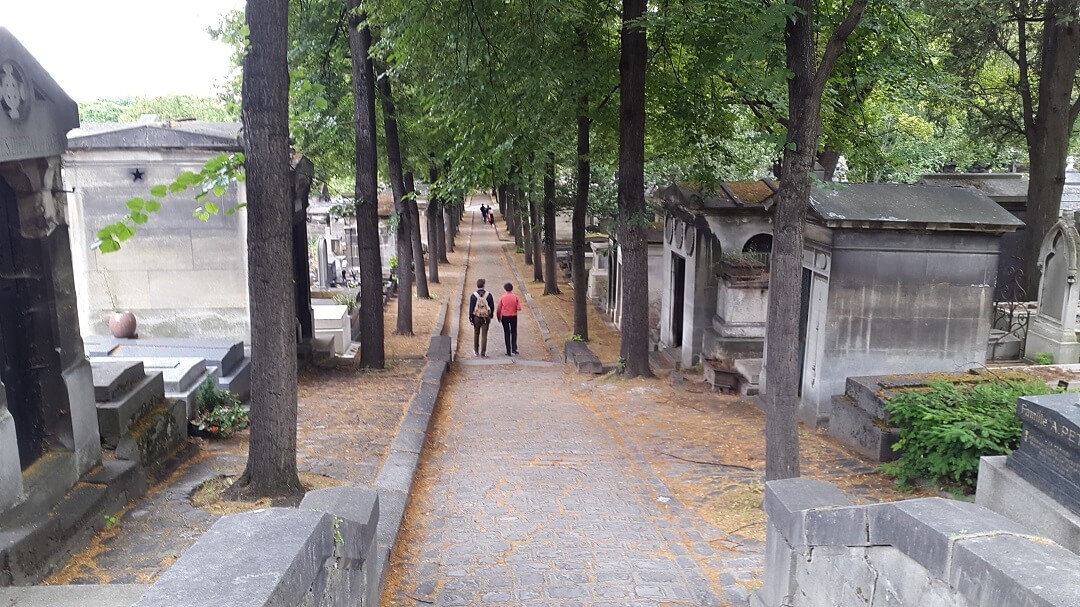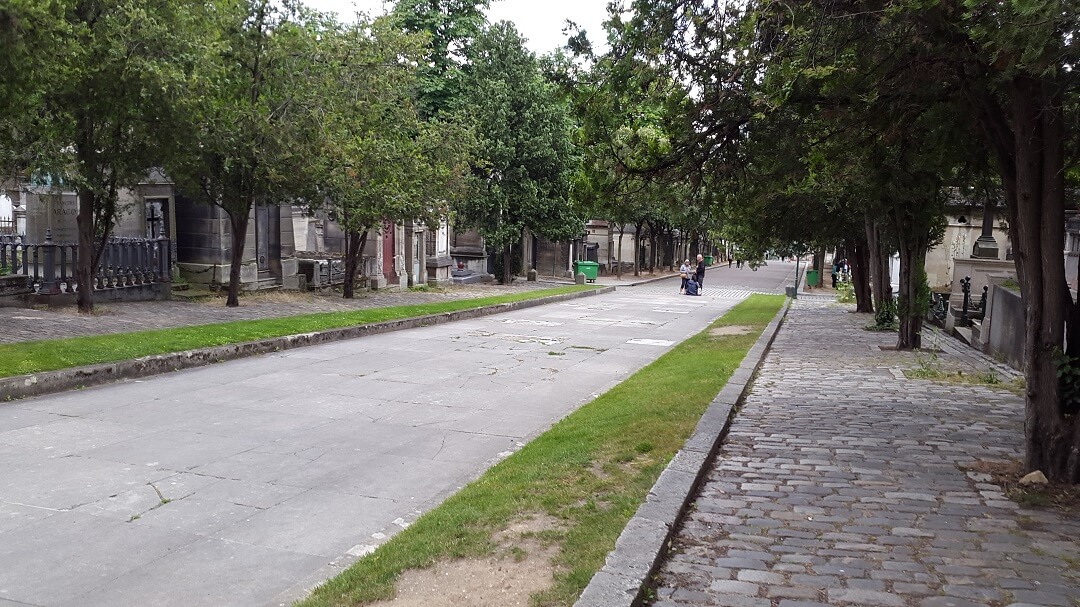 Walking in cemeteries like Père Lachaise always brings a different experience, which is the encounter with "random tombstones". Of course, this happens more in Père Lachaise.
As I walked, and browsed through my life with Chopin pieces to reach him, my eye accidentally saw the "Louis Poinsot" stone, which has a design very similar to Ahura Mazda, God of Persia. This resemblance is probably not accidental, and it can not even be said that this stone is similar, because the design is exactly the same, I have reviewed it many times.
Louis Poinsot (3 January 1777 – 5 December 1859) was a French mathematician and physicist. Poinsot was the inventor of geometrical mechanics.
The literal meaning of the word Ahura is "mighty" or "lord", and Mazda is "wisdom".
So, before the occupation of Iran by the muslims and the promotion of Islam, the Iranians worshiped the religion of Ahura Mazda, Zoroaster.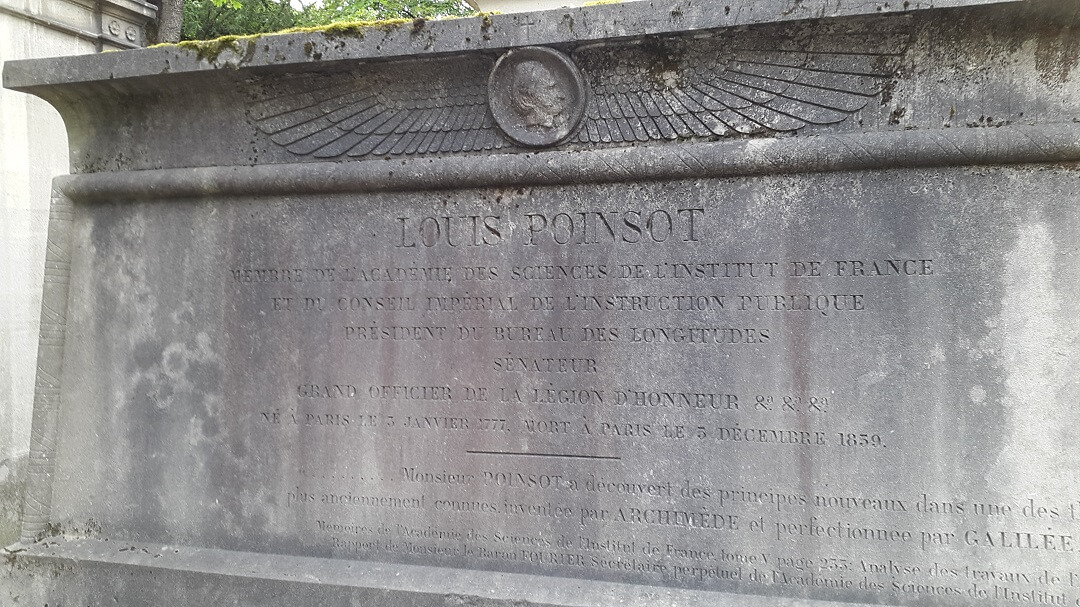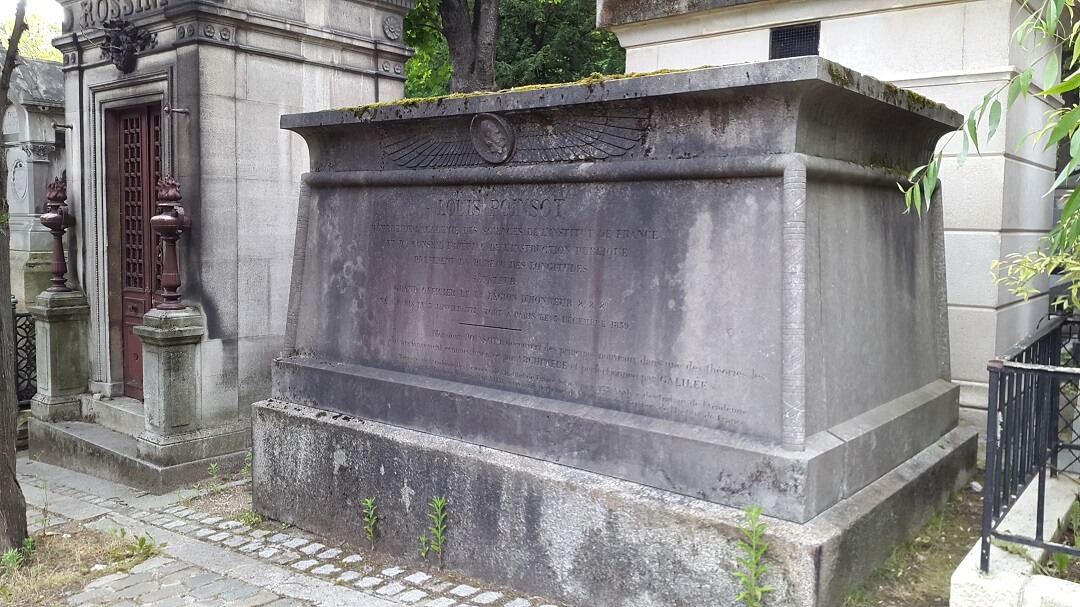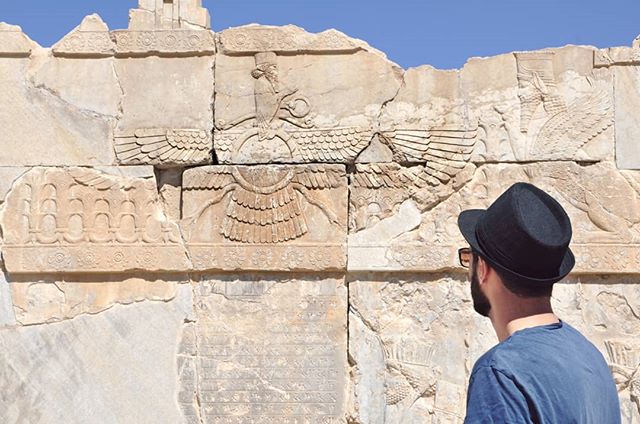 Michel Petrochiani
This is the image of a simple and small tombstone of Michel Petrochiani, He was a French jazz pianist. From birth he had osteogenesis imperfecta, a genetic disease that causes brittle bones and, in his case, short stature. He became one of the most accomplished jazz pianists of his generation despite having pain in his arms.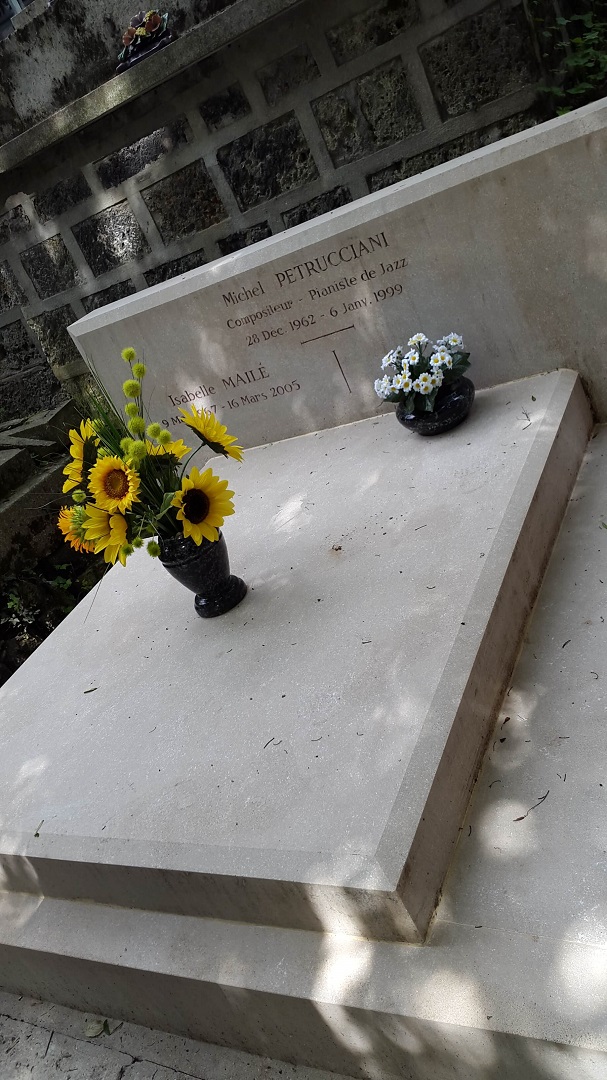 Marcel Proust
next is the tombstone of Marcel Proust, a French writer and essayist. He is considered one of the greatest writers in the history of world literature for writing his great work, In Search of Lost Time. In fact, this is a family tombstone, and his brother Marcel Proust, a urologist and obstetrician, is also buried here. The interesting thing here is that they put the Paris Metro tickets with a small stone on their grave, I asked some French people, they didn't know the reason, I searched on the internet, still couldn't find the reason.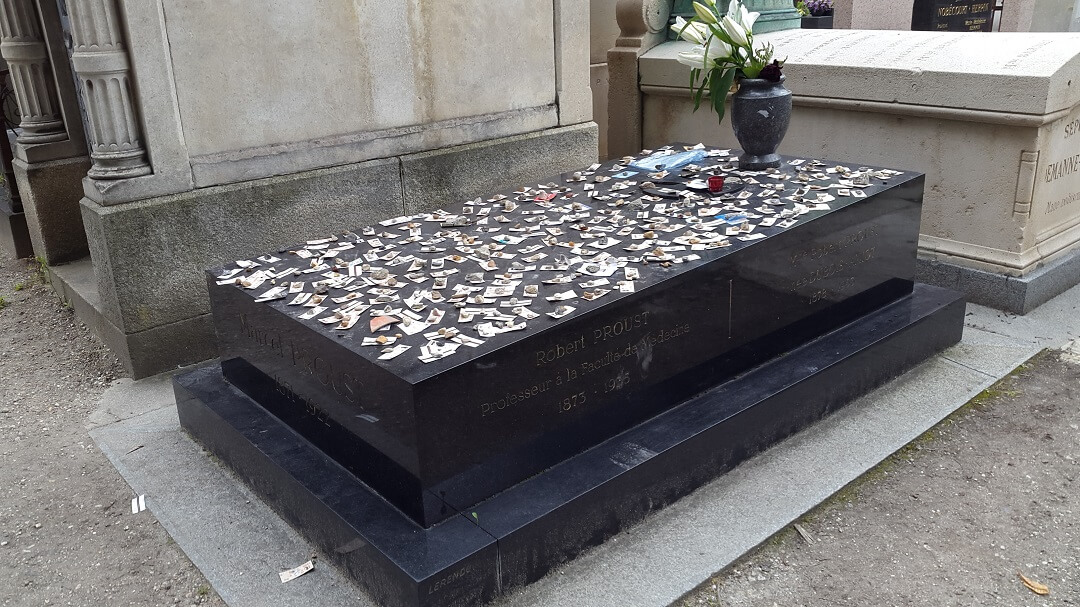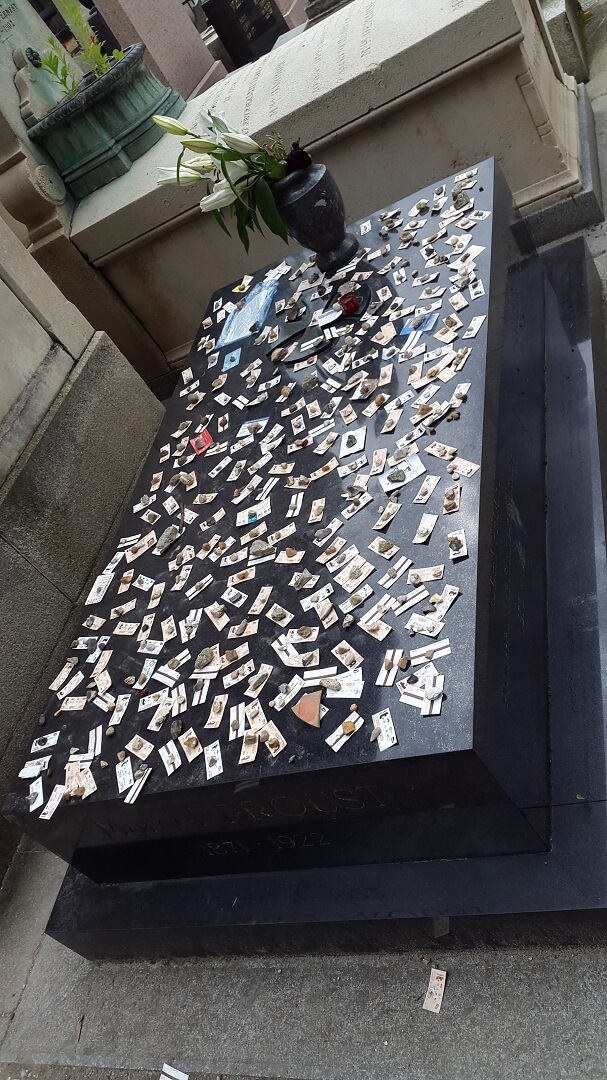 Here are some photos of some random tombs: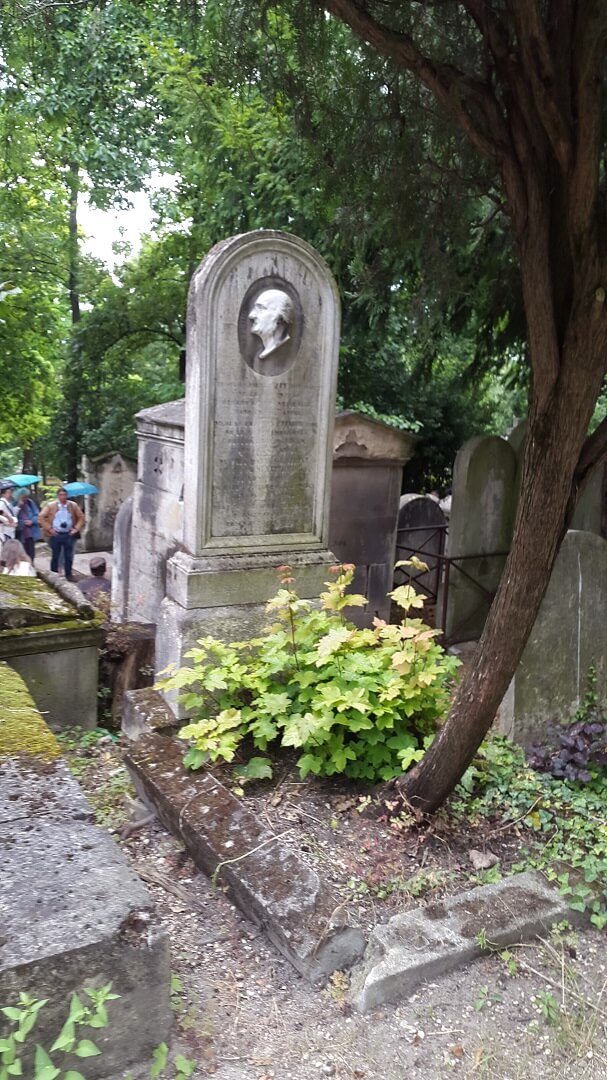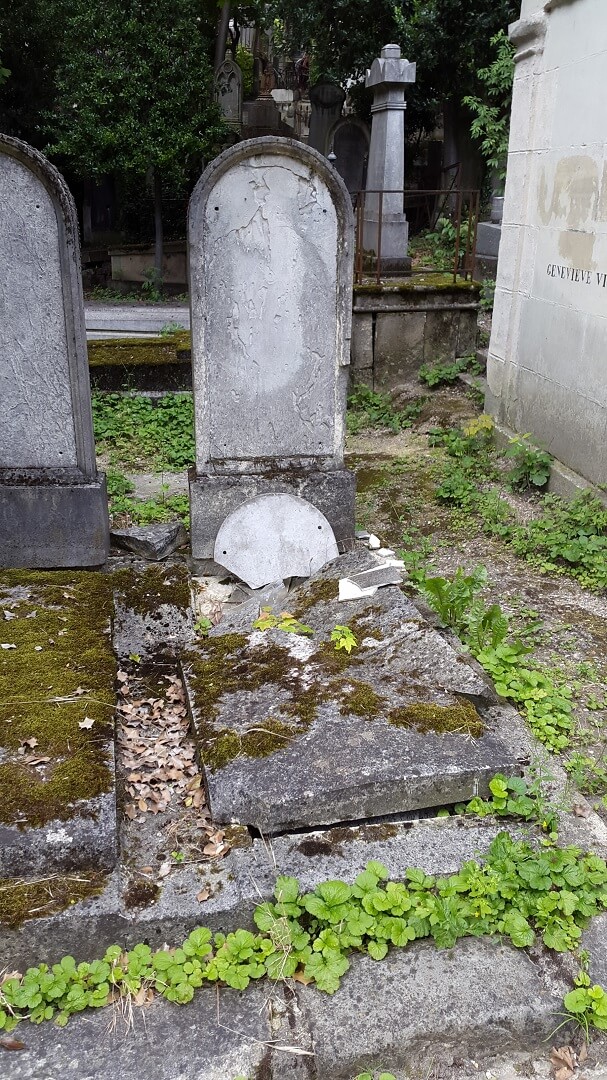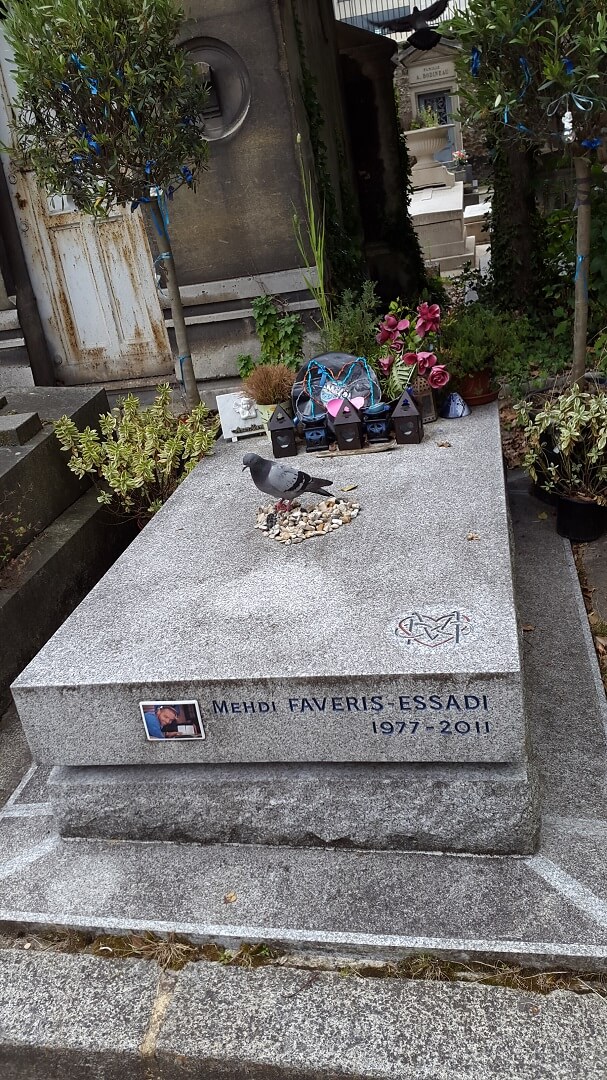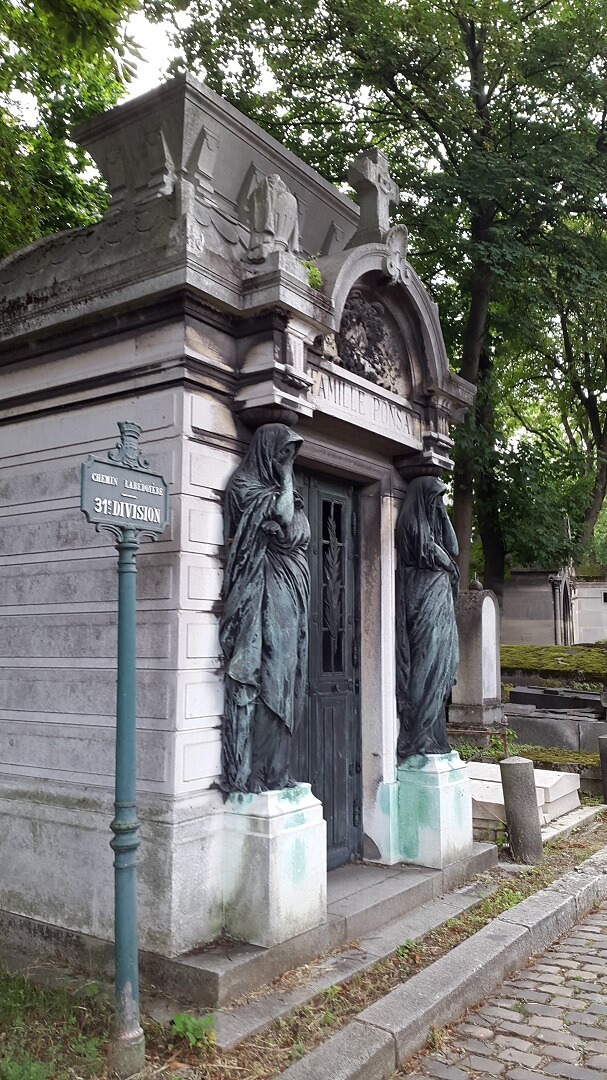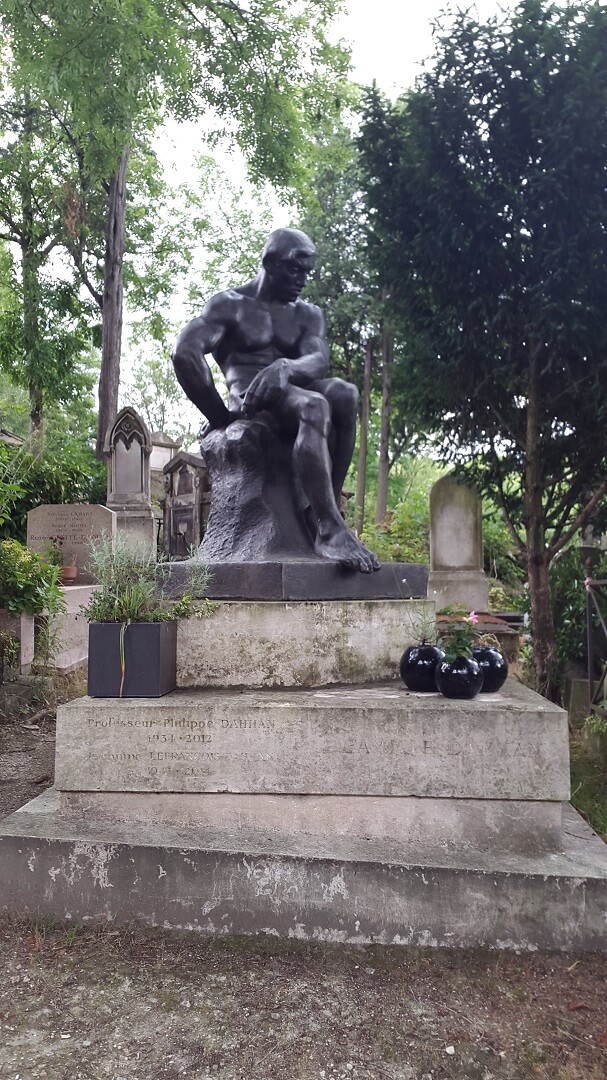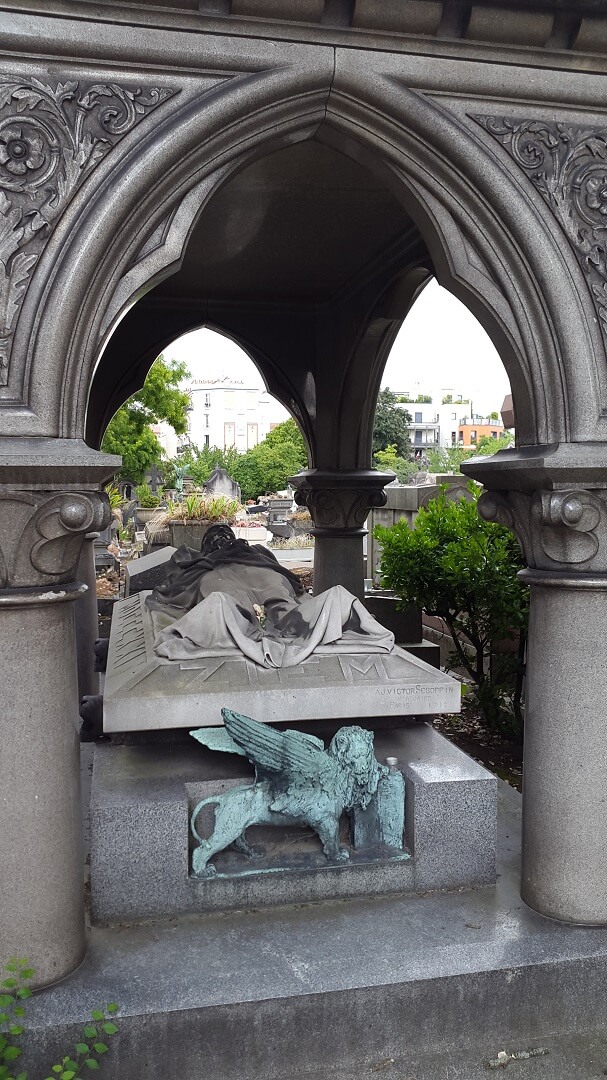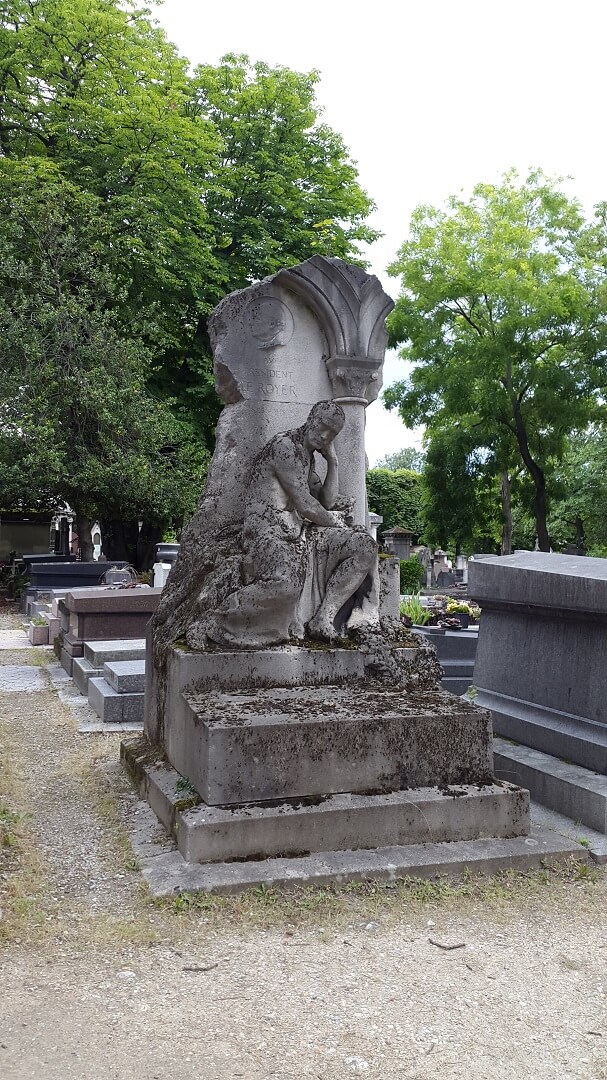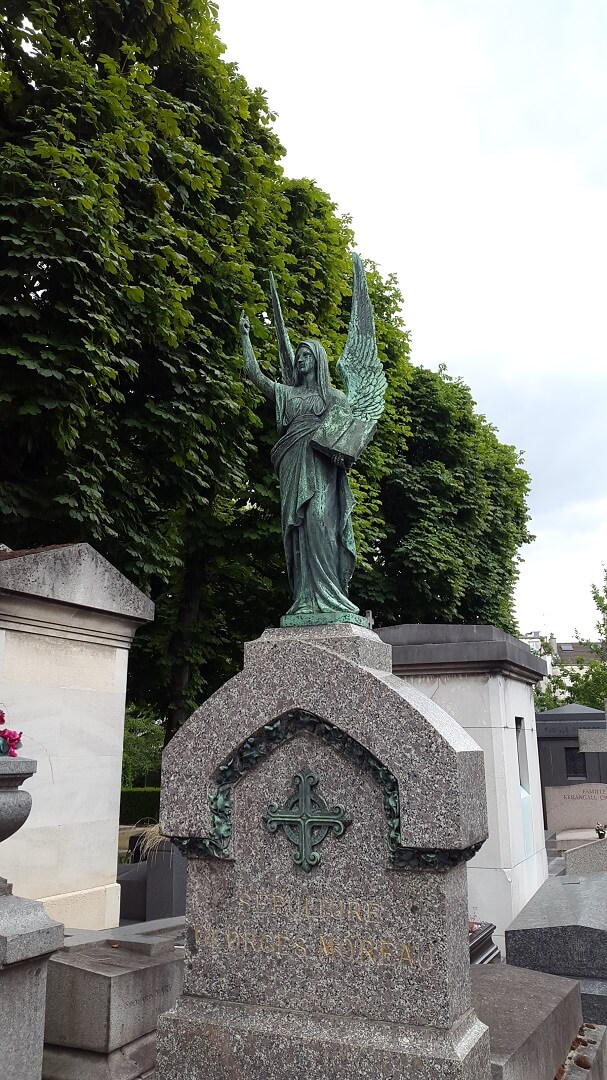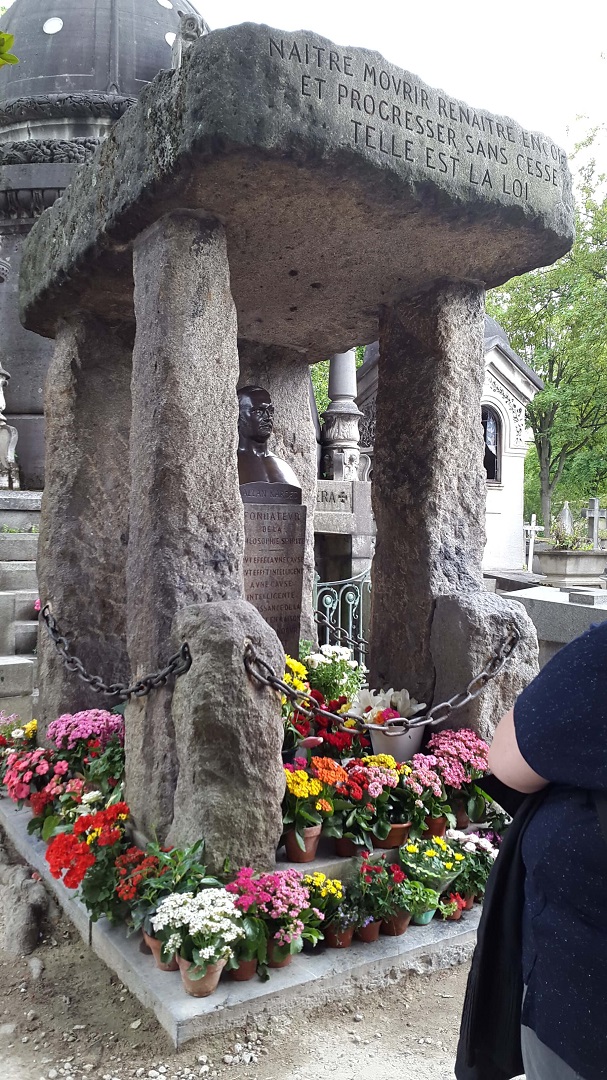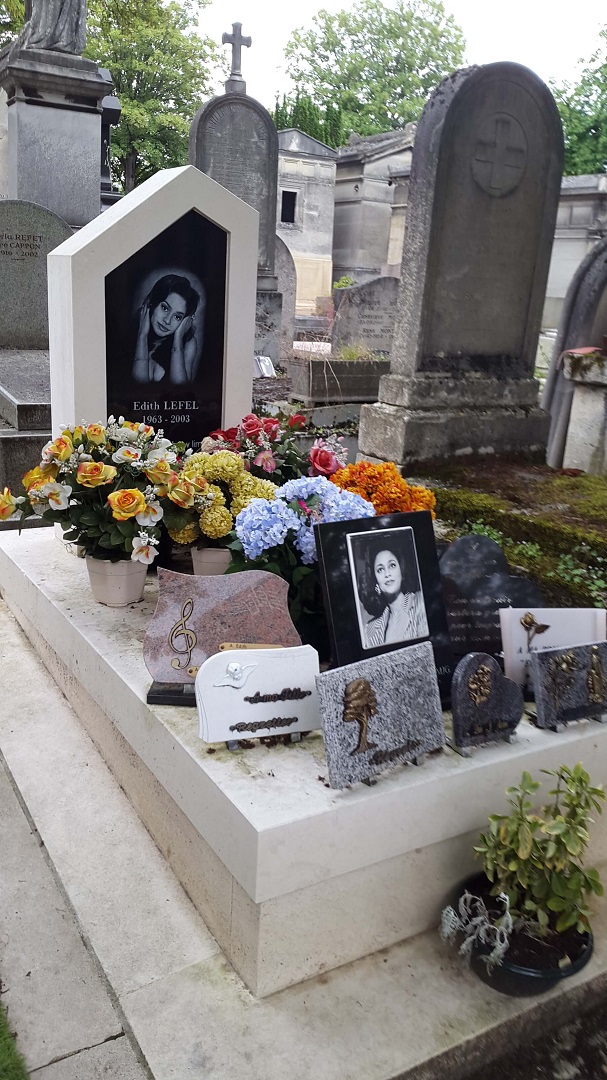 Jim Morrison
The next, sometimes the busiest part of Père Lachaise Cemetery, is where Jim Morrison, American composer, poet, writer, director and singer sleeps. The Rolling Stones magazine ranked Jim Morrison 47th in the "Top 100 Singers of All Time" ranking. Although American tourists meet other Père Lachaise celebrities, Morrison's grave here is seen by many Americans who travel here just for Morrison, sometimes school tours from America to Père Lachaise are seen here. Morrison, who traveled to Paris and never returned to the United States, has a track that I really love. Especially the electric guitar on which they played. I love his words …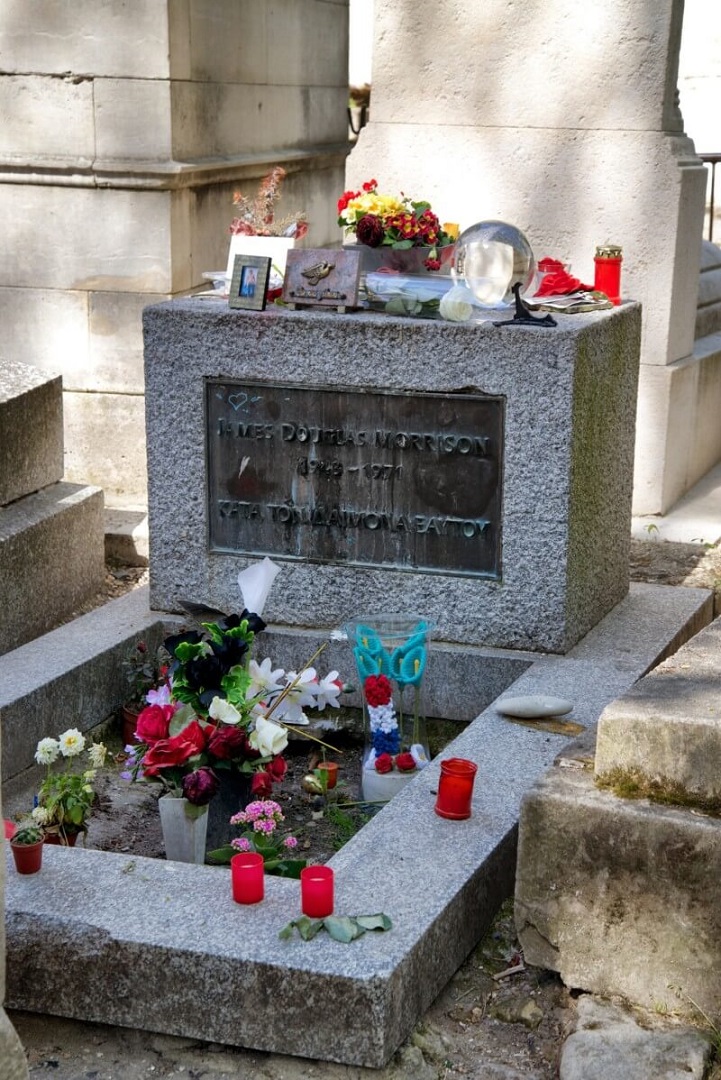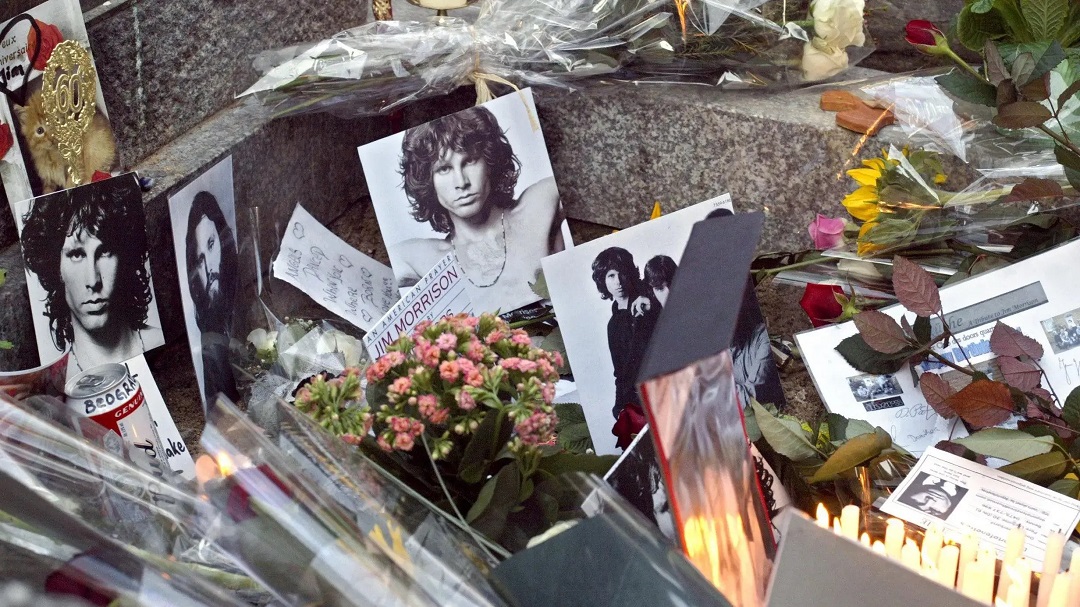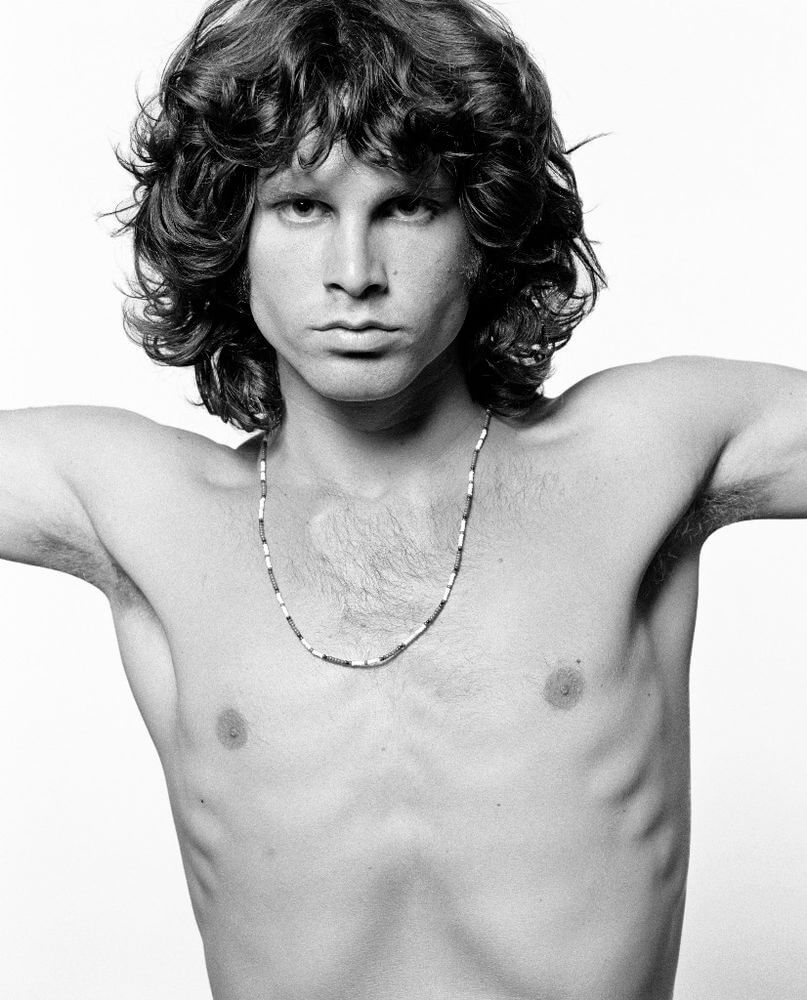 Gioacchino Rossini
At Père Lachaise, what amazes you is the spaces, dimensions and design of the tombs. To the extent that the dimensions and beauty of the stones can not express the greatness of a person in history. For example, I always thought that the tomb of Rossini, the Italian composer, one of the greatest composers in the world, should be one of the largest and most magnificent tombs of Père Lachaise, but this is not the case, he just lies on a small stone among other celebrities.
There is only one thing that distinguishes the graves here, and that is the bouquets on them and their cleanliness, every person who has been more popular, more flowers and people can be seen around him. I liken Père Lachaise to the dormitory of the world's most influential cultural figures.
Here is where Rossini sleeps peacefully, one of the greatest composers in history. The moment I reached him, about 7.6 young people who seemed to be music students arrived at the same time as me, and started playing one of Rossini's pieces with their mouths and started laughing, the smile I have in the picture is for that.
The great Italian composer Gioacchino Rossini was born in 1792 in Pesaro, Italy to a poor but artist family. His father was in the service of the Pesaro City Orchestra, which supported his family with a low income and helped the young Rossini learn music. The powerful king of music and opera in 1868, 76 years old, passed away.
I love the piece "Il turco in Italia (1814)", a piece that Rossini is said to have created at the age of 22.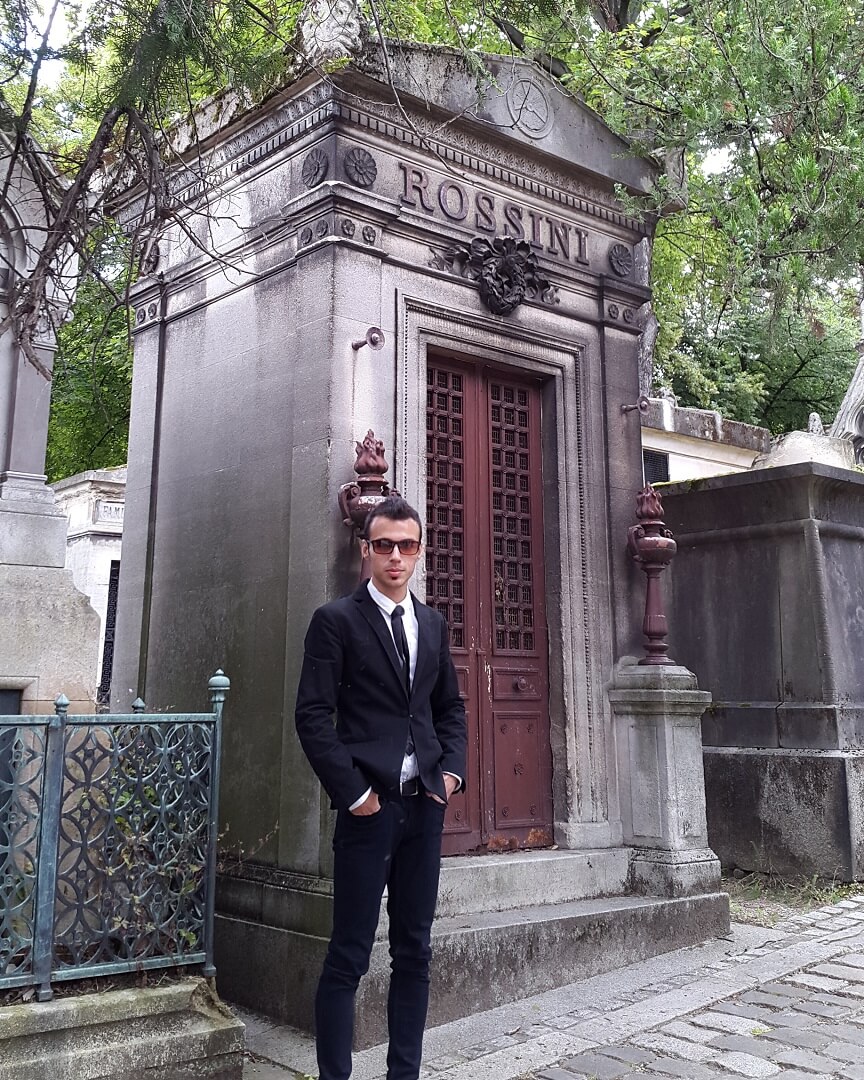 Vivant Denon
The weather is sunny and the beautiful statue of Vivant Denon can be seen. Vivant Denon (4 January 1747 – 27 April 1825) was a French artist, writer, diplomat, author, and archaeologist. He was appointed as the first Director of the Louvre museum by Napoleon after the Egyptian campaign of 1798–1801, and is commemorated in the Denon Wing of the modern museum and in the Dominique-Vivant Denon Research Center. His two-volume Voyage dans la basse et la haute Egypte ("Journey in Lower and Upper Egypt"), 1802, was the foundation of modern Egyptology.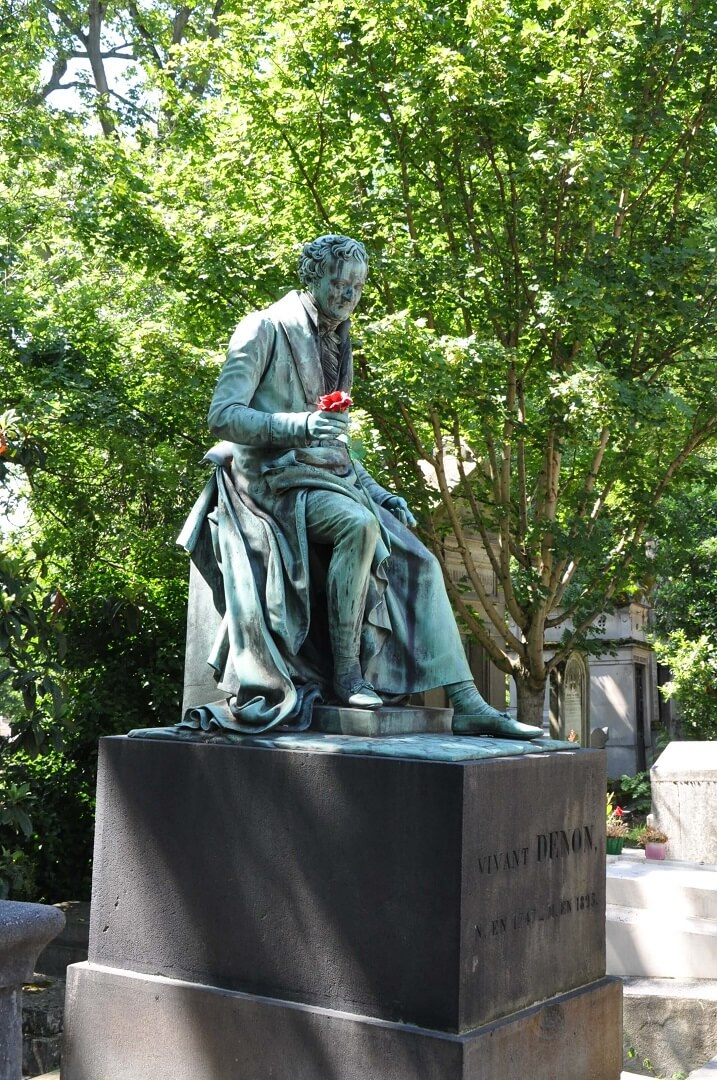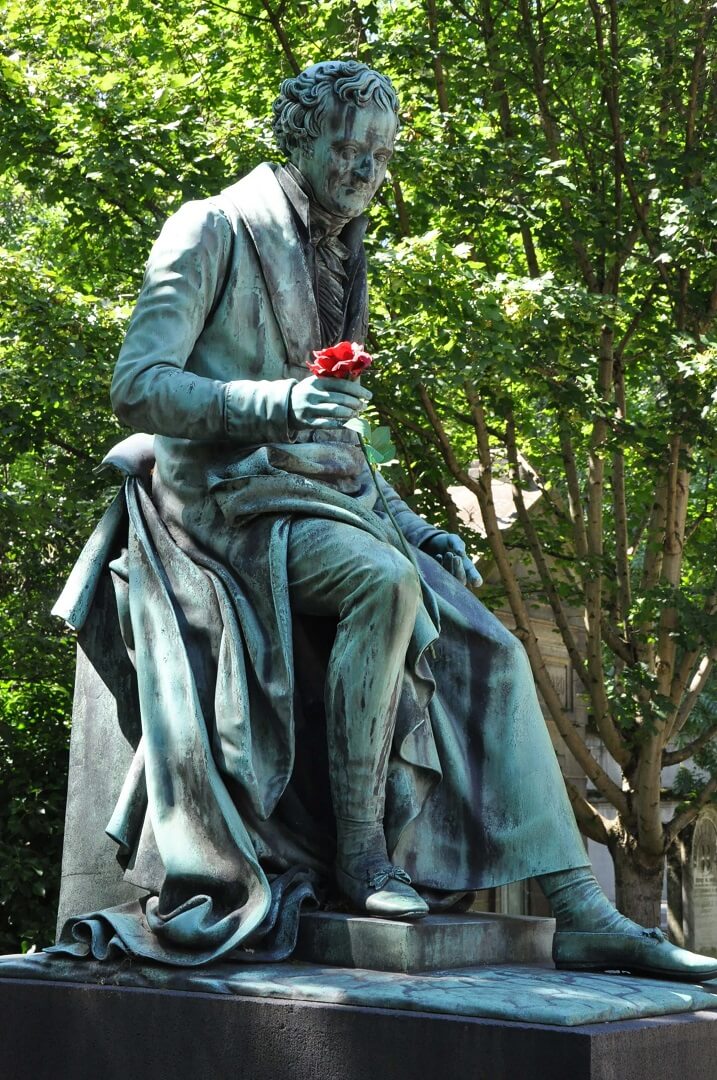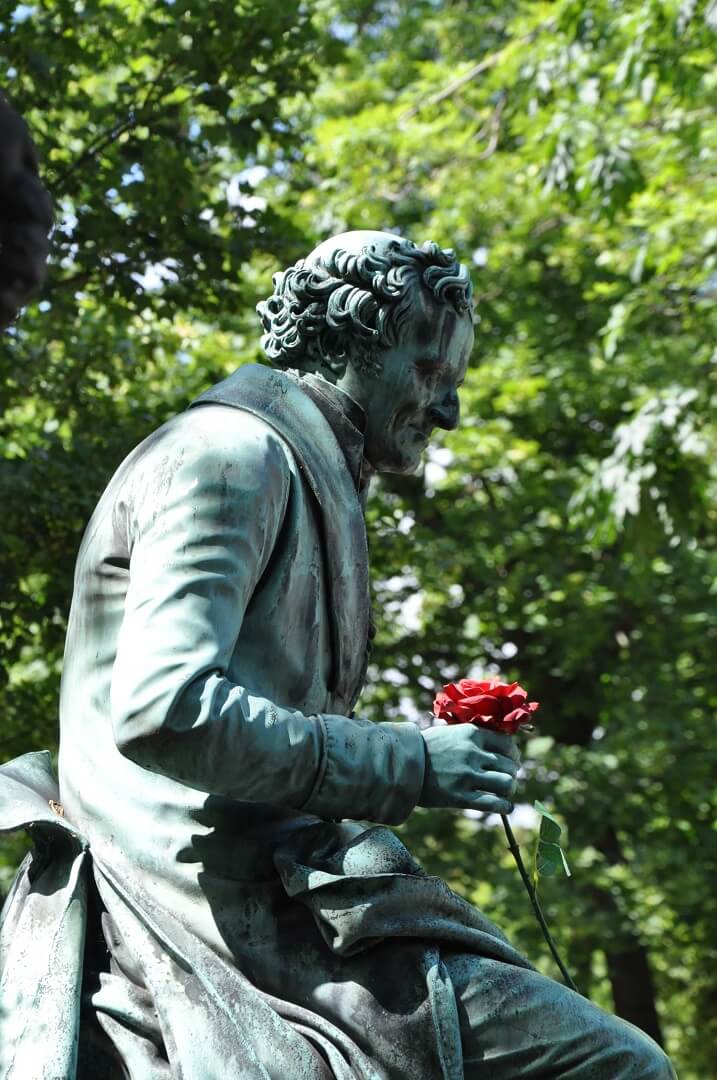 Gohar Morad (Gholam Hossein Saedi)
Gohar Morad, whose real name is Gholam Hossein Saedi, is one of the few brilliant Iranians whose names are rarely seen today. He was a famous Iranian physician and writer. Apart from what he wrote and I do not know him for them, he was a patriotic Iranian in constant search of knowledge of Iran and the people of his homeland. He traveled to different parts of Iran. The result of his trip to Azerbaijan was "Ilkhchi" and "Khiav". The result of his trip to the southern ports of "Ahl-e-Hawa" and "Fear and Trembling". These travelogues, which were based on the objectivity of society, led to the growth of "regionalism" in contemporary Iranian literature and brought the conflicts of the marginalized to the center.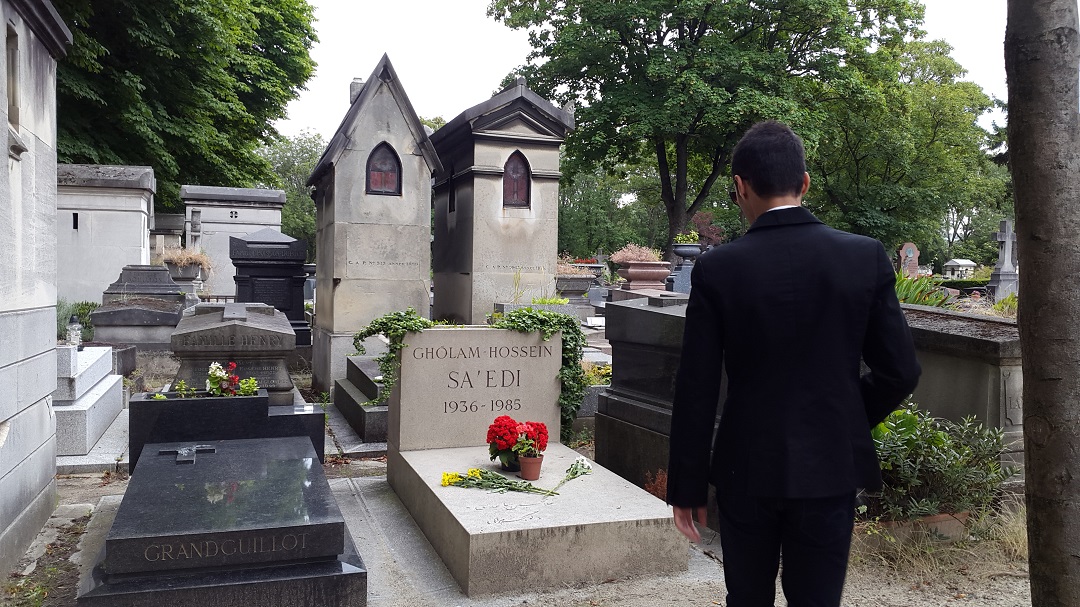 Sadegh Hedayat
Another famous Iranian of Père Lachaise is Sadegh Hedayat, the author of the beautiful novel "The Blind Owl". His influence on Kafka made me read his novel a few years ago. It can be said that he is the only Iranian writer who aroused my feelings. Just as there are Americans who come to Père Lachaise for Jim Morrison, there are also Iranians who come here just for him, that's why we can always see many colorful flowers all over his particular rock throughout the winter and summer.
Sadegh Hedayat (1903 in Tehran – 1951 in Paris) was an Iranian writer, translator and intellectual who translated some of Kafka's novels, including The Metamorphosis. Many scholars have considered his novel The Blind Owl to be the most famous and brilliant novel of contemporary Iranian fiction.
The volume of writings and articles written about Sadegh Hedayat's writings, life and suicide is evidence of his profound influence on the Iranian intellectual movement. Many of the Iranian speakers of later generations, Gholam Hossein Saedi and Houshang Golshiri and others, have each been more or less influenced by Hedayat's writings and life and have spoken about him.
Sadegh Hedayat committed suicide on April 10, 1951 in Paris at the age of 40, and was buried a few days later in Père Lachaise Cemetery.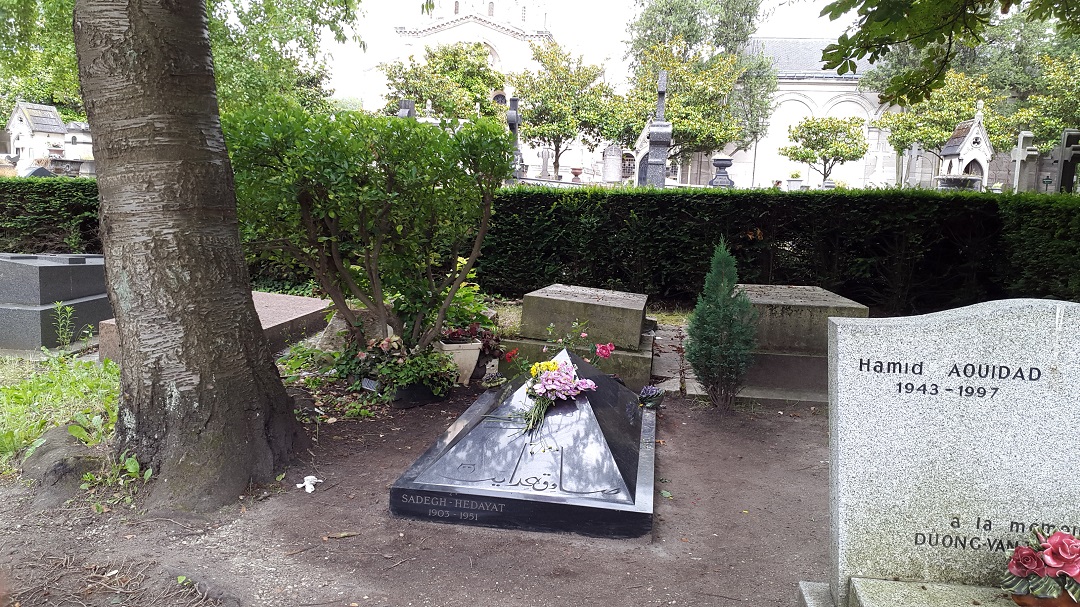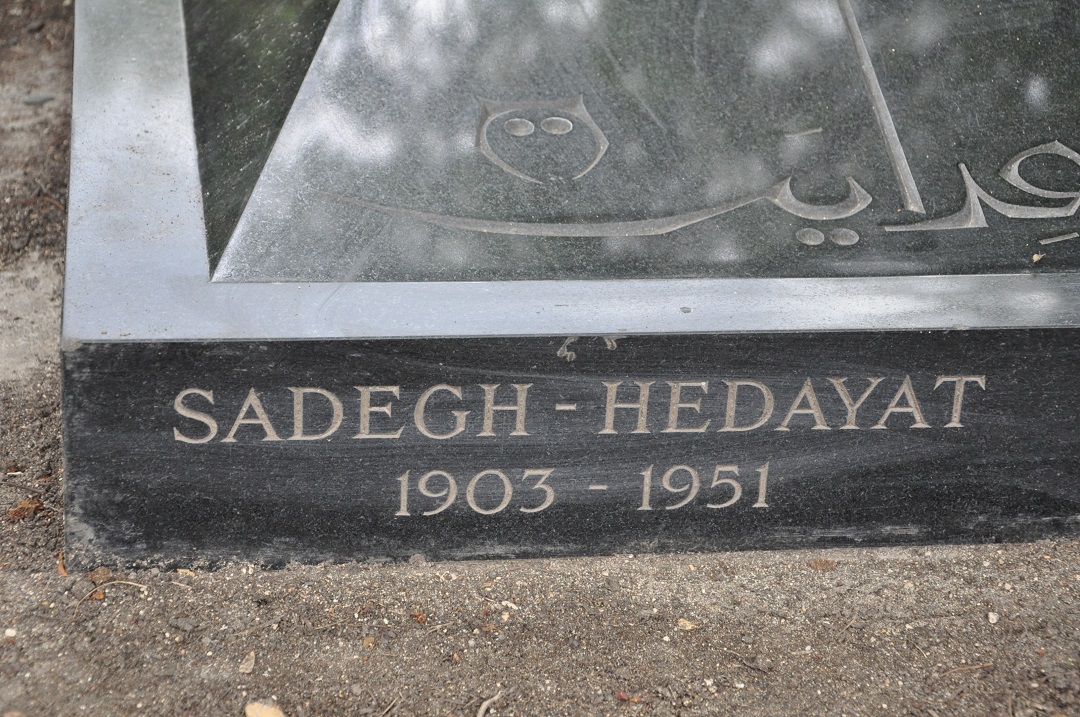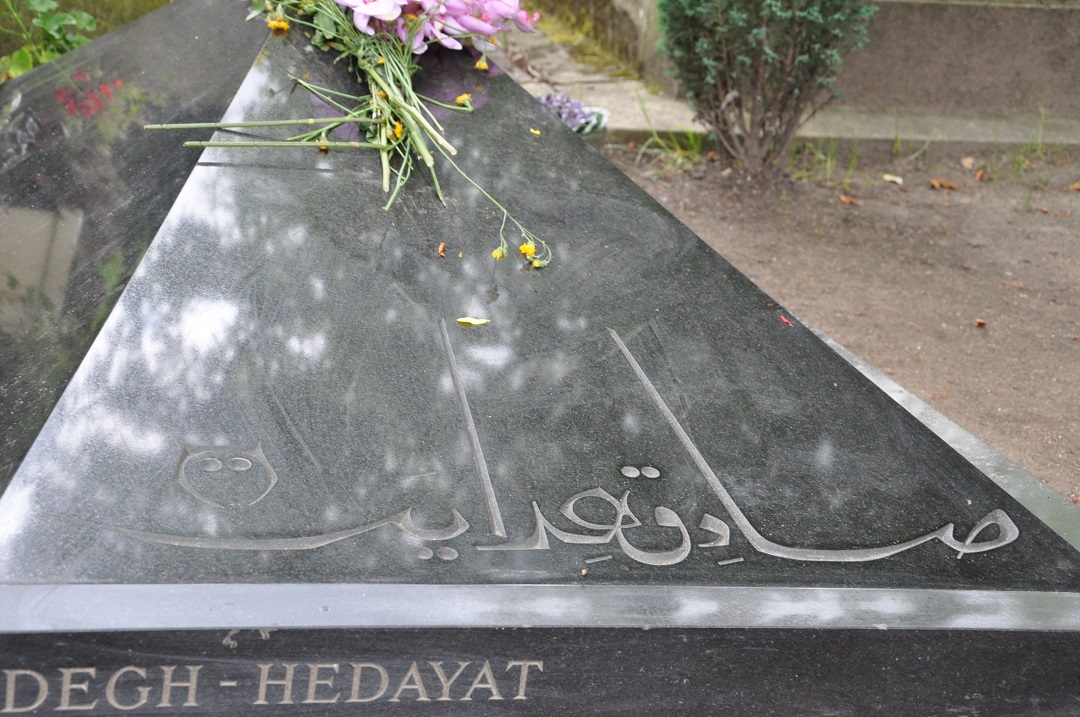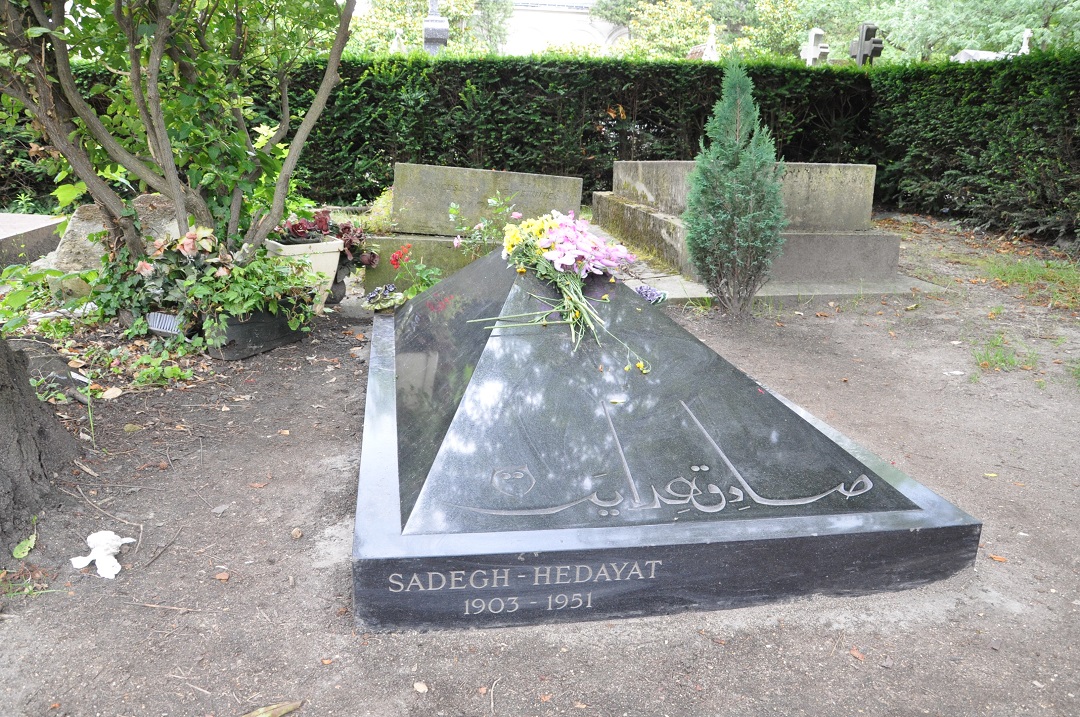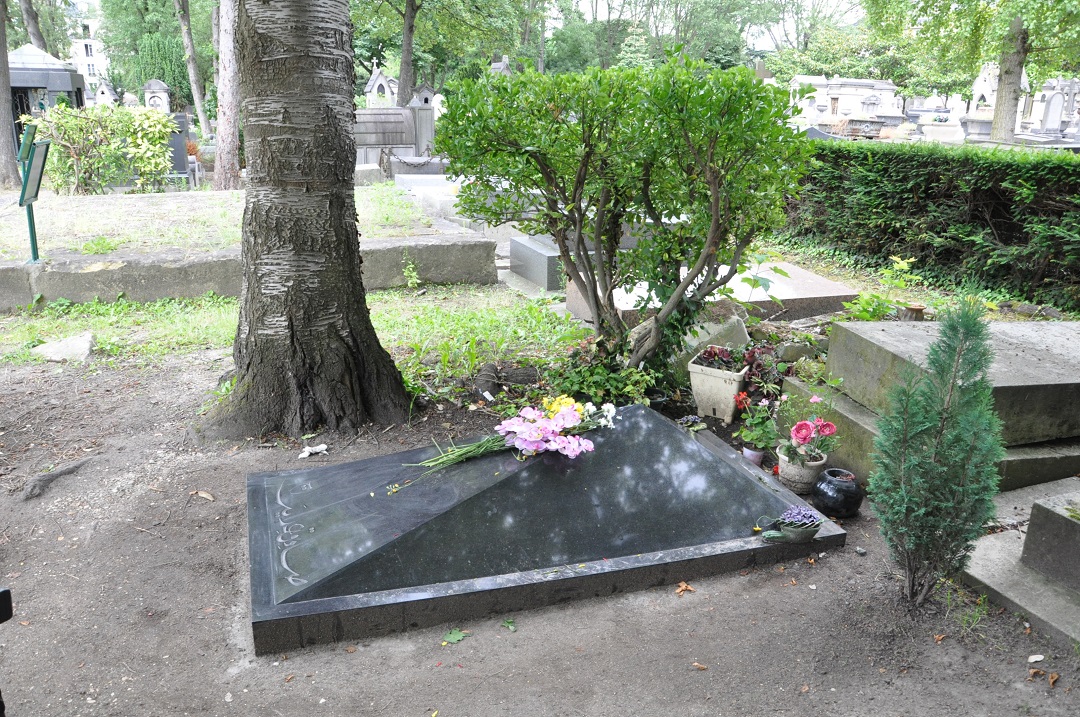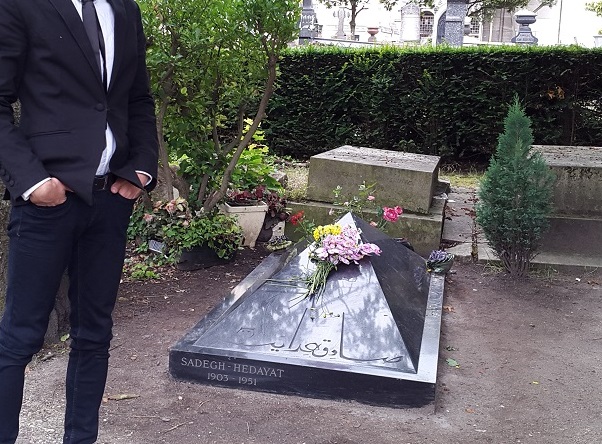 Victor Noir
Who was Victor Noir? And why are parts of his tomb statue shiny? Why did it become the favorite tomb for women who visits Père Lachaise and the most interesting tomb here?
Victor Noir was a nineteenth-century political journalist who died in a duel with Pierre Bonaparte in 1870. He became a symbol of political injustice, and his funeral was attended by thousands of people and riots.
A few years after his death, his body was taken to Père Lachaise Cemetery. The memorial statue of this journalist was made by Jules Dalou. On the grave of Victor Noir is a statue of a handsome young man. This statue is designed and built exactly like Victor Noir at the moment of his death. His hat, which fell to the ground next to him at the time of his death, is on the tombstone.
Victor Noir Tomb is one of the most popular memorial tombs in Père Lachaise Cemetery. But not because of his political symbolism. Rather, over the years there has been a belief among the people that this tomb is a symbol of fertility. There is a story that tells young women that if you want to find a beautiful lover, you have to kiss this statue and if you want to get pregnant, do something to him 😁…
Due to this belief, the green color of parts of this monument has been destroyed due to the high contact of visitors and its bronze material has been exposed. there was a period that a glass protection was installed around this tomb, but it was removed due to the opposition and protest of women.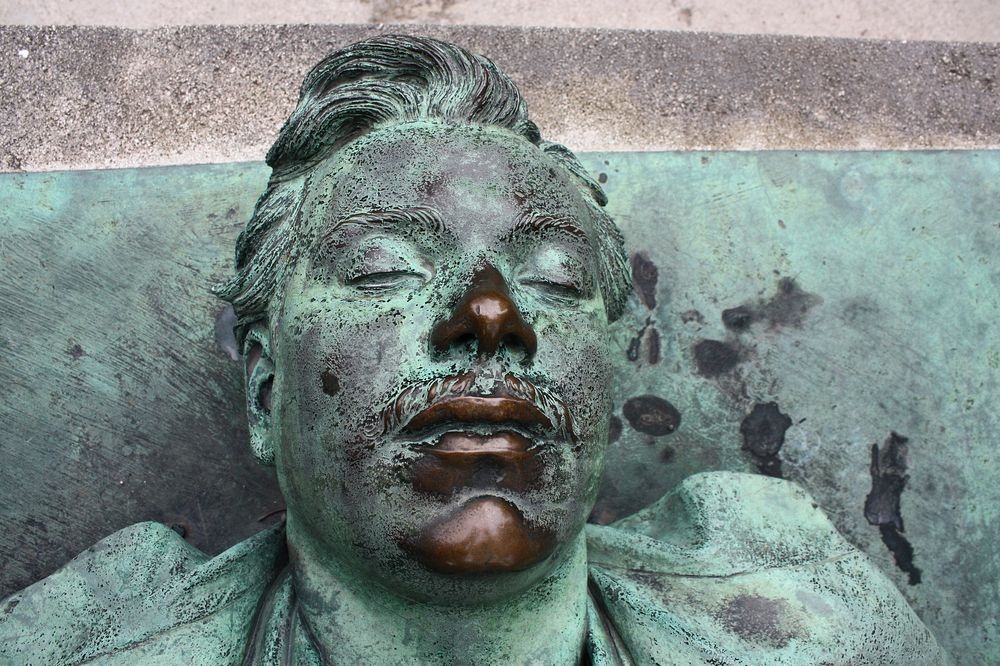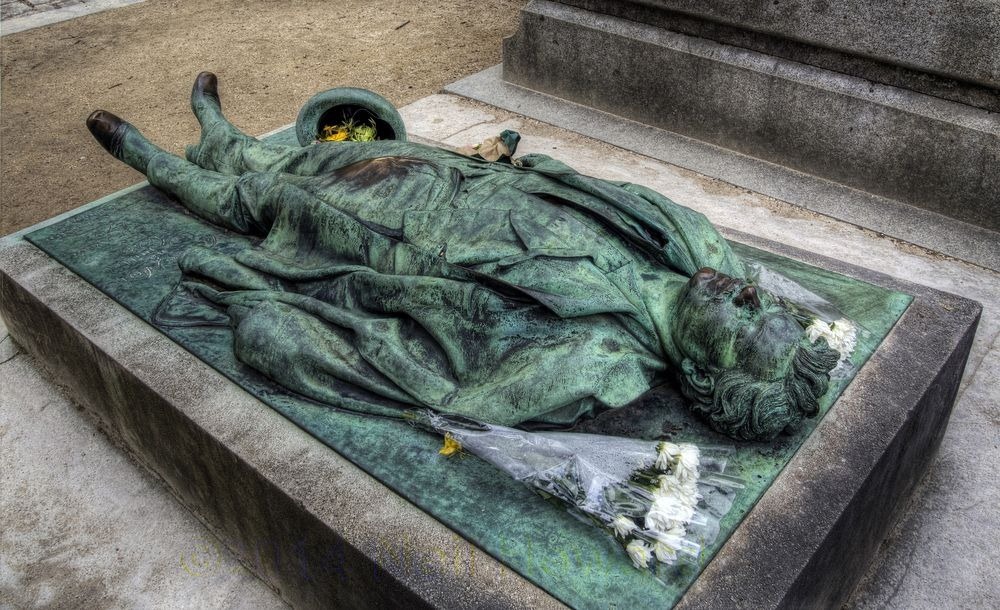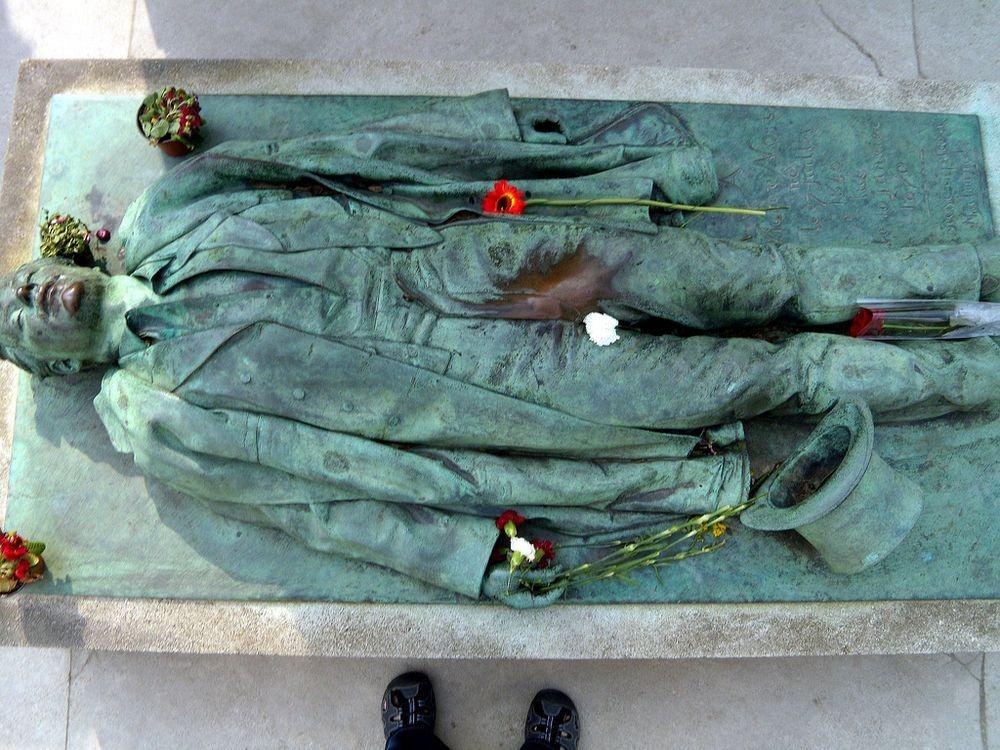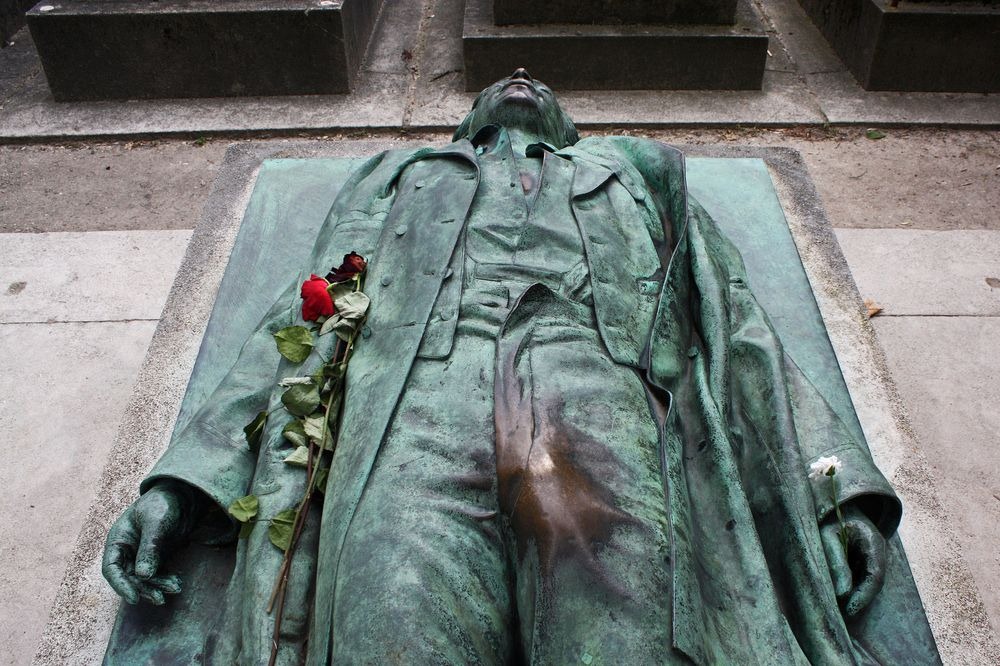 Serge Gainsbourg
The next is about Serge Gainsbourg, the singer of the song Je t'aime moi non plus, believed by many to be the most romantic and hot French song he has recorded with his girl. The song was banned from being released in many countries due to its content, and many artists have since re-performed (covered) it.
Serge Gainsbourg (2 April 1928 – 2 March 1991) was a French singer, songwriter, pianist, film composer, poet, painter, screenwriter, writer, actor and director.
The title was inspired by a Salvador Dalí comment: "Picasso is Spanish, me too. Picasso is a genius, me too. Picasso is a communist, me neither".
Playing this song on the radio before 11 pm was banned in many European countries for a while, I can not explain more,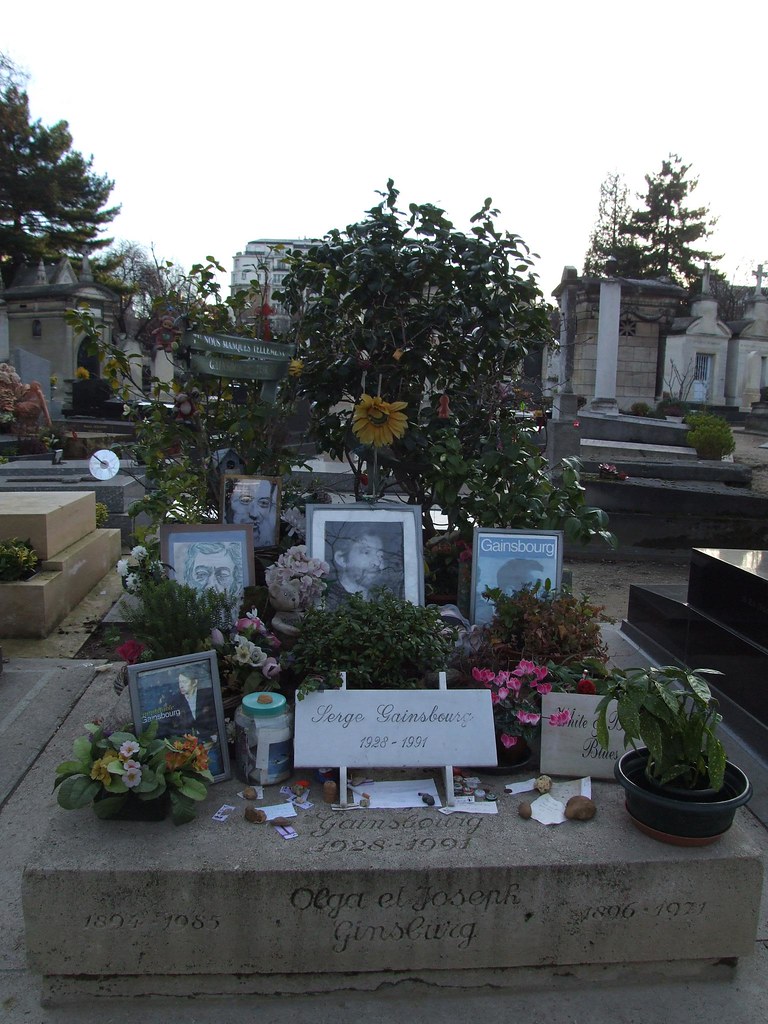 Oscar Wilde
This tomb known as the most kissed tomb in the world, no one has slept in it except Oscar Wilde! Another favorite writer of mine.
His most famous novels are "The Picture of Dorian Gray" and "The Happy Prince". The theme of most of the "Happy Prince" stories is to prove the secret of human happiness through loving others and achieving inner beauty. Oscar Wilde has written the story of "Nightingale and the Rose" under the influence of Iranian mythology, especially Hafez's poems.
Oscar Wilde died in 1900 anonymously in Paris. Today, everyone reads and enjoys his books; But this was not the case during his lifetime. People in the 1880s considered Dorian Gray's picture book to be full of evil ideas. "My only wish is that they understood what I was saying," he told James McNeill Whistler, painter of Dorian Gray's picture book, on his deathbed. And Whistler replied: "They will understand Oscar! They will understand…".
When Oscar Wilde was transferred to Père Lachaise, visitors kissed the tombstone, and the visitors' handprints and lipstick damaged the memorial body. Until In 2011, the tomb was cleaned of the many lipstick marks left there by admirers and a glass barrier was installed to prevent further marks or damage. there is a writing on the glass: "Respect this monument, otherwise you will have to pay a fine." But you can still find the lipsticks on the glass.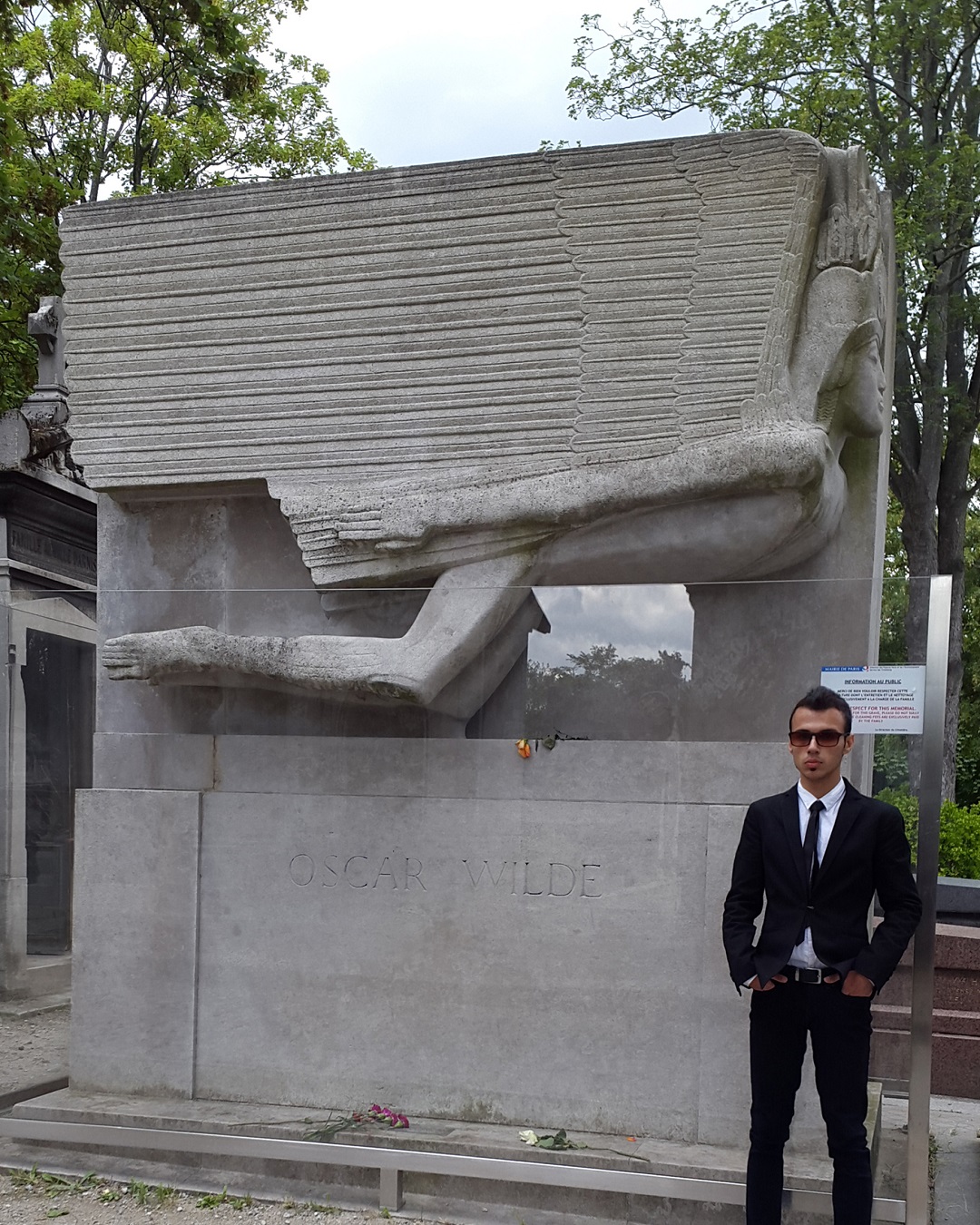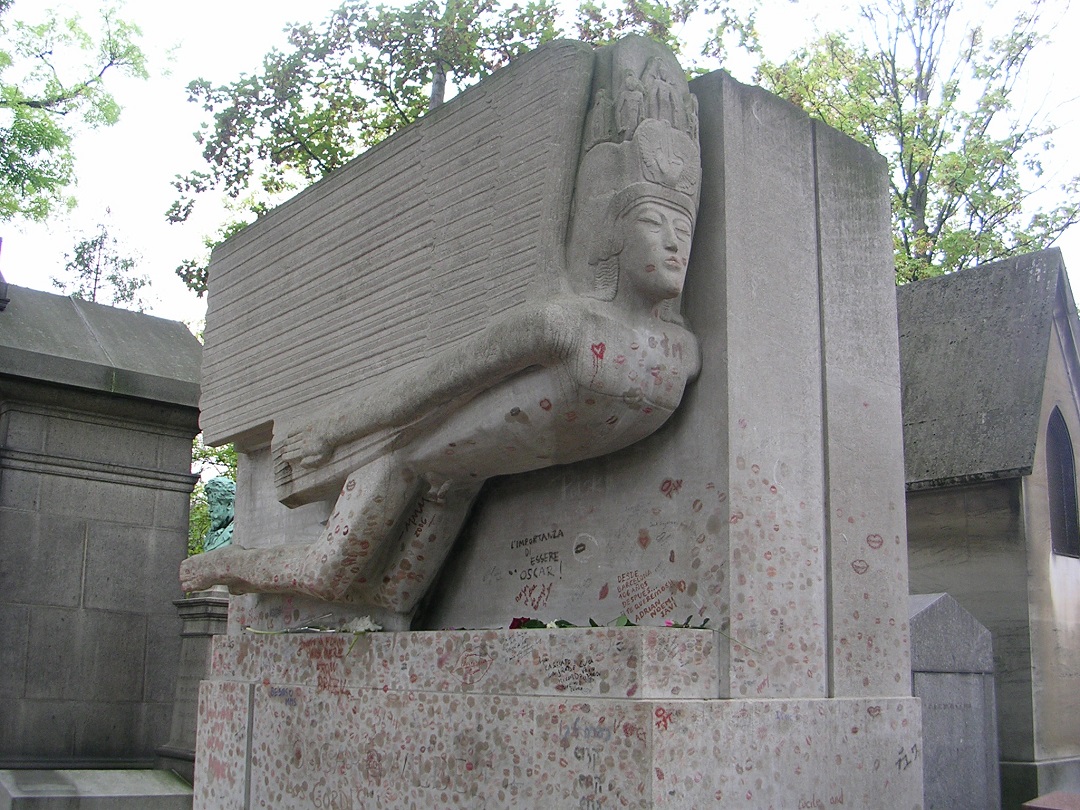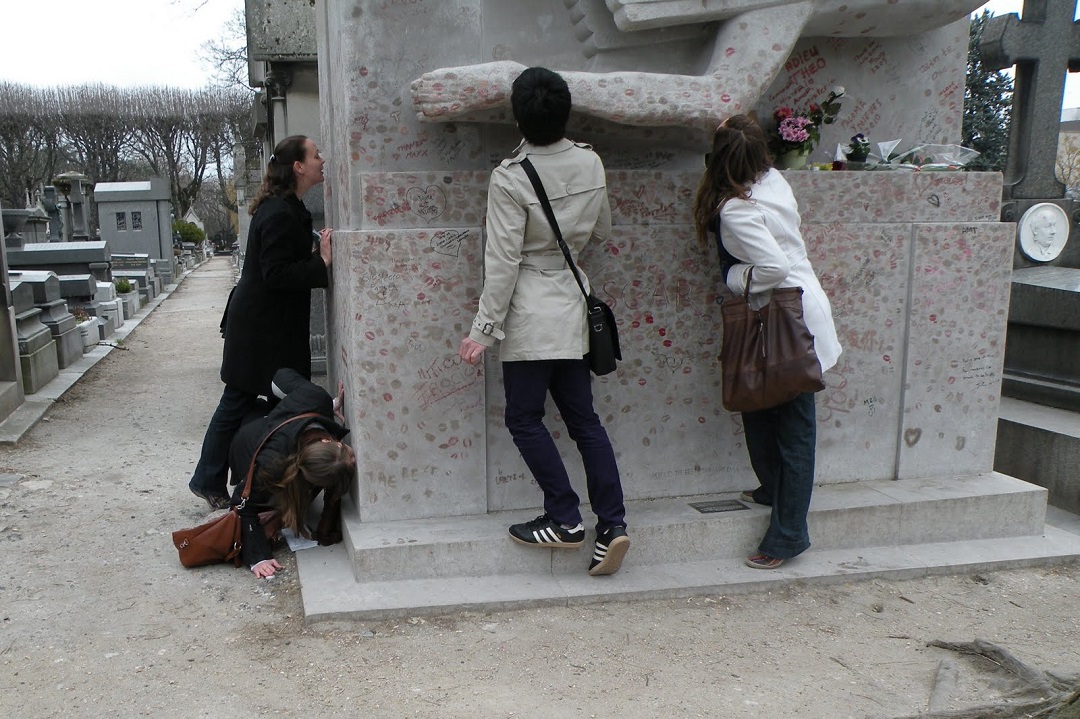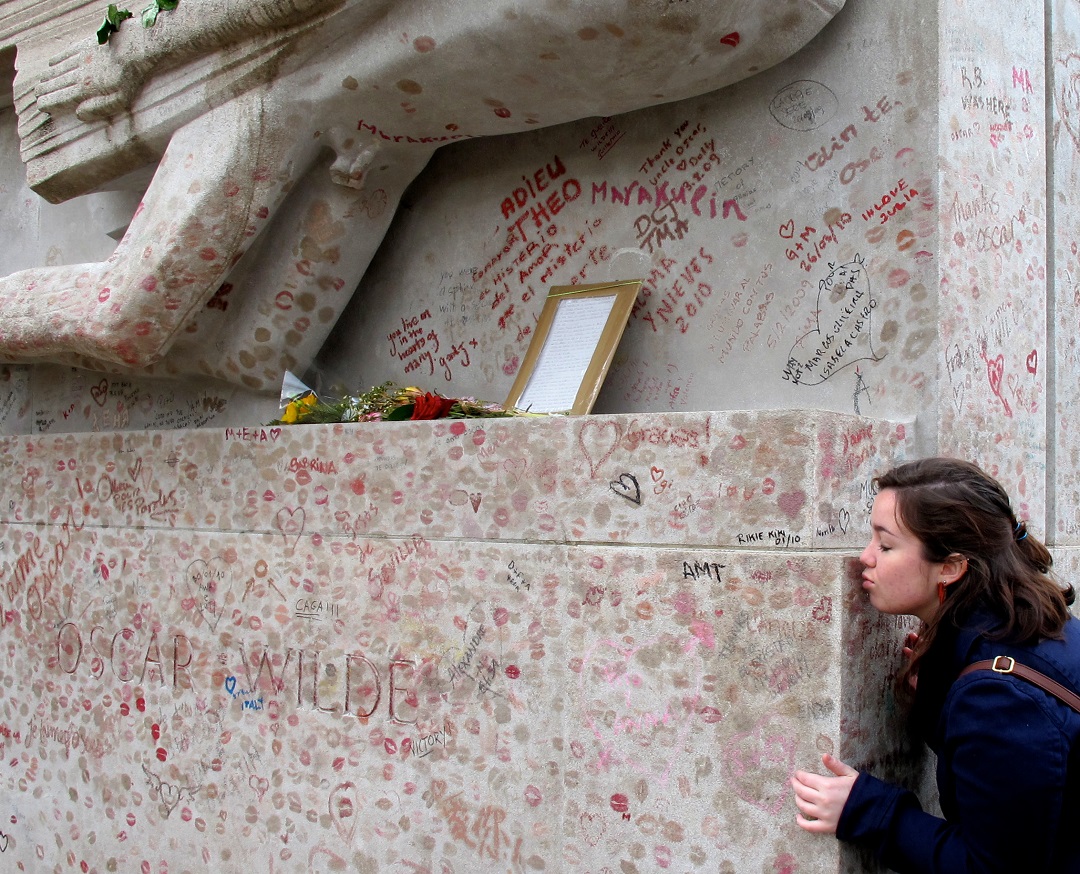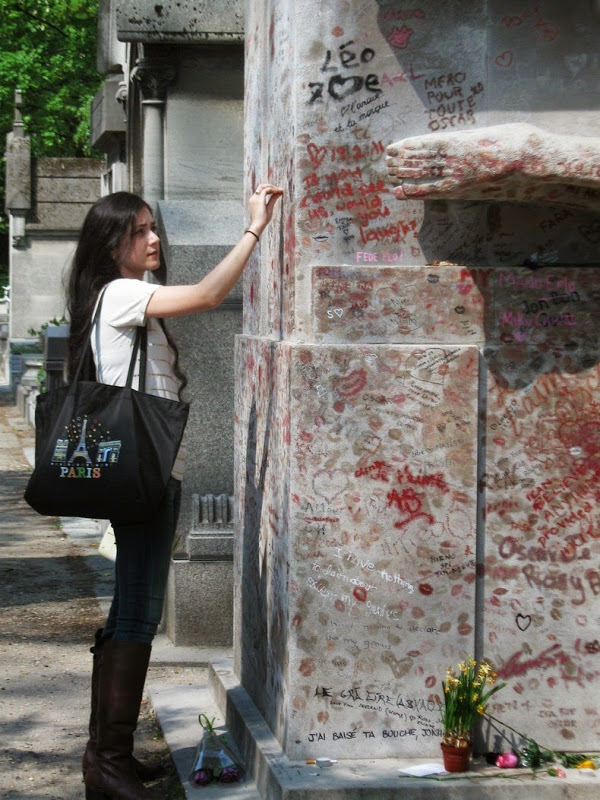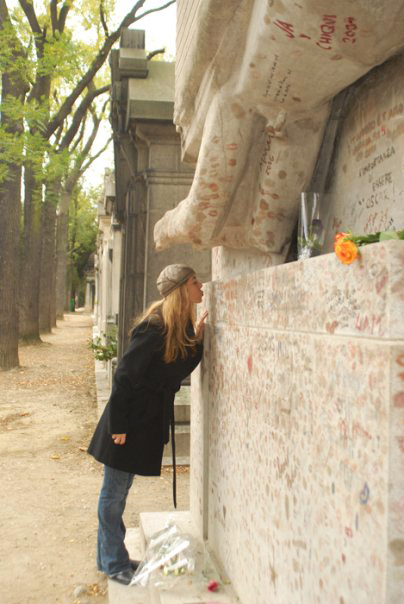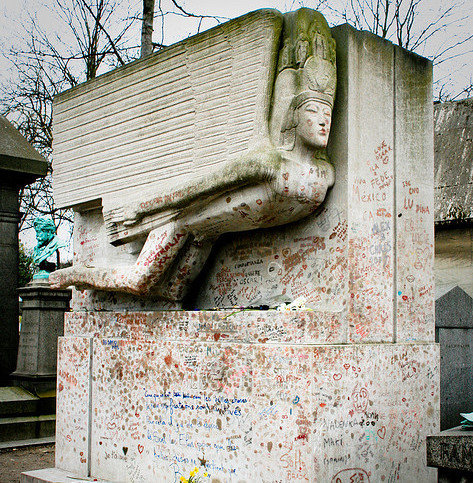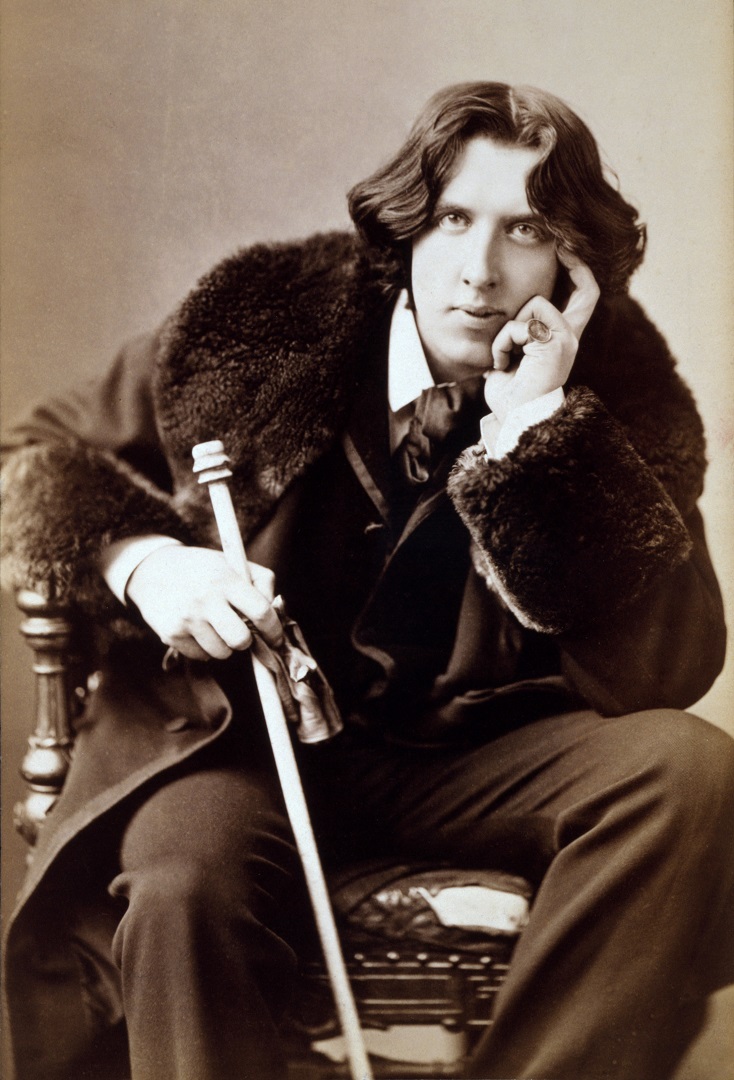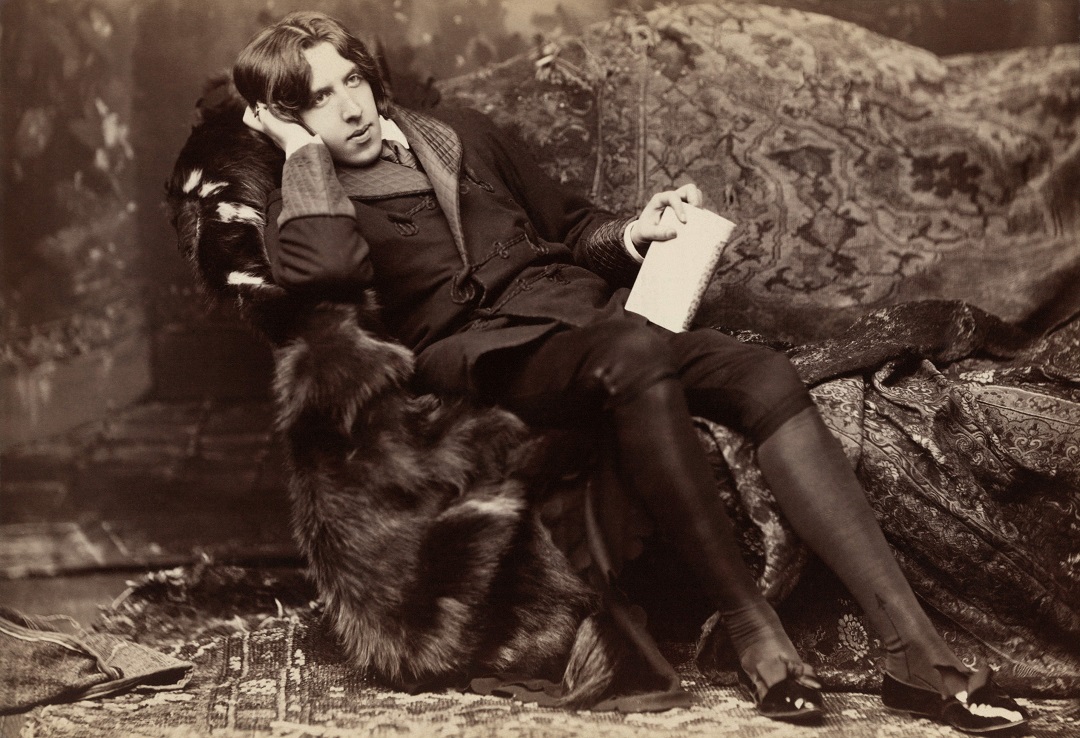 Edith Piaf
Everyone knows her for "La Vie En Rose", and I know her for "Non, Je Ne Regrette Rien" and "Padam padam". What a beautiful song … Part of my memories in France are made by her pieces. Edith Piaf instills in everyone the feeling that French is the language of love and music. A legend that is said to have culminated from poverty and misery.
The French national singer, the greatest French singer, the singer of the most beautiful French love pieces … The more I know Edith Piaf and the more I know about her life, the more I understand her romances; When you hear her music, whether you know French or not, you feel the sound of love in your heart. The most interesting part for me was that some time ago I found out that my favorite French singer "Charles Aznavour" sang a piece for Piaf and Piaf liked it and took him on her tour. I tried very hard to meet Aznavour somewhere in a concert, but he also left the world two years ago.
Today, the French singer "Zaz" is compared to Edith Piaf, I see similarities in terms of behavior and singing too, especially the song "Je veux" is reminiscent of Piaf's singing style.
The film La Vie en rose (2007) depicts the life of Edith Piaf.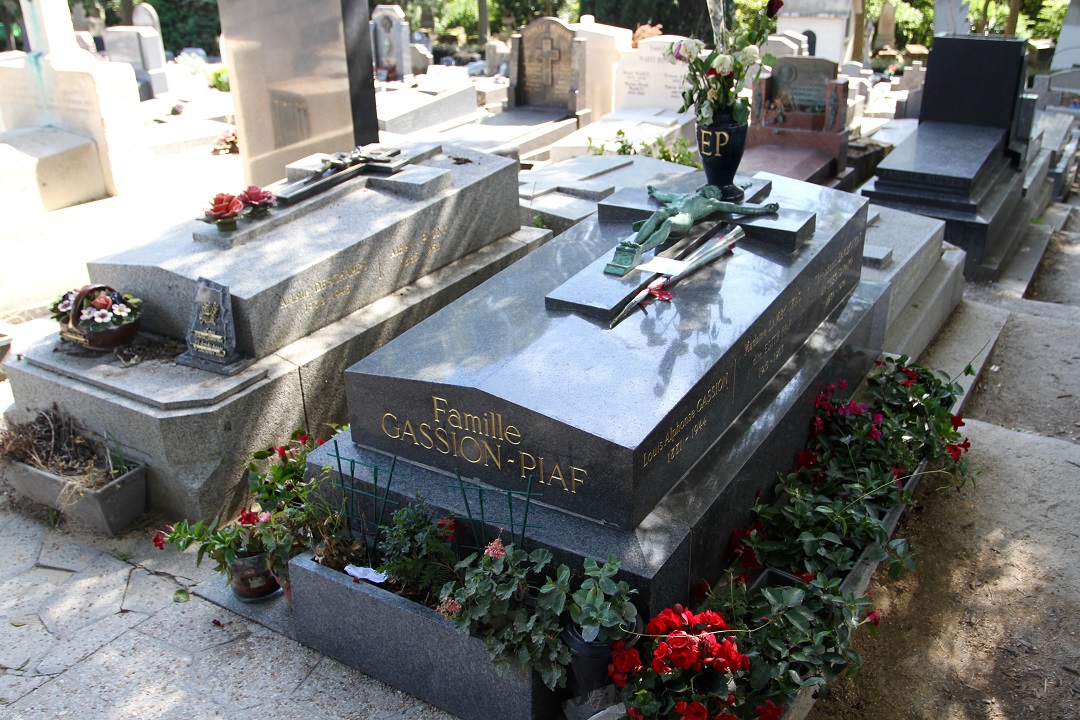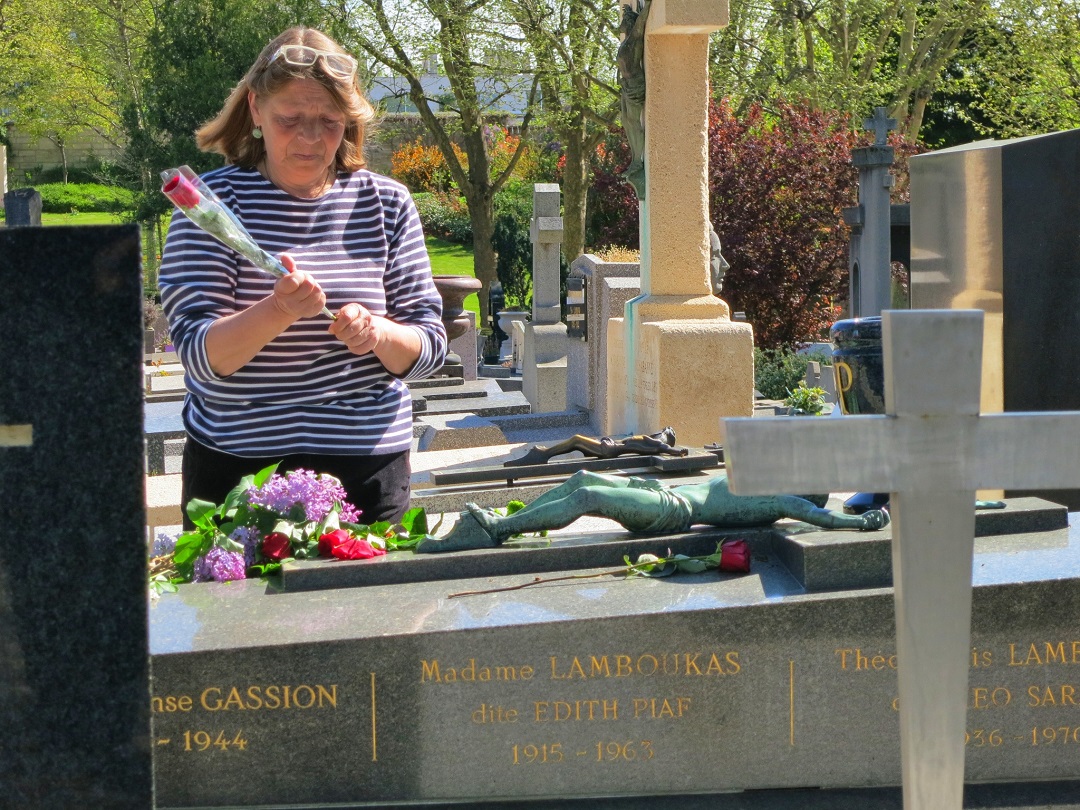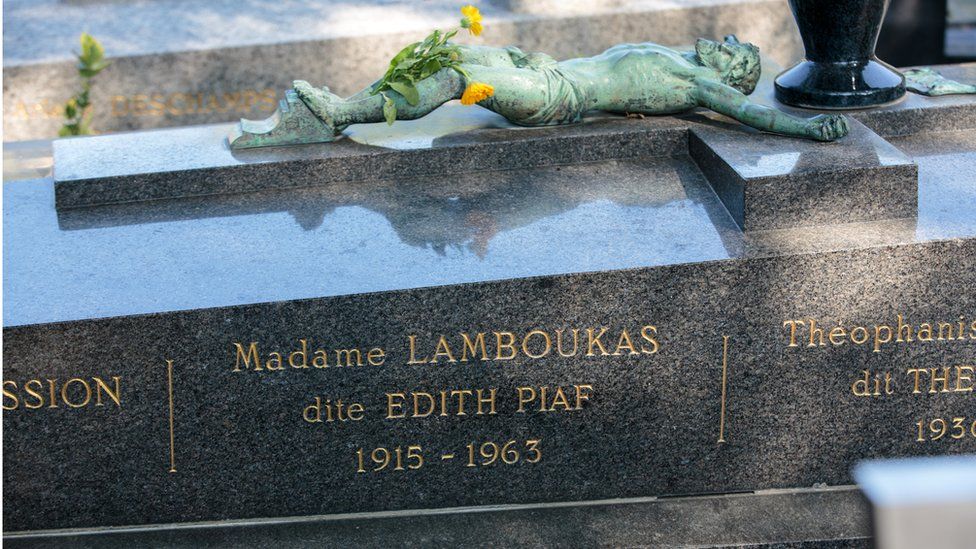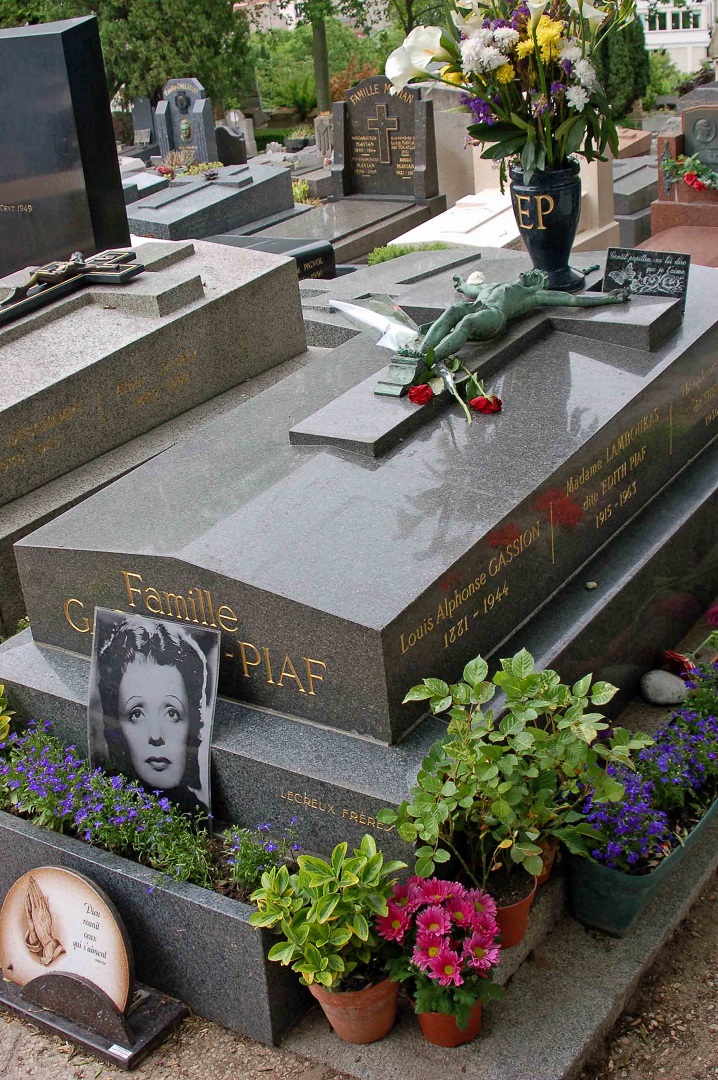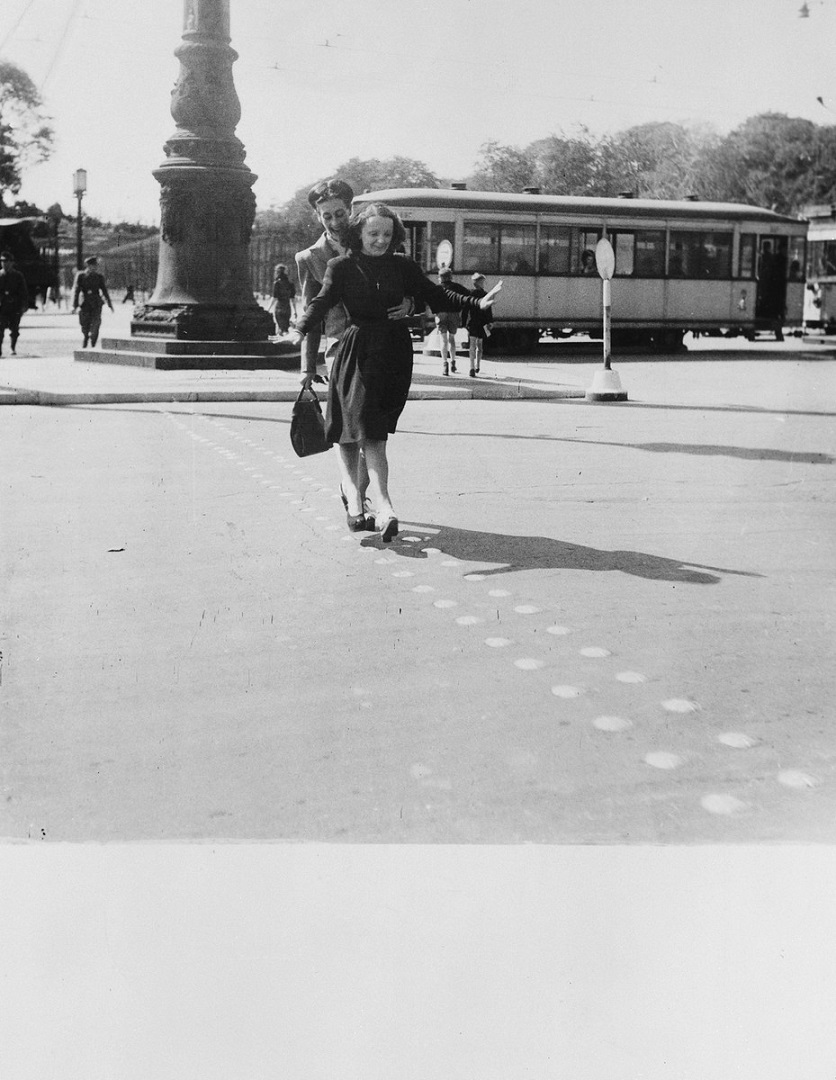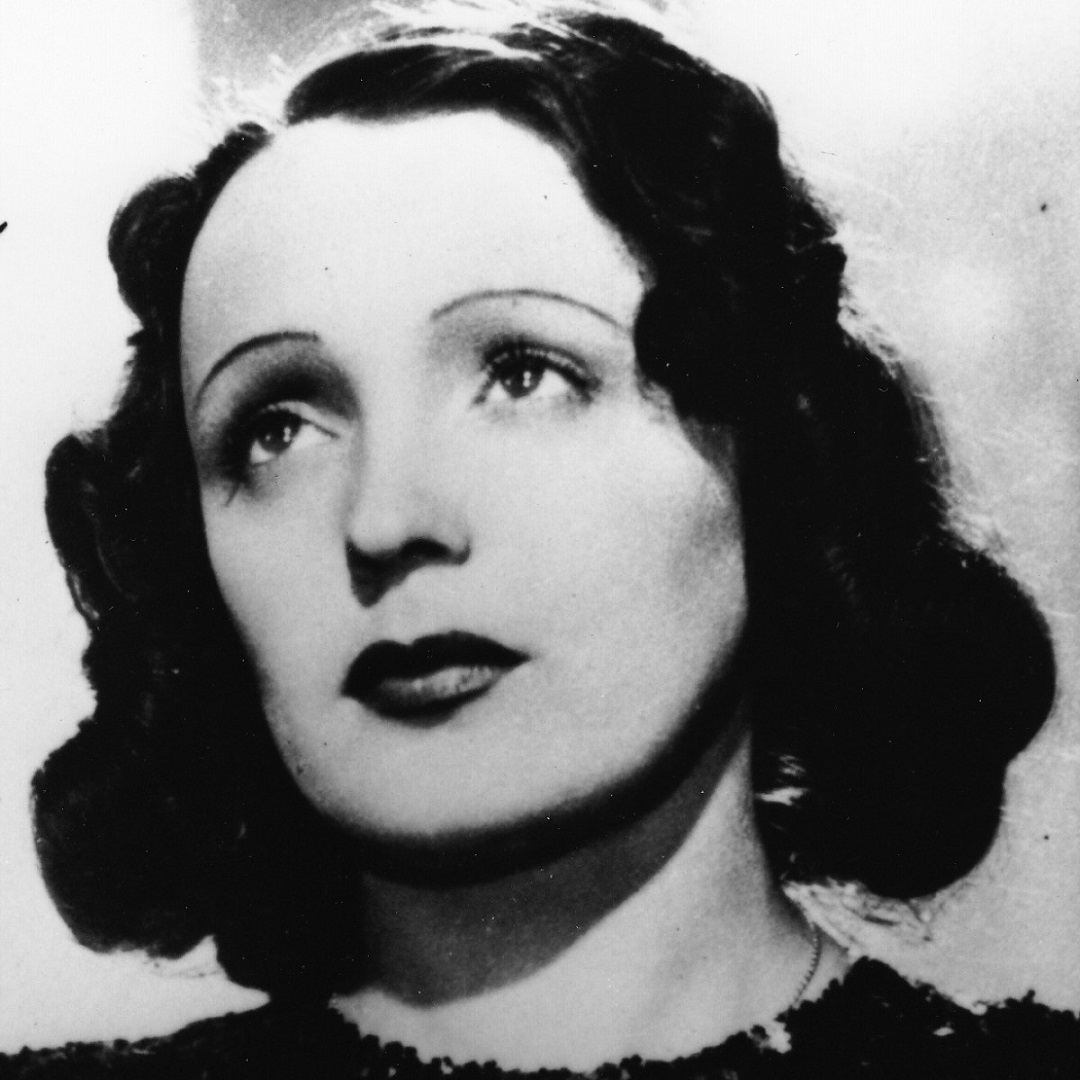 Frederic Chopin
All the photos you saw were taken at the end, in fact I first went to my favorite composer, "Frederic Chopin", the composer of the pieces I lived with, the pieces that remind me of every moment of my life, the pieces that all reminds me of all my rooms. Chopin plays from within me, as if I were standing here by my side.
Frederic Chopin, 01 March 1810 – 17 October 1849, is the most influential Polish musician and prominent pianist, who is still alive to me.
In 1830, Chopin was on his way from Vienna to Paris, where he learned of the bloody repression of his compatriots by reading the newspapers. "Lord, do you really exist?" He wrote in his notebook. "Isn't all this cruelty and crime of the Russians enough?"
Frederic suffered from physical and spiritual weakness throughout his life, this is evident from the atmosphere of his pieces. He died in Paris in 1849 at the age of 39 from pulmonary tuberculosis on 17 October 1849. His emaciated body was buried in Père Lachaise Cemetery, but at his will and at the initiative of his sister, his heart was taken to his homeland, Poland, it is now kept in a church in Warsaw.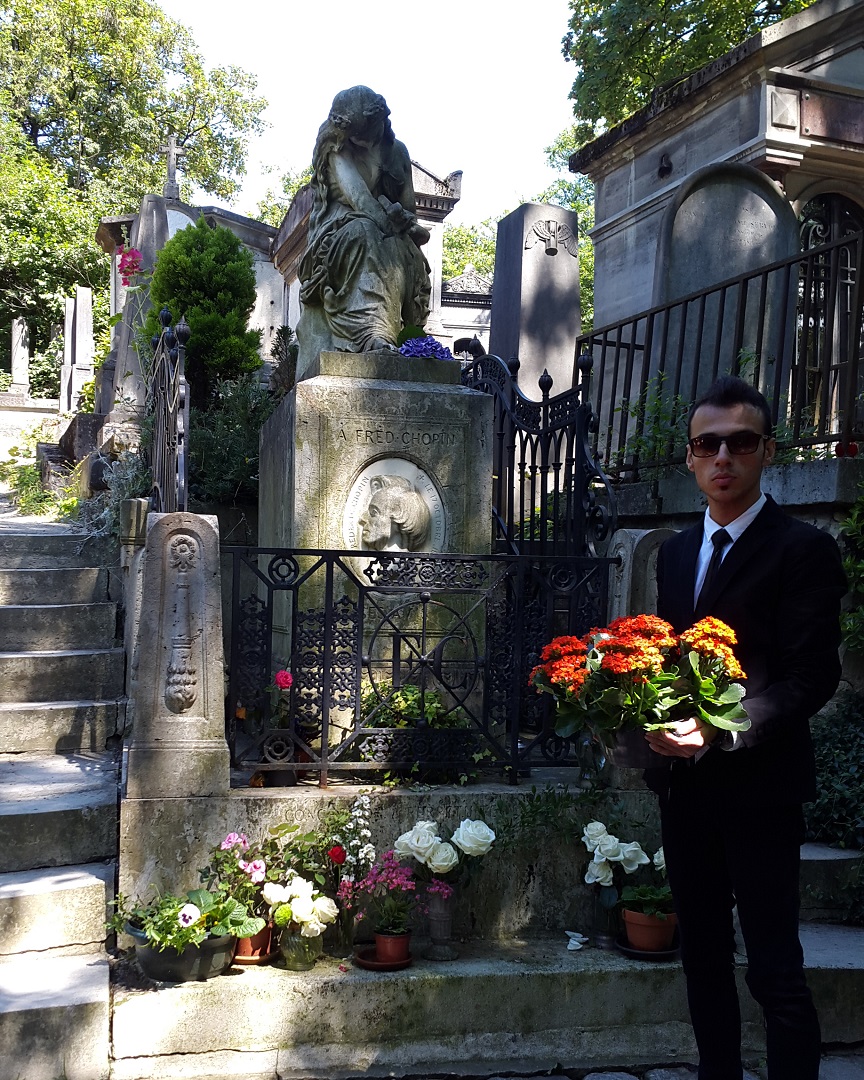 It wasn't hard for me to believe, tears welled up in my face when I reached Frederic Chopin. I knew something unusual was about to happen. It had been a while since I had stared at him and listened to my favorite pieces when a music student from Poland arrived with his mother, who seemed to love Chopin (but not as much as I did). Asked who replayed the piece you are listening to? It's very beautiful! I said Janusz Olejniczak. He asked, "Are you a musician?" I said no, how about you? He said I'm a music student, and compatriot of Chopin, I said how is your photography? Not bad, I asked him to take a few pictures of me. Not too bad. His mother smiled and they left. I stayed there.
Chopin's music is full of life. The excitement that emanates from the tired and helpless artist's work is breathtaking. Chopin's warm, lovely music flows straight from his heart to the piano strings.
Chopin was extremely precise and strict in composing his pieces. He worked with sick discipline and obsession (I call it Musical OCD). He never got tired of correcting and revising, until he reached the final construction. He wrote a piece many times, and put it aside for a while before it was published. "Time is the best guide and patience is the best teacher," he said.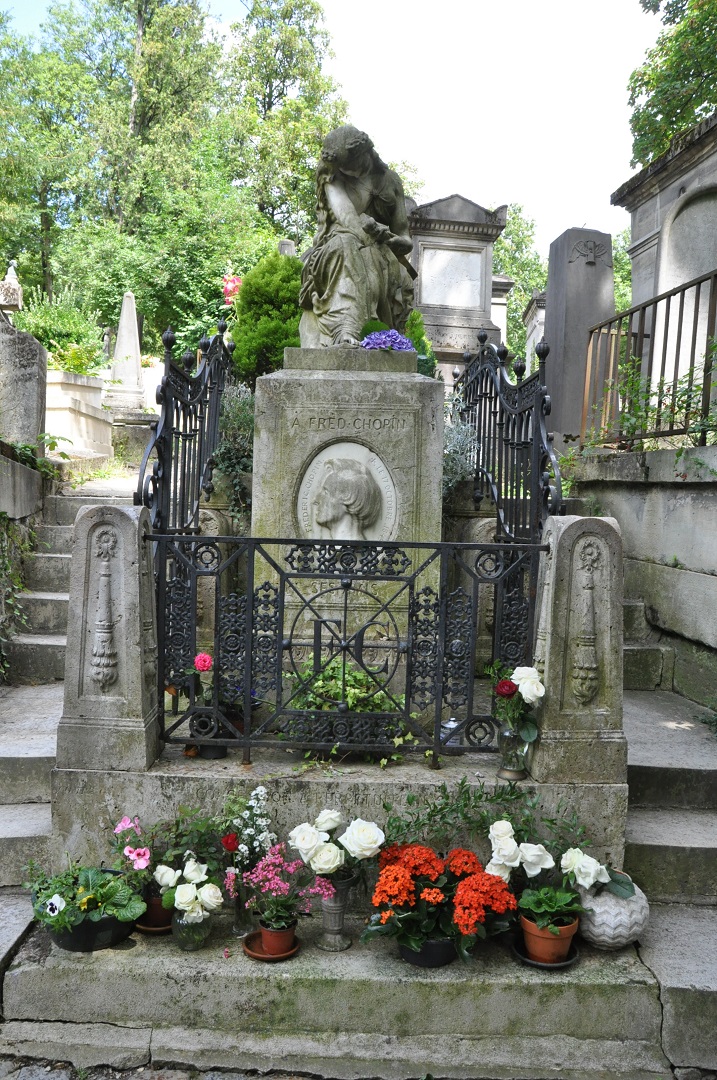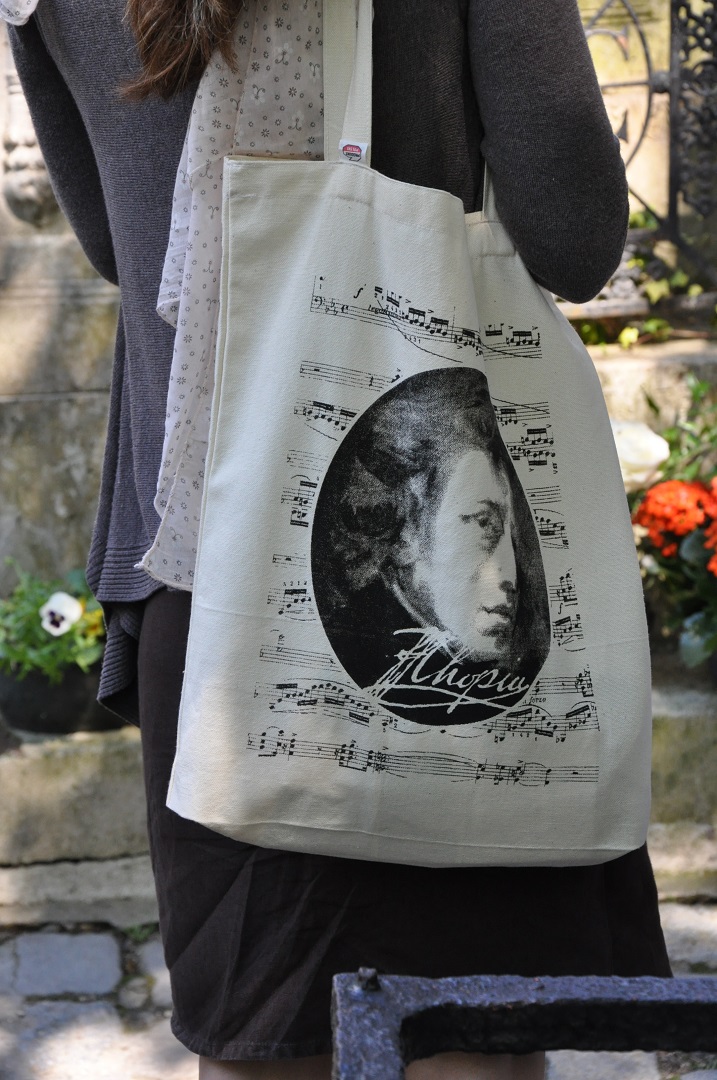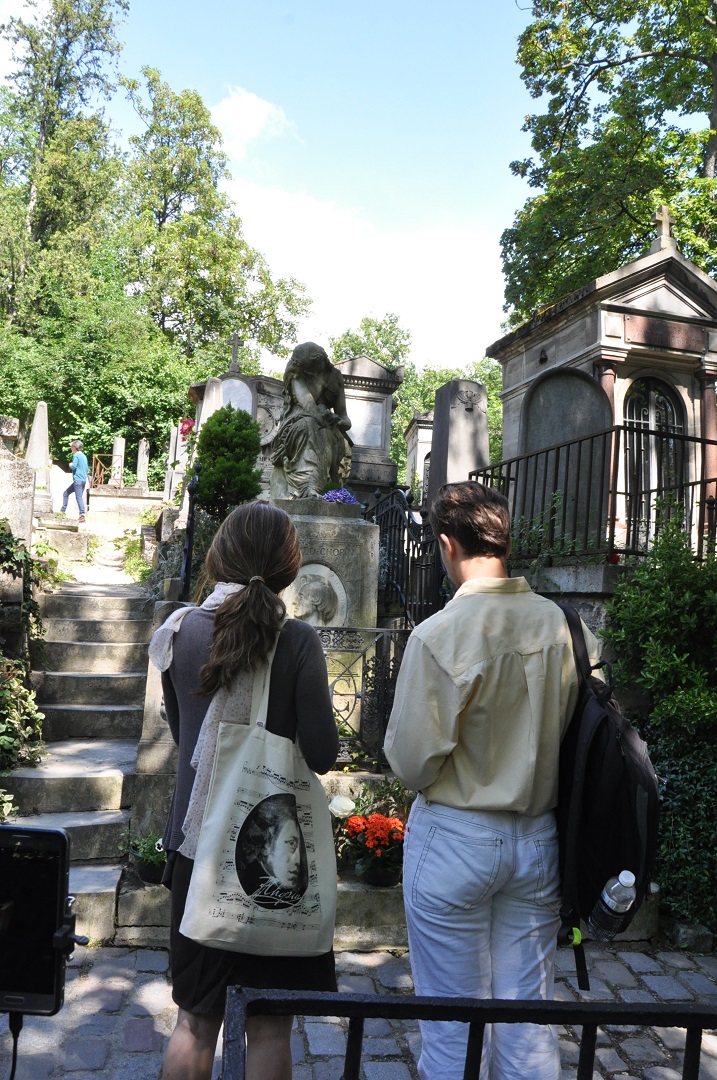 Chopin is soft and gentle, but not "phlegmatic". Both musicians and music lovers have felt this.
Chopin has become somewhat "commercial" today, but its originality has not diminished in the slightest. Every novice musician plays Chopin, but every knowledgeable and skilled pianist knows that Chopin can be played even more perfectly.
Chopin believed in pure music, in the naked language of music. He was not a talkative man not only in creation but also in ordinary life. He didn't say anything about his artistic thoughts and ideas. He hated "interpretation" and didn't even like naming his pieces.
Chopin has always remembered his homeland, and perhaps he is more moved by it. He loved Poland and longed for its liberation from the yoke of Russia. Some believe that Chopin's immigration to France was due to his liberal views and his avoidance of Russian repression.
He was in a strange relationship with the French writer George Sand, In 1838, Chopin met George Sand, a French writer, and this relationship, which can hardly be judged sweet or bitter, lasted until 1847. They went to Mallorca in 1839 winter, where the bad weather and the humidity of the rooms in which Chopin was staying had such a bad effect on his health that they were forced to return home, and Chopin could never recover. In 1845 many problems arose in the relationship between Chopin and Sand, and in 1847 this relationship became darker with the advent of family problems, and it was in that year that Sand published one of her novels, Lucrezia Floriani, which was not at all pleasing to Chopin. The story of this novel goes back to the story of a rich actor and a sick prince, which is probably a reflection of the relationship between her and Chopin. Family troubles finally intensified in 1847, leading to the severance of Chopin's relationship with Sand. She described Chopin as "a little sad angel".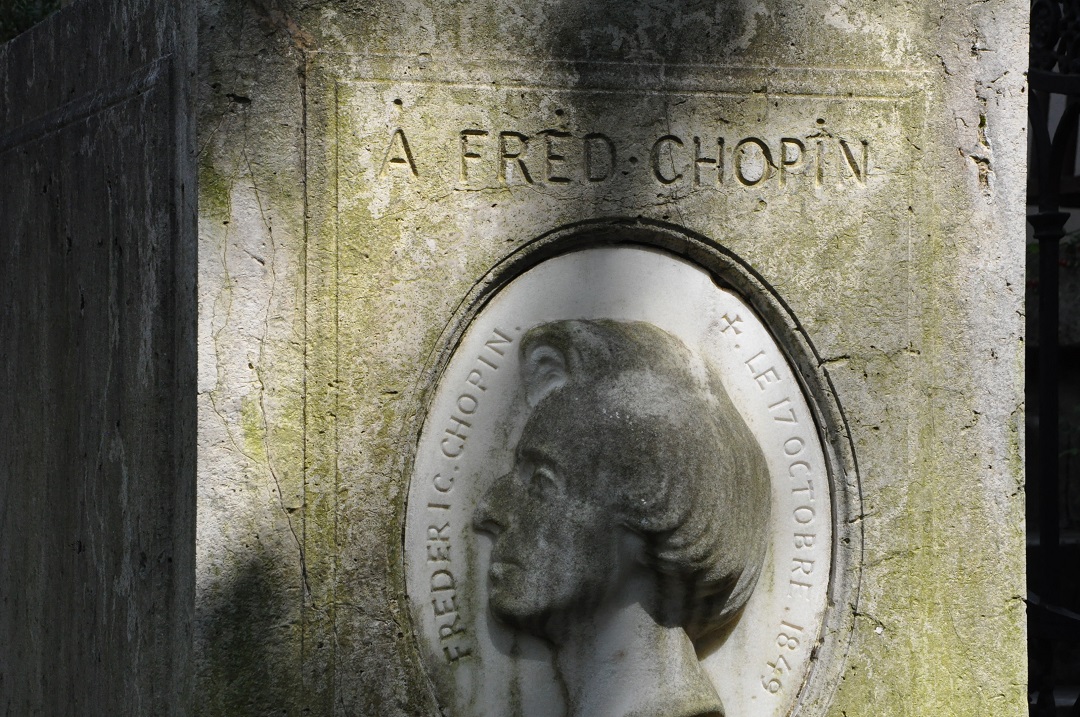 ---
Strasbourg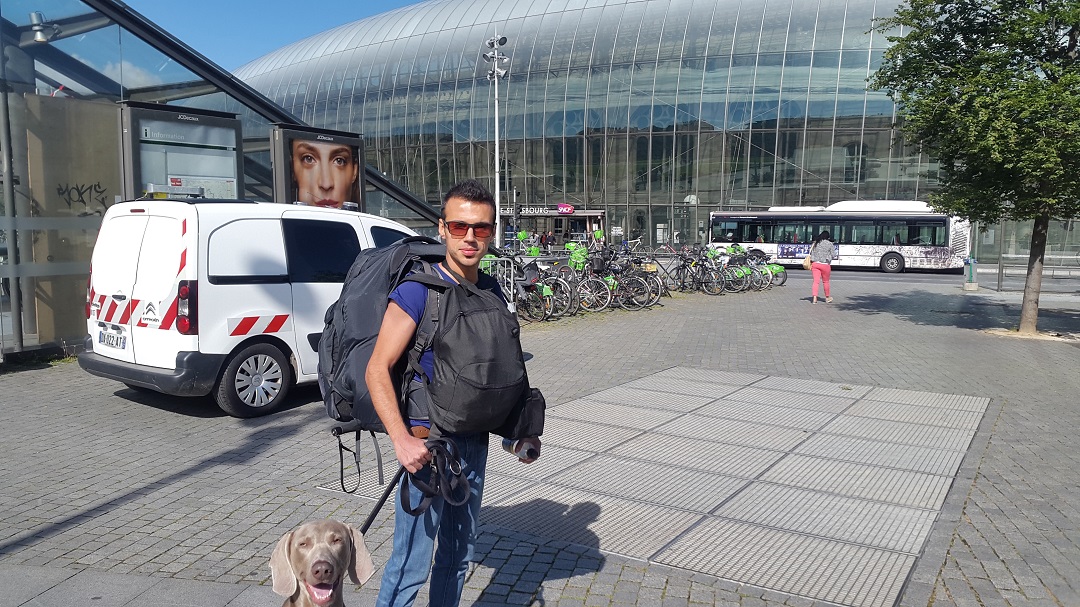 Igor and I saw each other with sleepy faces very early in the morning when everyone was asleep; Thanks to SNCF express train, it took an hour and a half from Paris to Strasbourg, which is 500 km away. This time everything is different, because I no longer need to migrate with that temporary bag, now I have my own backpack.
On the way I thought of the Père Lachaise celebrities, I thought that the more art they had, the more hope they had for life, the harder their lives were. Hope is something sensitive, something that is easily lost and easily gained, horses have a specific destination in battle, the goal is set for them, in the middle of the situation conditions may change, obstacles may arise, snow and rains, but the horse does not fail, the higher the obstacles, the more it jumps, and at the end of each battle, such horses were always more expensive. My dear friends, the goal is always there, the destination is clear, and you are the one who has to cross the obstacles, and you will do 💪🏼
I will explain these bags later why they are like this, but I must say that they weigh about 25 kilos so far. I have to go, Alex has come to to pick me up.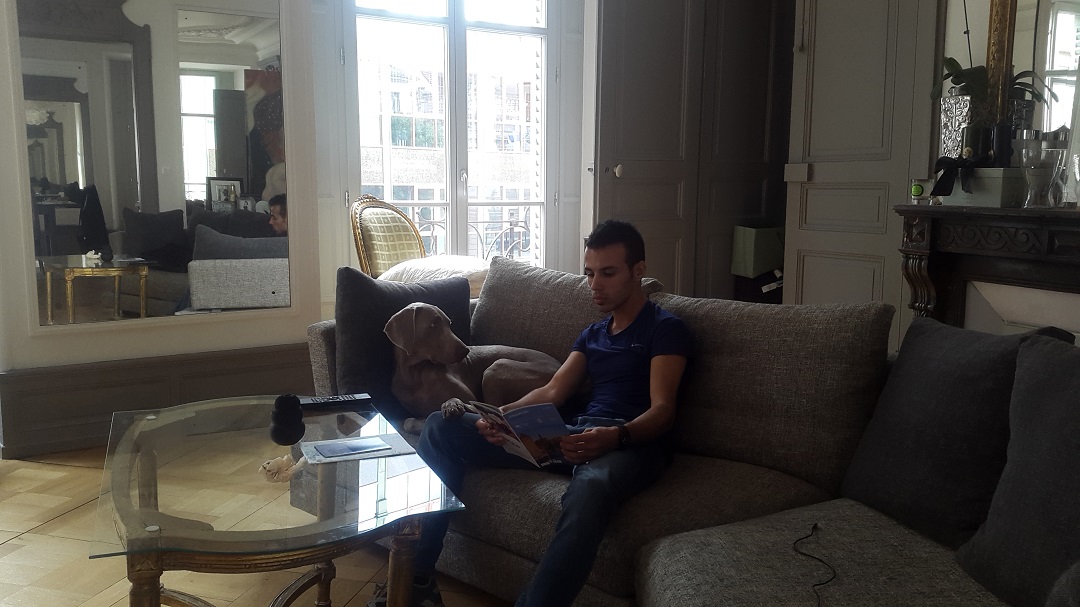 I think a lot about life, I meet other human beings, there seem to be things that hurt all human beings, for the reasons that I think I find the causes of human beings themselves. Even one person's economic problems are due to other human beings, because money and economics were created by man himself, man himself discovered trade and money, man himself broke the hearts of others, man himself drew borders, and made wars. weapons are man-made, so is religion …
I think we have lived wrong, we have done everything wrong, we have replaced sadness with happiness, and we have limited our choices!
As I think about the solution, I understand Oscar Wilde, the way to human salvation is love and kindness, to empty the heart of resentment and hatred, hug someone sitting next to you right now, or text them, invite them for a coffee, really do it! We make everything from scratch, all together, for each other.